On Friday, March 13, Dalhousie University announced that in-person instruction was ending for the term. In little more than a week, courses had to be ready to resume via distance — representing a huge task for faculty and support staff across the university to move classes large and small alike into an entirely new way of teaching and learning.

Among the largest of all those Dalhousie classes is first-year Chemistry. There are more than 1,050 students enrolled in the course across its various sections — amounting to roughly 5 per cent of Dal's total student population.

"A large class means large diversity as well," says Angela Crane, instructor and first-year program coordinator for the Department of Chemistry. "It means we have a large international population. It means we have students with all sorts of accommodations, for all sorts of reasons. We've got single parents in our class."

"Trying to make something that will work for everyone, to be as universal as possible, has been at the forefront of everything we've done leading up to this closure — and it really drove our mindset once in-person classes ended and we had to make all these changes."

"Like a speed race"

First-year Chemistry at Dalhousie is located in the Faculty of Science — Dalhousie's largest faculty in terms of students. The course is based around a common, integrated program called Concepts in Chemistry. Developed by Dalhousie faculty for students roughly 15 years ago, the award-winning program interlinks lectures, textbooks, labs and online content into a unified experience. Still, fundamentally, it's an experience built around in-person engagement. How does one conduct a lab experiment via distance, for example?

The team of faculty, instructors and student TAs who bring Concepts in Chemistry to life each year was already starting to answer questions like that prior to receiving notice that in-person classes were ending for the term. For one, a couple chapters of the program already had to move online due to storm cancellations this winter term. But the team was also watching what was happening down in the United States, where universities began to shut-down in-person instruction a week or two ahead of Canada.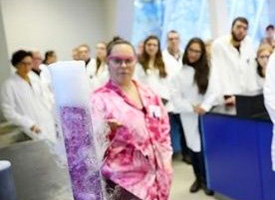 "It was a speed race," says Jennifer MacDonald, senior instructor and first-year lab coordinator (pictured in a more traditional lab setting). "With the labs, we were a bit lucky in that in the experiments that were left, the learning outcomes were based on data interpretation more than hands-on, physical skills. It really helped us make the transition to online a little easier." Also helping was the fact that students were able to opt-into virtual assignments prior to in-person suspensions.

Still, including the two chapters missed due to storm days, the first-year Chemistry team had to move almost half the course content into an online setting. "It was quite a daunting project, and it had to happen fast," says Dr. Crane.

The importance of UDL

Lectures were recorded and paired with the course material. Lab experiments were recorded using video and still images in advance of the closure (just in case) such that students could observe a self-guided online laboratory module, containing video/images of the experiment and collect their observations, interpret data and submit reports virtually. Scattered around the world, the TAs for the course — undergrad and grad students alike — continued to be available to the first-year students in online discussion threads and activities.

All of this was done in the spirit of the program's commitment to what's called UDL: universal design for learning, which is a framework designed to provide flexible learning environments and materials to accommodate learning differences.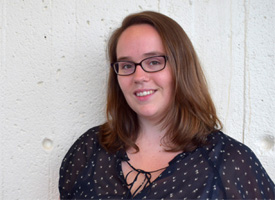 "We pride ourselves in putting out all our materials, to the best of our abilities, following UDL principles, which is not a small undertaking," says Dr. Crane (pictured). "Just to make one video that is UDL-friendly is quite a task. It has to have clear audio with captioning or a transcript, it needs to have a clear colour palette, fonts and so forth."

But it was these sorts of above-and-beyond measures that Drs. MacDonald, Crane and others undertook that students noticed most — from the serious to the silly.

"I was grateful for the virtual resource centre when it came to completing my lab reports at home, as the in-person centre is a favourite spot of mine when assignments and lab reports are due — although I did miss the lollipops," says Chemistry and Psychology major Sarah Dunphy. "And one of my favourite parts of the remote Chem classroom were the video check-ins from Dr. Crane, featuring her dog and an April Fool's surprise!"

For Samantha Horne, a second-year Neuroscience student with a physical disability, the experience actually addressed one of the challenges she's had in trying to navigate her studies: an inability to physically complete all aspects of lab work. Now, working online, she's able to view and catalogue the experiments in the exact same way as all her peers.

"I think many students would greatly benefit from having more online options to help accommodate their disability, and these current circumstances have shown that this is possible to do," she says. "This would not only alleviate any undue stress of the student but also make the courses more inclusive and accessible for everyone."

Bringing learning to life for students

For the most part, the comments Drs. Crane and MacDonald have received from students have been incredibly positive. They're both sensitive to how big a change this has been for the students — many of them only in the first year of their degrees.

"It's one thing for me, who's taken courses on how to conduct online instruction effectively, to learn how to work this way and put those pedagogies into practice, but it's a huge shock to students to have completely shift the way they're learning," says Dr. Crane. "It's not what they signed up for, and so we want to try to make the transition as easy for them as we can."

Helping in that process are the course's TAs like Robert Foisy, a third-year Microbiology and Immunology student.

"There are advantages and disadvantages," he says, to doing this work online. "Those of us who were willing were able to respond to student questions at any time — and quite often did in our spare time — which allowed greater flexibility. This also allowed us to utilize time and resources we normally wouldn't have available to us, and gave time to craft a better response to questions…

"The disadvantage is that for some learners, certain things are harder to explain through text, or even with still images, so some level of creativity and/or resourcefulness is a must."

That creativity was on full display in a fun, colourful "good luck" slideshow the First Year Chemistry Teaching Team put together from around the world to wish students all the best heading into their exams. That attention to detail is noticed by students like Christian Fitzner, who says out of all his courses, first-year Chemistry was the one that had to change the least due to this situation.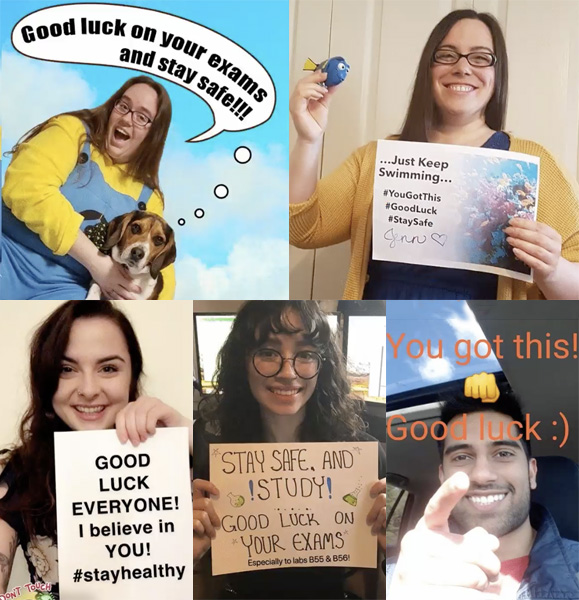 Images from the Chemistry team's "good luck" slideshow for students.

"I can still ask questions, I still completed every lab, I'm still writing the same final, I still feel like I'm taking classes," he says. "Both Dr. Crane and Dr. MacDonald go above and beyond to anticipate the future needs of their students and have once again done something fantastic with their transition to remote learning."

Looking ahead

At this point no one fully knows what the fall term will bring — though, obviously, the hope of everyone involved in first-year Chemistry is to be able to return to in-person instruction. Regardless, the team plans to spend the summer preparing video lectures and labs for the rest of the course — not just as a precaution in the event of COVID-19 restrictions, but as a way to continue to support different ways of learning.  

"The real experience and excitement in the lab cannot be replaced, the feeling of being able to DO science with your own hands cannot be compared to anything else," says Anastasiia Kutulska, first-year Biochemistry and Chemistry student. "Nevertheless, Dr. MacDonald managed to turn the online chemistry lab into a real one. All the instructions were clear and the animations created an impression of being in the real lab."

"I sincerely hope that there will be no need in transition to online teaching again and that this situation will clear up in the fall," she adds, "but if it won't, I am calm and confident that with such abundant resources there will be no difficulty in completing another course."