Anneke Henderson likely didn't ever imagine that as a senior instructor in Dalhousie's Costume Studies program she would find herself stitching together face masks to protect against a spreading virus.

But that is what Prof. Henderson and a small team of volunteers are doing from their homes in a bid to provide protective supplies to students who remain on campus and may become sick. By the end of this week, they expect to have 200 masks ready for delivery to student health services.

"The idea of being able to do something to help is so huge and that's where people are suffering the most — it's the sense of helplessness," says Prof. Henderson, who is also the head of wardrobe for the Fountain School of Performing Arts, from her home in Halifax.

"The students just jumped all over it to fill their time. I'm so heartened by the super-fast response from my colleagues and students to help out. It's the fuel people need to keep going."

Working from home — for others

Prof. Henderson and seven students and co-workers from Costume Studies started working on the masks after the federal government appealed to universities for help last month in shoring up supplies of personal protective equipment.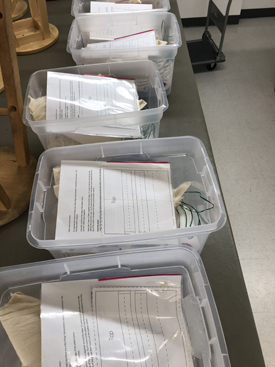 The federal request set off a discussion in the department about what students and faculty could do to help. They realized that they have access to the equipment and supplies needed to make masks. But because the university had effectively ceased the majority of in-person operations and there was a restriction on the number of people who could work together, it was decided the masks would have to be made at people's homes. (Left: Packages of mask supplies.)

Frank Harvey, dean of the Faculty of Arts and Social Sciences, searched the Internet for a mask design that could be easily sewn at home. He found a three-pleat mask pattern online and Prof. Henderson developed a sample using tight-weave, pre-washed canvas, a cotton liner on the inside, a thin millinery wire along the upper edge for shaping and elastic cording that wraps around the ears.

Prof. Henderson says it takes about 10 to 15 minutes to make each mask, from cutting the fabric to sewing it. And they were affordably priced, with about one metre of the material costing $6 and making 35 masks.

A volunteer effort

Once she had the sample done, Prof. Henderson packed seven plastic containers with enough supplies to make 30 masks each and delivered them to the volunteers' homes. Each box also had an instruction sheet, a sample and the pattern.

Delivering supplies to volunteers — from a safe distance.
To be safe, she brought along a couple of metre sticks from the department to make sure she and her colleagues kept their distance during the handoff. Prof. Henderson also asked everyone to wipe down their workspace to make sure the masks were being made in a sanitary environment.

"There are so many great stories about Dalhousie faculty and students investing their time to help people directly affected by the devastating consequences of the COVID-19 pandemic," says Dean Harvey. "Anneke and her Costume Studies students are contributing their time and expertise to make hundreds of face masks to protect students in residences across campus who have no other place to go.

"This is one more incredibly inspiring story we should be celebrating for raising our spirits in the midst of this painful crisis."

Helping be part of the solution

Prof. Henderson cautions that the masks are non-medical and not certified for hospital use, but can be easily laundered to be worn more than once.

Their completion is well-timed this week as on Monday Dr. Theresa Tam, Canada's chief public health officer, advised that non-medical masks like those assembled by the Costume Studies team are an additional measure Canadians can take to protect others. They may help prevent pre-symptomatic and asymptomatic people from inadvertently infecting others with COVID-19 when out in public.
 
"It's been quite moving to see how artists have been helping us get through this crisis," says Jacqueline Warwick, director of the Fountain School of Performing Arts.

"Whether it's theatres and film studios streaming works for free, galleries creating virtual tours, conductors and composers offering free virtual coaching sessions or actors reading sonnets, artists have really risen to the challenge of nourishing our souls and feeding our senses of community, and the world has been so grateful for their efforts!"