Sydney Miller and Sarah Keeping are senior Bachelor of Science in Nursing students who just completed their program, but they're as busy as ever — in part by volunteering with Nova Scotia's 811 service, which is a key channel through which individuals who have symptoms of COVID-19 are initially assessed. Learn more about 811 and COVID-19.
How did this volunteering opportunity come about?
Sydney Miller: Sarah and I are the co-presidents of the undergraduate nursing society here at Dalhousie. Students from the health professions (e.g., medicine and nursing) were sought after to volunteer to support pandemic operations.
Sarah Keeping: We had a large amount of interest from nursing students, with over 50 students signing up to volunteer. We're still in the beginning stages of this initiative, with online training planned to begin within the next week.
Why do you think there was such a large amount of interest among nursing students to help out in this way?
Sydney: It's good experience for us — not only can we give back to the community, we're also getting experience in public health. So, it helps everyone.
Sarah: A lot of us are eager to start nursing work, so this is a way for us to still be doing nursing even though we don't have a job right away.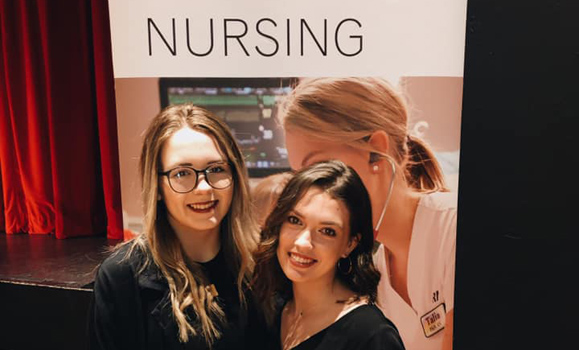 Why was it important for you both to take part in this volunteer initiative?
Sydney: Sydney and I have been with the nursing society for our whole degree and have always been interested in volunteering and giving back. When we heard of this opportunity, we jumped on it, because it's a way for us to continue doing community volunteering when we aren't able to be at School with our peers.
Sarah: Being in clinical placements made us want to help more — especially because we were both on oncology floors and we saw how sick the patients were and how devastating it would be for them to get COVID-19. We are senior nursing students, so we have the skills to call people and give them advice.
What will you be doing as part of your volunteer work for 811?
Sarah: They're doing online training for everyone and then we'll be calling people giving them their test results and basic advice about social isolation and self-distancing. For most of the calls, we will be delivering negative results.
Sydney: I think it's great that we have an opportunity to keep working, just in a different way. And I agree with Sydney: seeing the kids that I saw every day at the IWK who have no immunity and knowing how devastating it would be for them to get sick — it put the pandemic in perspective for me. It makes sense for us to help in this way.