Parents hunting down resources to keep their children engaged and learning during these extended days at home and away from school are getting a little help from a few Dalhousie-affiliated groups.
SuperNOVA, the not-for-profit initiative at Dal that promotes science, engineering, technology and mathematics (STEM) to youth in Atlantic Canada, has launched an at-home learning series as a way to assist parents in their quest for options.
The group — well-known for its in-person workshops, community events and summer camps —has shifted its short-term focus to releasing a selection of free, easy to organize activities through its website and other online platforms.
"We've designed our activities with the idea that parents want to be able to run STEM activities without necessarily having the background knowledge," says Alexandra Fenton, executive director of SuperNOVA.
Targeting a variety of different age groups, the group's offerings range from step-by-step activities illustrating concepts around why we brush our teeth and how plants absorb water to more advanced ocean-discovery missions based on pre-recorded videos shot with an underwater drone in coastal waters near Halifax.
Each activity comes with simple instructions, an estimated time for how long it will take, and explanations of the science behind it all. The group has also been using social media channels such as Instagram, Facebook, Twitter and YouTube to facilitate quizzes and experiments.
"Our activities are designed to encourage self-exploration for young people to learn about science, engineering and technology with their parents or by themselves," says Fenton. "We've had some really interesting responses and some parents have even tagged their children when they do our tasks at home."
You can see a full list of activities (linking to instructions) on the group's website. More materials will be added in the days ahead.
The whole ocean is a school

Those parents seeking a more structured approach to learning for their children, particularly older children interested in marine biology and ocean science, should check out Ocean School — a platform founded by Dal, the National Film Board of Canada and Ingenium.
The free, bilingual platform offers immersive audio-visual educational resources — film, virtual reality, 360 video, interactive games and augmented reality — to transport students from Grades 6-9 into the watery world of ocean research taking place around the world.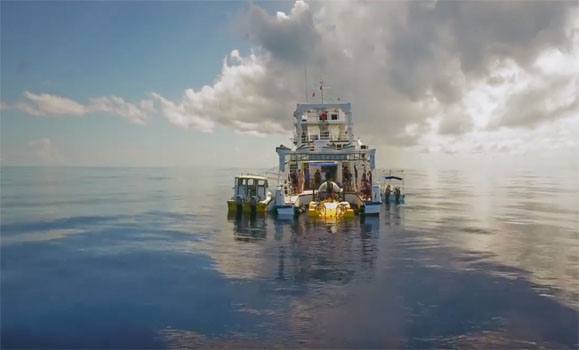 Earlier this month, the organization launched a special Learn from Home program that lays out a new lesson each weekday via an educational video and accompanying student activity. In week one, for instance, students get to create their very own shark superhero comic, dissect a cod fish, and learn how to build a submarine. So far, there are three-week's worth of lessons available, with a fourth week of material coming April 6.
"This resource has been a huge hit with parents, students and teachers thus far. It's linked to Nova Scotia curriculum, it's easy to use, and your kid's ocean learning adventure is just one click away," says Dal Professor Boris Worm, founder of Ocean School.
The platform gives youth a captivating glimpse into innovative marine careers and provides them with a deeper understanding of the ocean's influence on humans and the impact of humans on the ocean.
More resources

Imhotep's Legacy Academy: Follow the university-community partnership group online as they post videos of making slime at home and DNA extraction from a strawberry and host virtual meetups for African Nova Scotian youth.
Sciographies: Explore the archives of this compelling Dal-produced podcast series. The show — which originally aired live on radio on CKDU 88.1 FM — introduces listeners to scientists at Dalhousie. Each episode explores events in the guest's life that led to a career in science and explores their research. Two full seasons now available on Apple and Android podcast apps.