Take a risk. Trust your gut. Be bold.
Those were some of the messages from the Dalhousie Emera ideaHUB's inaugural IDEA Speaker Series event on November 25th, 2019.
Three hundred students, alumni and community members gathered at Dalhousie's Engineering Campus to hear stories of innovation and success from three of Atlantic Canada's top innovators: Chris Huskilson, Pat Ryan and Dale Roberston.
Hosted in partnership with the Halifax Innovation District, the IDEA Speaker Series showcases innovation leaders in the community and exposes students, alumni, start-ups and ecosystem partners to opportunities for growth in their own careers.
Innovative leaders in engineering

On March 6, the IDEA Speaker Series will again invite students and community members to hear from two more inspirational keynote speakers — Veronica Merryfield and Dr. Giovana Celli (PhD'16). Through grit and determination, these pioneering engineers have catapulted their companies to new heights.

Veronica Merryfield is an international electronic and engineering leader with a BEng from the University of Portsmouth. As chief technology officer for numerous companies around the globe, Merryfield's vision has resulted in multiple products protected by issued patents. Passionate about giving back, she is a dedicated advocate for marginalized communities.

Giovana Celli graduated from Dalhousie with her PhD in Biological Engineering in 2016. She is the vice-president of innovation & quality at the Whole Coffee Company in Miami, Florida. Celli has developed "Nudge," an industry-leading brand using a proprietary technology that processes coffee beans into delicious consumer products. Celli's coffee bars are also available in Dunkin' Donuts in the United States and have recently launched at Tim Hortons in Canada.

The Tim Hortons coffee bars were graciously provided to event attendees at the first IDEA Speaker Series in November and will also be available for attendees to sample at the event on March 6.

Inspiring future leaders in Atlantic Canada

Through stories of personal growth, hardship and success, keynotes at the IDEA Speaker Series aim to encourage Atlantic Canadians to embrace their creative minds. They also each express similar beliefs in the opportunities for growth and success in Atlantic Canada — a point of view that was made clear at the Idea Speakers Series inaugural event last November.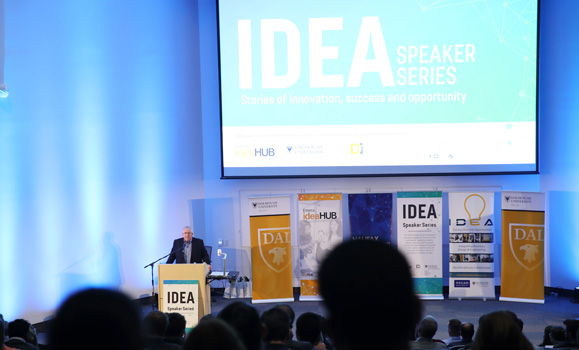 Chris Huskilson speaks at the IDEA Speaker Series.

Through determination, risk taking and problem solving, each keynote in the IDEA Speaker Series shares their individual paths to success.

At the first event, sharing similar views, the speakers stated that many people in Atlantic Canada feel the need to leave the region to launch successful careers. Drawing on their own personal experiences, Huskilson, Ryan and Robertson were able to showcase to the audience how future entrepreneurs and innovators are able to take advantage of opportunities in this region.

Growing your career in Atlantic Canada

In 1993, Ryan (BEng'83) was told he "couldn't do it" in Nova Scotia. He had a great idea, saw a great opportunity, but he says everyone insisted he needed to move out of Nova Scotia to find success.

Today, Ryan is the founder and President of Neocon International, a multi-million-dollar automotive OEM (Original Equipment Manufacturing) design and manufacturing company based in Halifax.

"Do what you want and be bold," he said. "There's a certain power in boldness, a certain power in being sure of yourself. Your present circumstances don't determine where you can go, they simply determine where you start."

Echoing his sentiments, Huskilson, former CEO and president of Emera, spoke about the history of innovation in Atlantic Canada, highlighting the characteristics of companies that have prevailed over the years.

While Nova Scotia has become a hot spot for innovative technology, Huskilson emphasized the need for community members to work collaboratively to continue to grow the economy.

"Everybody wants a part of that single piece of pie and right now [the focus] is on competing for that slice as opposed to collaborating for a bigger pie," he said. "We need to work together if we're going to grow and make a difference.

Throughout his career, Dale Robertson (BEng'78) has founded and operated a number of companies including Enerscan Engineering Inc. and Enserscan Consultants Ltd. He says in addition to people feeling as though they have to leave the region to launch their careers, many creative minds question their ability to generate innovative ideas and solutions.

"If I can do it, anyone can do it," he emphasized in his talk. "You need to focus on your success and not your failure. Don't just let life happen, make it happen."

IDEA Speaker Series - March 6 event
Friday, March 6, 2020
4:30 p.m – 5:30 p.m (Hosted Networking Hour)
5:30 p.m – 7:30 p.m (IDEA Speaker Series)

Richard Murray Design Building
Irving Oil Auditorium
5257 Morris Street
Halifax, NS

Please register for this event through Eventbrite.