Last week, more than 60 faculty and staff volunteered their time preparing and serving meals at the Loaded Ladle, a student-run service on campus that provides locally sourced, sustainable, and free food to students and community members. 
The event, called Lend a Hand to the Loaded Ladle, took place over three days leading up to Munro Day, encouraging faculty and staff to embrace the giving spirit of George Munro by joining forces with the Loaded Ladle to fight food insecurity.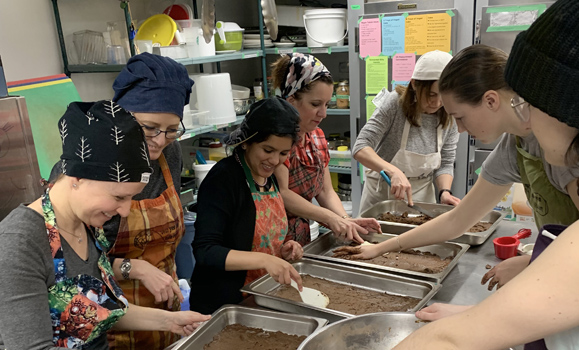 "This event engaged our leaders, faculty and staff to come together and volunteer in ways we hadn't before," says Jasmine Walsh, assistant vice-president, Human Resources. "Fighting food insecurity is an important issue and this event was able to shine a light on the incredible work of the Loaded Ladle and its impact on our students and the broader communities." 
Several individuals as well as a range of faculties, departments and teams participated in the event, including senior leaders, Faculties of Management, Science, Engineering, and Dentistry, Dean's Council, Library, Office of Human Rights and Equity Services, International Centre, Communications and Marketing, and Advancement.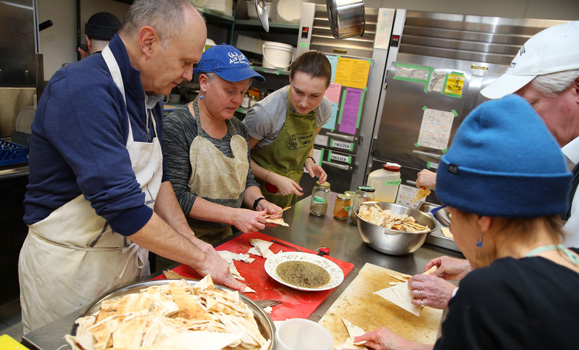 Mornings consisted of chopping, peeling and preparing vegetables. Closer to noon, volunteers were preparing meals and getting ready to serve them to the hungry crowds. Following the lunchtime rush, volunteers helped clean up the Loaded Ladle's kitchen.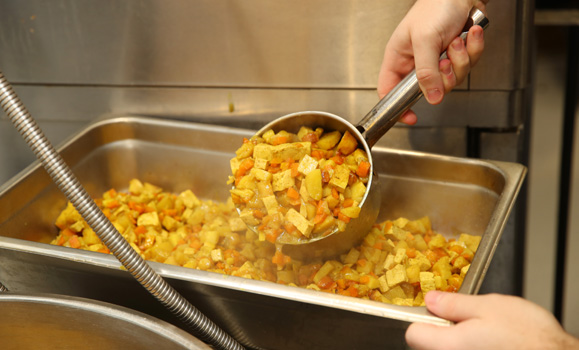 The Growing Communities Series, a shared vision between Human Resources and Dalhousie Professional & Managerial Group (DPMG), organized Lend a Hand to the Loaded Ladle as its 2020 community outreach event. In support of the university's service mandate, this series hosts an annual event focused on servicing the needs of our external community through access to Dal's resources, services and partners. Learn more about the Growing Communities Series at its website.