Imagine waking up one day to see a suffering or dead family member's image splashed across the front page of news websites around the world. Or if your family's struggle to build a better life was broadcast for all to see.
This was the harsh reality faced by some of the many individuals caught up in the European refugee crisis of 2015. More than a million people crossed into the continent that year, many on small, overcrowded boats destined for packed refugee camps. Others, including children, didn't quite make it that far, perishing on Mediterranean shores.
As media coverage of the crisis mounted, the whole world became witnesses and spectators to the suffering from a distance.
A new multimedia project from Dalhousie Social Work faculty member Raluca Bejan (below), in collaboration with media artist and graphic designer Ioan Cocan, seeks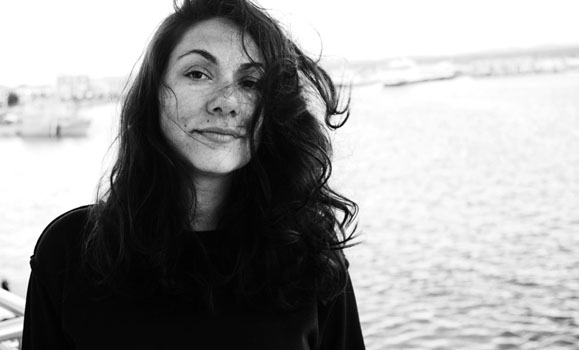 to shift the public's view of the crisis away from such "zoological" perspectives that commodify migrant suffering and towards some of the broader societal issues that underpin it.
"The refugee crisis is a structural problem," says Dr. Bejan, who joined Dal as an assistant professor in January. "It is caused by wars. It is caused by global patterns of inequality between the global north and global south."
Dr. Bejan encountered the crisis first-hand when she travelled to the Greek island of Lesvos for a conference in the summer of 2016. While there, she got to visit one of the larger refugee camps that had been set up to handle the inflow of migrants. The experience inspired her to show a different perspective about the crisis, and so she returned the following year to photograph different locations impacted and to undertake research and interviews with migrants and locals.
Scrutinizing space

The result is TRACE: Tracing the Space of the Refugee Crisis, a joint exhibition on display now at the UNB Art Centre and the Beaverbrook Art Gallery in Fredericton featuring Dr. Bejan and Cocan's award-winning documentary film as well as 14 large-format photographic prints.
The photos and the film, which is also being screened this month at Cambridge University in the UK as well as through the Cinema Politica series in Fredericton, capture the discrepancy between everyday ordinary Greek island life and the traumatizing events that unfolded nearby. Images show everything from piles of sun-faded life jackets and clothes drying on a chain-link fence to a field of olive trees enveloped in sun.
"That's the thing in Greece right now. Both realities are co-existing," says Dr. Bejan.
Many of the images are devoid of people; those that do include them deliberately avoid showing faces. "It was a very conscious effort to insist on the space as a metaphor for a structural problem," she says.
Bridging different forms of knowledge
The film covers similar terrain, but builds off of interviews with refugees, locals and experts — undertaken on their own terms — to tell the story.
Viewers get to meet Anward Nilfuri, a refugee from Iran who'd made his way to Greece via Iraq and a dinghy boat from Turkey, before eventually ending up in Athens where he set up a camp in front of the UNHCR office to protest being unable to leave the country.
"When I met him in 2017, he was doing a two-month hunger strike," says Dr. Bejan. "This is the main problem with refugees now in Greece. They don't want to stay there. After the economic crisis, the youth unemployment rate in Greece is still very high and they cannot get jobs. A lot of them want to go to northern and western Europe but are stuck in Greece."
The film, being distributed with the help of SSHRC Connection Grant, also features Philippa Campson, a British resident with a home in northern Lesvos who stepped in to help migrants and refugees when they began landing a stone's throw from her front door in 2015. Others featured include a Farsi interpreter who worked in the area with NGOs, a lawyer touching on the topic of claiming asylum, and a top scholar of migration.
Dr. Bejan says she didn't set out intending to make a film out of the research project. It was only later while visiting Greece that she saw the potential power of presenting it as a documentary rather than a book.
"I have always tried to look at how we can bridge various forms of knowledge to address topics," she says. "In dealing with these huge issues we are confronting as a society such as refugees and climate change, we do need these broader approaches."