Last year, during only her second semester at Dalhousie, student Eriana Willis-Smith found herself in need of guidance around her studies — and ended up at the Black Student Advising Centre.

"I went to talk to Ronke and she helped me plan out the rest of my semester, and whatever else I had to do for future reference.

"It felt good that I had some great support."
Marking 30 years


"Ronke" is Oluronke Taiwo, who has been director of Dalhousie's Black Student Advising Centre since 2008. The centre has served as a "home away from home" for students from historic African Nova Scotian communities as well as People of African Descent from around the world for three decades now.

"I call it 'home away from home' because we have a lot of students where they are in a program where there may only be just two or three Black students — they can find it hard to see themselves represented," says Taiwo, a Dal Social Work alum who, prior to coming to Canada, was a full-time professor at the College of Medicine in Lagos, Nigeria.

"When they come here, they can talk about it — to me, sometimes, but also with their peers. They're with people who understand how that feels."

Monday night, the centre — known by its acronym, BSAC, to most — will mark its 30th anniversary with a celebration event in the Student Union Building's McInnes Room featuring trailblazing scientist Dr. Renee Horton. The first African America to earn a PhD in Physics, Dr. Horton is a Space Launch System quality engineering with NASA and will speak on "the power of believing in yourself."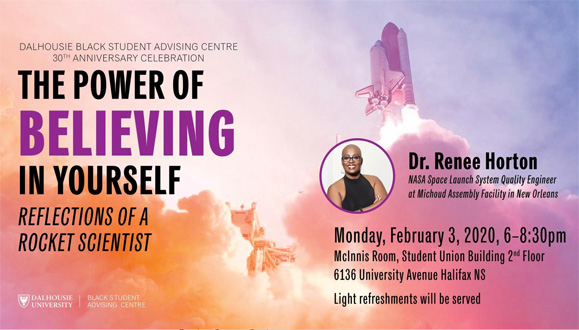 It's a message perfectly in line with BSAC's 30-year history — that it's about more than just being there when students like Eriana need support, but about creating a space that inspires them to push forward to even greater things.

From early days...

BSAC's origins stretch back to the late 1980s, and the convergence of both student leadership and university action.

On the student side, there was the Black Canadian Students Association on campus, which built on the efforts and energy of David Woods's Cultural Awareness Youth Group of Nova Scotia and organized university students to try and build community and connection on campus. On the institutional side, there was the Breaking Barriers report, a task force struck by then-President Howard Clark to study and report on the university's role in the education of the region's Black and Indigenous peoples.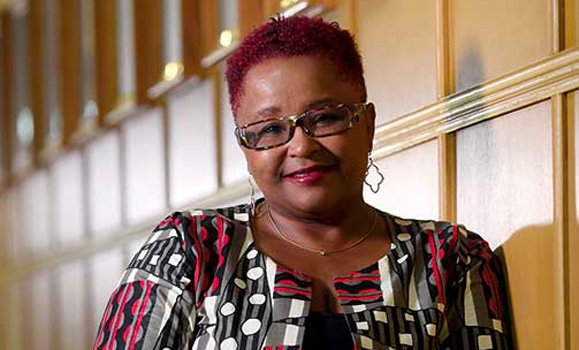 Barb Hamilton-Hinch, today a faculty member in the School of Health and Human Performance, was part of the Black Canadian Students Association at the time and contributed to the Breaking Barriers process by presenting to the task force about student interests. The report would end up recommending a full-time staff advisor and centre for Black students on campus.

Dalhousie magazine feature: "Breaking Barriers, 30 years later" (Fall 2019)

"It was a fantastic, warm, inviting space," says Dr. Hinch of BSAC's first days in 1989-90, when it was located in a small corner of the Student Union Building together with the Accessibility Centre where the "To Go" food outlet is today.

"We had students who would come from the Mount and Saint Mary's to spend time here. That's where a lot of really solid friendship, networking, healing, connections took place.

"If it wasn't for the Black Student Advising Centre, I think a lot of us probably wouldn't have finished university. We didn't see ourselves represented in the classes as students and professors, on the varsity teams, but we at least had a place we could go and let out whatever was happening to us that day."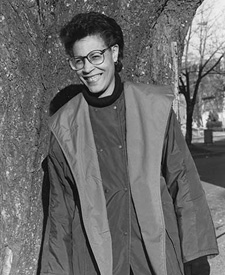 The centre's first advisor was Beverly Johnson (pictured), followed by Linda Lee King and, from there, Dr. Hinch herself, who was approached about returning to Dal and leading the centre her efforts helped launch.

Dr. Hinch stayed in the role until 2008 when she turned her attention back to academia, but she remains a strong presence in the centre to this day. That year, Taiwo joined the centre, ready to make her own mark on its legacy.

Making the space their own


Even if you've never stepped inside BSAC's house on Edward Street, you've seen or heard Taiwo if you've been to pretty much any Convocation ceremony over the past 12 years. She does her best to never miss any of them. She sits with the platform party and can be heard shouting, enthusiastically, "Walk it! Walk it!" at many of Dal's Black graduates as they make their way across the stage.

"I say that because they have cried on my shoulder, and I have known when they're going through hardships," says Taiwo. "All their lives, systemic racism is what they've gone through. When they come to campus, they can find themselves in a class where maybe, out of 500 students, there's only one or two others who look like them. Some of the students have come to me after experiencing that saying, 'I'm done, I can't do this.' I'm the one telling them, 'You can do it.'"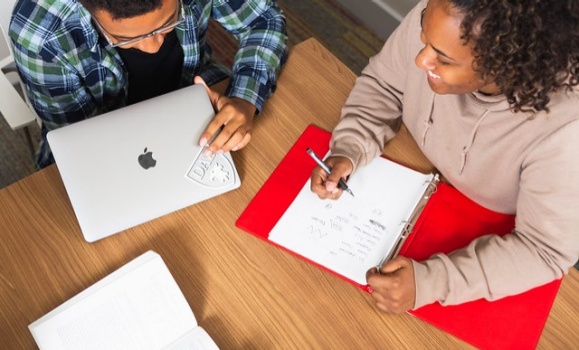 Today, the centre's space includes two computer labs for students to use, as well as a study lounge, kitchenette and meeting room — features that are particularly useful for students from Halifax's historic Black communities who may be commuting to-and-from campus. The centre also hosts Taiwo's office, where students can meet with her for advocacy and advising, help with bursaries and scholarships and whatever other connections she can help make across the university.

But it's about programming, too. BSAC brings Writing Centre advisors into the space, hosts monthly birthday celebrations for all of its students, and gathers Dal's Black scholarship recipients and fetes their achievements each year. Taiwo also hosts a special open house event for African Nova Scotian students prior to them applying to Dal, and — once they're on campus — networking sessions with Black faculty members and professionals from the community so students can see forward into what their careers can be.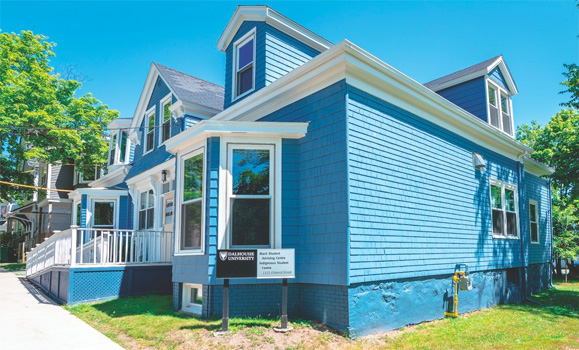 And this past year, the centre added a new position: community outreach and transition to university coordinator, Monique Thomas. She's helped increase outreach within and outside the Dal community, as well as leading BSAC's first "new from high school" orientation this past August.

A favourite place

"I love the environment at the centre," says Eriana, who outside of her studies in Gender and Women's Studies and Creative Writing is also a singer and set to perform at Monday's celebration.

"It's one of my favourite places to study, but I do more than study there. I have deep conversations about problems with life, or school. I've enjoyed many, many laughs. It's just great to be surrounded by a group of people who look like you and go through the same different experiences as you."

And when Eriana hopefully walks across the Convocation stage in a few years, you can bet Taiwo will be there cheering her on.

"Seeing them succeed — this is why I enjoy this job," says Taiwo. "It's difficult, it's emotional. But it's worth it."