Seventy-nine student-athletes took to the stage Thursday afternoon (January 23) to be honoured by parents, coaches, mentors and staff at Dal's 21st-annual Academic All-Canadian Luncheon — an event celebrating their successes on and off the field of play. 
A record number of 104 Dalhousie varsity student-athletes achieved U SPORTS Academic All-Canadian status during the 2018-19 school year. To qualify as an Academic All-Canadian, student-athletes must maintain a GPA of at least 3.50, over the academic year while competing in a varsity sport. Hard work, dedication, sacrifice and support are crucial in these students' lives.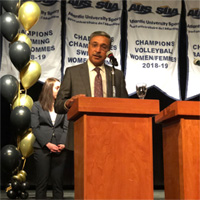 Dalhousie's new president and vice-chancellor, Dr. Deep Saini, applauded the student-athletes on their discipline, commitment and exemplary time management. 
"To see 44 per cent of our student-athletes achieve Academic All-Canadian status while winning nine of a possible 16 conference championships last year gives me great pride to be a part of Dalhousie University," he said. "Everyone here today — parents, friends, coaches, teammates and our faculty and staff — all play an important role in our student-athlete's lives, and they deserve our thanks." 
Maya Reynolds, a fourth-year sprinter on the track and field team spoke on behalf of the student-athletes to convey gratitude to everyone who has helped them achieve success.
"Behind every Tiger here today is a support system," she said. "A large group of people who have supported them and given them the opportunity to excel.
As our biggest fans, our parents get the biggest thank you for all of the unconditional support they have given us. Our coaches see the potential in us that we often can't see for ourselves. Thank you for believing in us and guiding us along our athletic paths. Our professors challenge our minds and prepare us for life after varsity athletics. The bond we form with our teammates has a big impact on our success on and off the playing field. We do everything together from training to studying and push each other to be the best version of ourselves. Thank you to everyone who has played a role in getting us here today."
In addition to honouring the student-athletes, the luncheon also applauds the individuals who've helped the student-athletes achieve their goals: their academic mentors. Honourees were given the opportunity to invite a faculty member to the event, someone who has been vital to their success as student-athletes. 
"We always encourage our student-athletes to strive for excellence in the classroom and in sport," says Tim Maloney, executive director, Athletics and Recreation. "To be able to recognize them and the people that have helped them succeed is something we take great pride in."  
Dalhousie's Academic All-Canadians – 2018-19
Faculty of Arts and Social Sciences
Jacob Bolton, Soccer
Kristin Clarke, Curling
Kaitlyn Jones, Curling
Imani Theodore, Swimming
Faculty of Computer Science
Alec Karlsen, Swimming 
Faculty of Engineering
Andrew Arseneau, Volleyball
Mike Evelyn, Hockey
Alec Freeman, Cross Country
Jensen Hudder, Soccer
Lauren Koskowich, Volleyball
Angus MacIntosh, Cross Country/Track & Field
Reilly Pickard, Hockey
Samuel Wade, Basketball
Faculty of Graduate Studies
Geraint Berger, Swimming
Ellen Chappell, Cross Country
Mike Shoveller, Basketball
Sophie Watts, Cross Country 
Faculty of Health
School of Health and Human Performance
Karlee Burgess, Curling
Taylor Carr-Babineau, Hockey
Alex Carson, Basketball
Sam Corcoran, Soccer
Annie Douglas, Swimming
Mieke DuMont, Volleyball
Harmon Grimshaw-Surette, Track & Field
Hudson Grimshaw-Surette, Track & Field
Alyssa Harding, Volleyball
Nik Jelicic, Swimming
Rachelle LaLande, Soccer
Fabiana Petricca, Hockey
Danika Phillips, Hockey
Annika Rose, Hockey
Katelyn Scott, Basketball
Madeline Shivgulam, Swimming
Jenna Silverberg, Track & Field
Chelsea Slawter Wright, Basketball
Michele Tchiakoua, Basketball
Amy Wilson, Hockey
Schulich School of Law
Diedre Alexander, Basketball
Olivia Feschuk, Swimming 
Faculty of Management
James Cromack, Cross Country/Track & Field
Ben Dornan, Swimming
Kevin Duong, Basketball
Stephanie Dyck, Soccer
Ben Grondin, Soccer
Caroline Hickman, Swimming
Alex Knesaurek, Soccer
Jesse Lussier, Hockey
Nyle MacLeod, Soccer
Blair Miller, Cross Country
Campbell Pickard, Hockey
Kevin Resop, Hockey
Maya Reynolds, Track & Field
Lisa Sullivan, Soccer
Quinn West, Swimming
Kyle Yewchuk, Hockey 
Faculty of Science
Adele Arsenault, Soccer
Marley Blommers, Basketball
Madison Brace, Soccer
Alexis Bragman, Swimming
Zoe Brown, Soccer
Harrison Callaghan, Volleyball
Hannah Chadwick, Basketball
Corinne Desjardins, Hockey
Justin Drapeau, Volleyball
Sophie Gaube, Basketball
Darby Gielewski , Swimming
Haley Glazebrook, Soccer
Jacob Halloran, Cross Country
Victoria Haworth, Volleyball
Emily Holt, Basketball
Maggie Hosmer, Track & Field
Tyler Immel-Herron, Swimming
Paige Jamieson, Soccer
Gracious Kasheke, Soccer
Sydney Kenney, Soccer
Lauren Lenentine, Curling
Kirsten Lind, Curling
Trent Lynds, Cross Country
Duncan MacIntyre, Hockey
Olivia MacIntyre, Soccer
Daniel Maguire, Cross Country
Taylor Mattinson, Track & Field
Katrina Mitton, Hockey
Jessica Needham, Cross Country
Sofia Nicolls, Soccer
Josie Oickle, Soccer
Minwoo Park, Basketball
Sarah Preston-Thomas, Track & Field
Ariel Provo, Basketball
Samuel Prystupa, Soccer
Brooklyn Rawlyk, Cross Country
Michael Rogers, Cross Country
Olivia Ross, Track & Field
Isabel Sarty, Swimming
Andrew Shewfelt, Hockey
Bryn Smith, Cross Country
Nicole Solie, Soccer
Jonathan Taylor, Swimming
Temi Toba-Oluboka, Track & Field
Michael Trim, Soccer
Maya Venkataraman, Soccer
Georgia Waller, Cross Country
Ryan Webber, Swimming
Josh Worthen, Hockey
About the Academic All-Canadian program
In 1988, U SPORTS introduced its first Academic All-Canadians, those exceptional student-athletes who achieve an academic standing of 80% or better while playing on one of their university's varsity teams.
Since 2001, over 1,400 Dalhousie student-athletes have received the distinction of U SPORTS Academic All-Canadian.
Students at Dalhousie University strive for excellence in sport, academics and in the greater community. CIS Academic All-Canadian distinction is one of the highest recognitions a university varsity athlete may receive. To earn U SPORTS Academic All-Canadian distinction, a varsity student-athlete must be enrolled full-time and achieve an average of 80% or higher in the academic year. Athletes at Dalhousie University spend over 20 hours per week on school work while committing at least another 20 hours to athletics as they practice daily and compete most weekends. On top of this many student-athletes find time to volunteer with various community organizations. The athletes who earn this prestigious national honour are inspirational to the greater Dalhousie community and the Tigers congratulate them for their work ethic and determination.
2017-18 Luncheon Recap Jan. 2019
2016-17 Luncheon Recap Jan. 2018
2015-16 Luncheon Recap Jan. 2017
U SPORTS Top 8 Academic All-Canadians
Among these outstanding individuals, one female and one male from each U SPORTS regional association are selected annually as Top 8 Academic All-Canadians and receive the Governor General's Academic All-Canadian Commendation. McGill leads all U SPORTS schools with a record 22 Commendations, while Dalhousie is in second place with 14, alongside the University of Alberta, followed by the Univeristy of Manitoba with 13.
Dalhousie Governor General's Academic All-Canadian Commendation Recipients
2017-18
Sven Stammberger, Men's basketball
2016-17
Anna Dunn-Suen, Women's volleyball
2011-12
Miranda MacMillan, Women's hockey
2010-11
Nathan Muskoe, Men's track & field
2009-10
Daniel You, Men's volleyball
2008-09
Alex Legge, Women's basketball
2007-08
Niklas Rademacher, Men's volleyball
2006-07
Katie Hollinshead, Women's soccer
2005-06
Jeff Weiler, Men's volleyball
2004-05
Hilary Burn, Women's CC/T&F
2002-03
Marieke Gardner, Women's soccer
2001-02
Andrea Faryniuk, Women's track & field
1999-00
Aaron Barkhouse, Men's soccer
1995-96
Rachelle Beaton, Women's track & field