Dalhousie's varsity student-athletes spend a lot of time reaching for the top in their sports, but more of them than ever have shown they have the academic skills to match their athletic prowess.

A record 104 Dal Tigers are being celebrated Thursday at the university's annual Academic All-Canadian luncheon for their success in achieving a GPA of 3.5 or higher during the 2018-2019 academic year. That's up from 98 the previous year.

Soccer defender Olivia MacIntyre and Track & Field sprinter Maya Reynolds are two of the Dal student-athletes being recognized by U SPORTS with the honour this year.  
Building on a bond

You could say Olivia was destined to go to Dal.

Her parents studied at the university. Her three older siblings do now, too. It also didn't hurt that Dal offers up a strong varsity sports culture, adding appeal for the young, yet experienced, athlete.

But it was a personal connection the Sydney, N.S.-born student made years earlier that really sealed the deal and helped her decide how she would focus her time at Dal.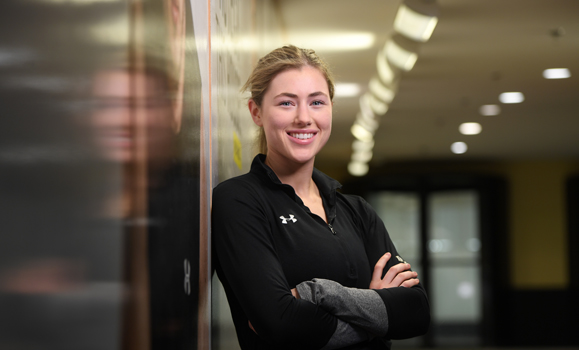 "I wasn't sure if I wanted to pursue basketball or soccer, but Cindy recruited me for soccer," says the third-year neuroscience student, referring to Cindy Tye, head coach of the Tigers Women's Soccer team.

The two first met during Olivia's years playing on the provincial soccer team, for which she helped earn a bronze finish in the 2017 Canada Games. She was a skilled athlete who'd been involved in a multitude of sports ever since she had learned to walk, and keeping her options opened to either court or field proved to be beneficial later on.

"I think that playing different sports, basketball especially, really helped me with soccer in a unique way because as a defender I could pick up footwork more quickly and change my position," she says.

As Olivia suited up for the Tigers for the first time in 2017, she moved into her position as centre-back naturally and has played nearly every game with the exception of those she has had to sit out due to injuries.
The 20-year old's journey hasn't been without its difficulties, though. A heart arrythmia that she first noticed when she was 16 has caused some issues on the field. "It flares up and my heart rate will go up to around 210 or 220, even when I'm not at my highest point of exertion. It's been kind of annoying having to come off in the middle of games because I'm so disoriented and short of breath."

But having a coach who knows her so well has been reassuring. "She can see it in my eyes. I'm so out of it, it's like I'm not even there with them," she says, noting that they have taken precautions to ensure they are ready if the issue spirals into something serious.

Olivia says her interest in neuroscience stems from a desire to "understand the brain's anatomy," particularly "how its processes shape our behaviour." She's considering professional following her undergraduate studies.  

A member of Varsity Council, Olivia also looks for ways to bring athletes across the sports spectrum together to give back to the community through volunteering at Ronald MacDonald House and other charities.

"I am very proud to be recognized," she says of being an Academic All-Canadian for the second time, "and it's also really nice to see other athletes' accomplishments within the varsity community."

As she looks forward to her fourth and final year, she's optimistic about what lies ahead.

"Every year, I've been learning more and getting better. I think that fourth year will be full-circle for my career as a student-athlete."
Taking it up a level

Maya's rise in the Dal running ranks happened swiftly in her first year when she set a new Atlantic University Sport (AUS) record in the 60-metre hurdles and snagged a Tigers female rookie of the year award.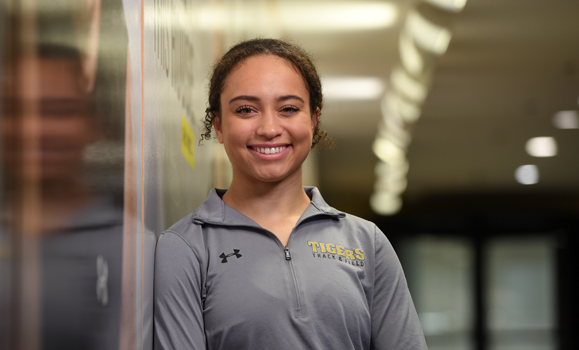 The commerce student's stellar track record only grew the following year as she took silver in both the 60-metre dash and 60-metre hurdles in the AUS track and field championships.

Now in her fourth year and once again an Academic All-Canadian, the speedy sprinter recalls being surprised by her own strong performance during those early days.

"It was really unexpected," she recalls. "It was really cool to know that I was up there at that level."

A move from small-town Ontario to the Toronto suburb of Markham in high school was a turning point for Maya. Joining a club team, she started competing seriously for the first time in Grades 11 and 12 — honing her technical skills as she set her sights on Dal.

Maya's early success at Dal motivated her so much she decided to skip summers back home to stay in Halifax and train, knowing her mom — a big fan of the East Coast — would come visit.
It all paid off last spring when she won bronze in the 60-metre dash at nationals.

"Throughout my entire track career, the 60-metre is what I've focused on the most, so to see it come together at the right time was awesome," she says.

Maya says her academic interests have been shaped by her co-op terms. In her second year, she spent a semester doing sales development at Dash Hudson, a visual marketing company that helps brands expand their reach. There, she got a taste of startup culture and liked it.

"I really like startups and the idea of starting something on my own," she says.
She followed that with a term at Hospice Halifax and then at a local hospital, deepening her interest in health.

Maintaining a healthy balance between her studies and sport has been easier with like-minded peers around, she says.

"It makes it really easy to balance school and track when you are doing it with other people," she says. "And even though it is an individual sport, I would say the best part of being in track are the friends that I've made."