New year, new president, new beginnings.
For Deep Saini, arriving in Nova Scotia to serve as Dalhousie's 12th president and vice-chancellor brings him back to the country that's been the foundation of his academic career. Dalhousie is the fifth of Canada's U15 research universities he's worked at, moving steadily up the academic ranks along the way. Having spent the last few years as president of the University in Canberra — a young Australian university that, under his leadership, has skyrocketed to be among the top 200 universities in the world (Times Higher Education) — he brings a unique blend of national leadership and global perspective to help take Dalhousie to the next level.

Video shot and edited by Dal Creative Services.


Dr. Saini will reside in Halifax but is also looking forward to getting to know Dal's Truro community, as his background and academic appointment are both in agricultural science. He's joined in his journey to Nova Scotia by his wife, Rani; the couple has two grown daughters, Preety and Kavita, both based in Canada, and two grandchildren with a third on the way. When he's not at the office, you're likely to find Dr. Saini frequently at Dalplex — he's a lifelong fitness advocate — and, in the summer months, out on the golf course.
For now, though, he's focused on spending his initial weeks and months getting to know the university community. That begins with several welcome receptions that kick off this week on Studley Campus and continue on the Sexton, Carleton and the Agricultural Campuses over the next two weeks.
We've had a couple chances to sit down with Dr. Saini since his appointment was announced in May to discuss Dalhousie and what the university can expect from him as president. The following Q&A is excerpted from those discussions.
Dal News: Tell us about the reception you've received since the news broke of your appointment — from friends, colleagues, people in Canada. What have the reactions been like?
Dr. Saini: I have lots of friends across Canada, so there's been a lot of joy about me coming back. But there's also been reaction from people I didn't know before. I'll give you an example: I arrived in Toronto from Vancouver, just after the announcement, and was waiting for my bag to arrive, and this young man walks up to me and asks, 'Are you the new president of Dalhousie. My name is Mackenzie, and I want to say congratulations, I'm an alum, I just graduated, and you're going to be very happy there. You're going to love Dal."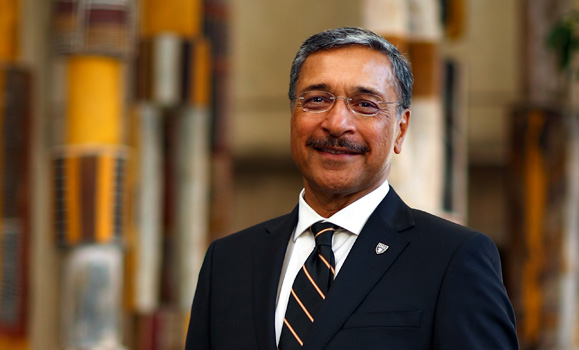 It's amazing how many people I've come across who are Dal graduates, particularly in the Toronto area. And in my time visiting campus on a couple of occasions this past year, so many people have stopped and said, "Hi, welcome to Dalhousie!" It reminds me of the TV series Cheers — you know, where everybody knows your name? I think it's just going to be a great university to work at. I feel at home.
What does it mean for you to be returning to Canada, and making a home in Nova Scotia?
We arrived in Canada in 1982. Then, 34 years later, we went back to Australia, where I'd come from at that point. And I thought that this was like completing the circle, that we'd probably stay in Australia for a long time. We still love Australia; it's the country that gave me my start. But being away for three years taught me what it means to be a Canadian, and it taught me how Canadian I'd become in those 34 years and how much I missed Canada — and how special it is both to me and, really, on the global stage as well. So, coming back home: that is one overwhelming feeling for us.
Secondly, I've lived in many places in this country. I started in the west at the University of Alberta, then we moved around. So this is like completing the journey, from west to east — and now this is the last step.
Prior to your time in Australia and Canada, you grew up in India. How did that experience shape your life and career thereafter?
India is the ultimate diverse society in the world. If you can think of a race, a religion, an ethnic group, languages — you name it, it's there. And it's a country that should not function, in theory, but somehow it functions in practice. Having grown up in that extreme diversity where you are constantly forced to find common ground, I think you carry that with you. It gives you a cognitive flexibility, if you will, that helps you function in complex, diverse environments and find a way to move forward. I think that has served as an asset that has helped me navigate my way through situations like the presidency of a university.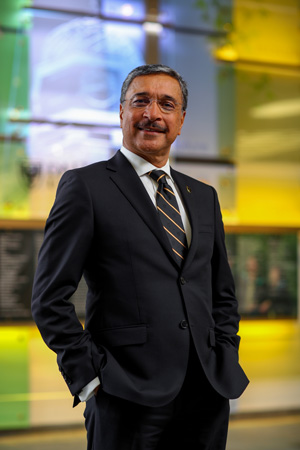 You are the first Dal president who has come to the role having been president of another university beforehand. What do you think you'll bring from your Canberra experience?
Universities are complex beasts, and no two days are the same: every day is new. Opportunities and challenges and problems come at you from left field all the time. And you will always make mistakes: frankly, if you're not making mistakes, you're probably not doing anything. But you learn how to not get stumped, and move on stronger from those mistakes.
Being a university president is also a team effort. And team takes practice. You learn how to play with a good team, how to make the best of the talents of your players. So that helps, having played on the team and led a team like that before.
What do you think the Dal community can expect from you and your leadership as you begin your term?
I could say a number of things but let me focus on one or two.
The first one is that I believe, and I've believed for a long time, that the most important asset in any organization, any institution, is its people. Everything we do, it's driven through our people. People are the primary interface through which we connect with the world. They are the interface between our core mission and what we have to deliver to our community, to any stakeholder. And that's the key thing that people can expect from me: I will be very people-focused and we will drive this university to its next step on the journey through our focus on our people.
The other thing I would say people can expect of me is I've had a very international experience. I've worked in two countries and multiple locations in this country, I've lived in three countries, I've travelled around the world. So I have a very global perspective. I think of Dalhousie as a global university but, at the same time, I think of this as a university that is very civic-focused. I see this as a textbook example of what a civic university should be and we are going to be driving it even farther into the community on that front. You can expect me to work harder to anchor the university to its community while, at the same time, playing on the global scene.
You're coming to Dal at a moment of transition — not just in the presidency, but from one strategic plan to the next, and from one century to the next. What are your hopes for the early years of Dal's third century?
This is a great institution. Two hundred years of history, and a lot has happened here. It's not a young university trying to find its way. It knows its way. It's come a long way on that path, and its progress over the last five or 10 years has been truly phenomenal. It's a university that others outside of Nova Scotia are talking about.
The focus, then, is to ask the question: where can we go from here? And don't expect me to try and put some runs on the board in the next three months; I'm not in a rush, I'm here for the long haul. And I'll be looking at what a Dal president in 50 years would turn back to and say, 'Thank you, Deep, you were there at that time.' I'm going to be taking that long view and building this university to the position of global preeminence. That takes time to build, and I'm going to ask my colleagues to come along on that journey.
Finally, I know your wife, Rani, and your family are a big part of your life — and that being closer to your children and grandchildren (who are based in Canada) was a big reason you were keen to return to Canada. How valuable is it to have family in the corner as you begin a new role like this?
It's everything. Your only medium for interacting with the rest of the world is your body and soul. There is nothing else. And it's family that helps keep them healthy. When that crumbles, everything else crumbles. My philosophy has always been that my life starts with family, and everything else comes from there.
I'm fortunate to have a partner who is so dedicated to what I do — she's been a professional herself, and since retiring in 2015 she's really been there supporting me like it's a full-time job. We make a great team.
More on Dal's new president