Nearly a thousand people packed into the Rebecca Cohn Auditorium Saturday afternoon to mourn and remember some of the many individuals who lost their lives in last week's airplane disaster in Iran.
 
Photos, flowers and candles adorned the stage for the memorial service, which centred on victims of the tragedy who had direct connections to Nova Scotia — including Dalhousie Engineering student Masoumeh "Masi" Ghavi and Dal alum and dentist Sharieh Faghihi.

Iran has admitted to accidentally shooting down Ukraine International Airlines Flight 752 with a missile shortly after it took off from Tehran for Kyiv last Wednesday. All 176 passengers on board were killed, including 57 Canadians. 

"We've come together as a community — and we've heard that word over and over again — to support our neighbours, support our friends, our brothers, our sisters, to support strangers," said Ivan Joseph, Dal's vice-provost of student affairs, in remarks at the vigil.
 
Dr. Joseph, who began his talk by asking everyone to link hands in a show of support for the friends and family members of the victims in attendance, said the tragedy had "united us all."
 
"We struggle with the same emotions: Why? How come? This doesn't make sense. How do I sort this? It's not fair? Why them? It could have been me. These are the messages we've heard time and time again."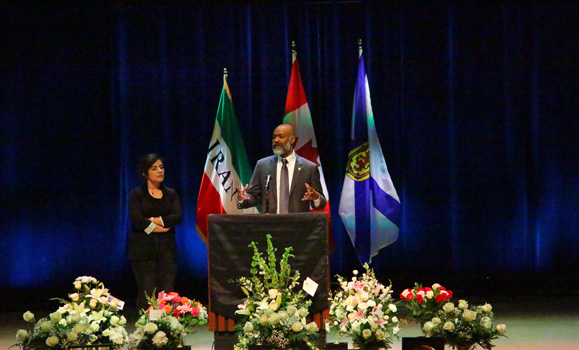 Ivan Joseph

Masoumeh's younger sister, Mandieh, was also killed in the incident, as were Saint Mary's University students Fatemeh Mahmoodi and Maryam Malek and former Halifax resident Shekoufeh Choupannejad and her daughters, Sara and Saba Saadat.

An overwhelming loss

Alireza Nafarieh, president of the Iranian Cultural Society of Nova Scotia and a postdoctoral fellow in the Department of Engineering Mathematics and Internetworking at Dal, spoke at the vigil about the magnitude of loss.
 
"Today is the day of grief for losing our loved ones, for missing them, for not seeing them anymore, for not hearing their voice, not seeing their smiles," he said. He noted that the flight was packed with top students, PhD candidates, faculty members, doctors, dentists and specialists. "What a valuable asset, what a huge loss — not only for Iran and the Iranian community, but also for Canada and Canadians," he said.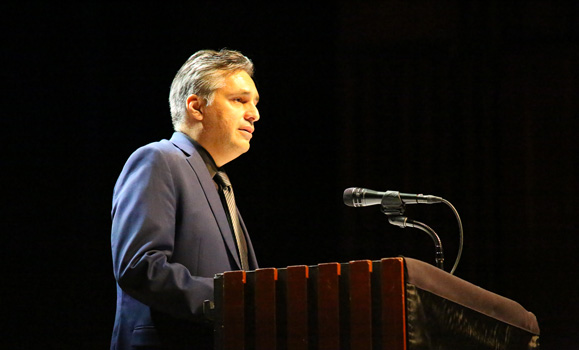 Alireza Nafarieh 

William Robertson, director of the Internetworking program that Masoumeh joined at Dal in 2018, remembered her as a student with great promise.
 
"Masi tackled everything with unabated enthusiasm and deep interest," he said, noting her eloquence and clarity of purpose. Dr. Robertson said she had a reputation for being curious, questioning everything and for having an interest in "every technical detail."
 
"She was an ideal candidate for the Master of Engineering in Internetworking degree and a truly exemplary inspiration for other young women in the technical field."
 
More than 20 individuals spoke at the weekend vigil organized by the Dalhousie Iranian Student Society in collaboration with university administrators, the Dalhousie Student Union and the Iranian Cultural Society of Nova Scotia.
 
Teri Balser, Dalhousie's provost and vice-president academic, thanked the organizers of the memorial service and shared condolences for the friends and family of the victims on behalf of the university and Dal President Deep Saini, whose first day on campus is this Wednesday.
 
"This is a hard day. We gather here for difficult reasons — to remember the 176 people who lost their lives this week," said. Dr. Balser.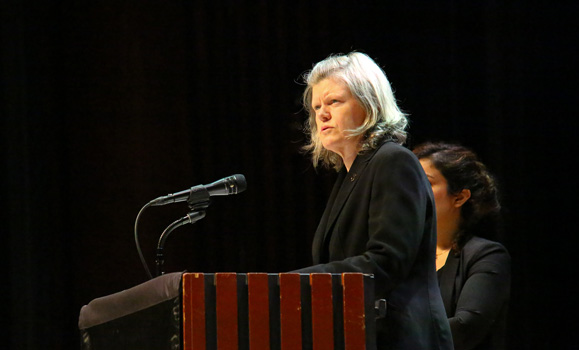 Teri Balser
"To think of the lost future impact of these individuals makes this all the more difficult," said Dr. Balser. "This is truly a huge loss for Halifax, for Canada, the broader academic community across the country and beyond, and most of all for the families, friends and collegues of those who lost their lives."

Tears of remembrance

Attendees also heard from public officials, such as the Honourable Lena Diab, Nova Scotia's Minister of Immigration and Halifax Mayor Mike Savage, as well as friends and family members of the victims.
 
Marjan Adibi, Dr. Fghihi's sister-in-law, teared up as she remembered a family member whose kindness and dedication to family shone through even in tough times.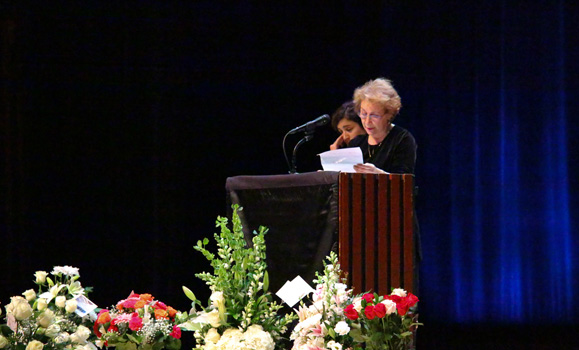 Marjan Adibi 

Although established as a leader in the dental field in Iran, Dr. Faghihi and her husband decided to leave the country for Canada in 2011 to help create a better future for their children (her son is now a PhD student at Dal and her daughter a Dal Pharmacy student). There was hardship as they immigrated and she had to study at Dalhousie to retain the proper credentials to practice in Canada.
 
"Sharieh worked hard against the odds and she started to become successful again. However, she still was in the dawn of her success before she got taken away from us. She deserved to live much longer to see the happier times and to see happiness and success for the life of her children and to die in her own way in her own bed," said Adibi, choking up.
 
To Dr. Fghihi's children, she said: "It is undeniable the greatness of your loss, and all the mourning for her. But after all, you are the best representatives your mother could have. Follow her path and fulfill her dreams that she had about yourselves by becoming a great citizen, successful, confident, happy and helpful to yourselves and others. Just like the way your mother always was."