For five decades, Dalhousie University has been home to the only school of information management in Atlantic Canada. "We're a small school with a huge impact," says School of Information Management (SIM) Director Sandra Toze.

In October, faculty, staff, students and alumni of SIM gathered at the beautiful Halifax Central Library for a cocktail reception to kick off the celebration of fifty years of library and information studies at Dal.

"About 100 people attended," says Toze. "We were thrilled that alumni for each decade were present. We celebrated our first graduates, and honoured Professors Bertrum MacDonald and Fiona Black, who are retiring."

From now until spring 2020, a number of events and activities will mark SIM 50. This year's Dalhousie Horrocks Lecture on January 14 will feature Leslie Weir, new Librarian and Archivist of Canada, and an alumni reception will follow. SIM will also publish a booklet celebrating its history, host small receptions for alumni across the country and highlight the anniversary at the annual Atlantic Provinces Library Association (APLA) conference. In the spring, watch for more events as part of Alumni Days.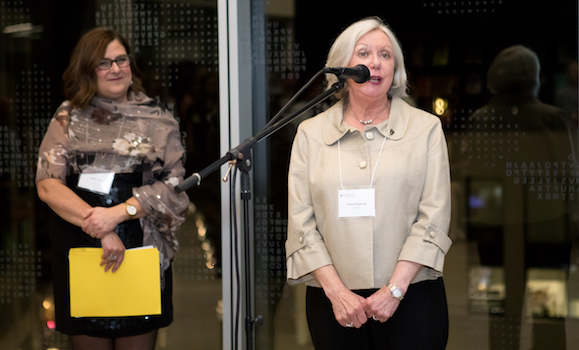 Marie DeYoung (left), chair of the SIM Alumni Association, and SIM director Sandra Toze welcome faculty, staff and alumni to SIM's 50th anniversary celebration.
The more things change…

SIM 50 is also a great opportunity to launch the name change of the Master of Library and Information Studies (MLIS) to Master of Information (MI). "It's all about showing the breadth of what you can do with your degree," says Toze. "We will always provide education to people interested in librarianship and archiving, but these skills are needed in a broad range of places. This broader name helps us tell the story of what this education can do."

When it was created in 1969, SIM was called the School of Library Service (SLS). The first Master of Library Service (MLS) degree was awarded in 1971. As library and information studies evolved, so too did SIM. The name was later changed to School of Library and Information Studies (SLIS), with the first MLIS degrees granted in 1987. By 2005, the current school name was adopted and today, SIM offers innovative academic programs focussed on the management of information, people and technology. These programs include graduate and undergraduate degrees, combined graduate degrees and an interdisciplinary doctorate, and are unique in Atlantic Canada.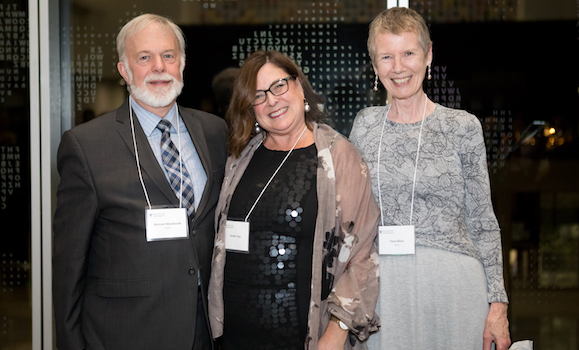 Betrum MacDonald, Sandra Toze and Fiona Black.
It's not hard to imagine what a 1971 graduate and a 2019 graduate might have to talk about: the change from leafing through card catalogues to finding all the information you need on your phone is only the most obvious topic. But Toze thinks the heart of librarianship and information management remains the same across the decades.

"At our core, we are a service profession, so as much as things change, fundamentally we provide a critical service and help people access what they need," she says. "The ways people seek information and how we address that have evolved but remain based on our core and enduring principles. For example, libraries are moving away from reference desks, so services and interactions are happening in different places and in different ways, but our focus remains on ensuring access and providing essential services. The more things change, the more they remain the same!"

A colourful history

David McDonald (MLIS'99), Legislative Librarian at the Nova Scotia Legislative Library and past-president of SIM Associated Alumni collected stories to share during the cocktail reception. These included a legendary encounter between faculty member and young adult literature expert Dorothy Broderick and the Provincial Librarian of New Brunswick, wherein she is alleged to have punched him so hard in the nose he fell off his bar stool.

SIM has also had some memorable mascots over the years, including stuffed doll Lola LeBlanc, who attended many parties, appeared on the cover of the Library Journal, and was kidnapped and held for ransom in the late 1980s. About ten years later, Seamus the garden gnome and his gnome friends made their first appearance in a window behind Bertrum MacDonald's back as he attempted to lecture in the Killam Library. "The class was clearly amused, and at first I was not aware why. Typically, I was not clued in!" writes Dr. MacDonald. Rumour has it that Seamus went on to travel the world extensively with various SIM students.

There were also stories of how most students in the 1990s arrived at SIM with little or no experience of using the internet, and within a couple of months were building their own websites.

"We've become far more foundational to everything going on in society," explains Toze. "Social media, artificial intelligence, big data… How can we work with people on the tech side to ensure we are using these tools in ways that are beneficial to society and not leaving people behind?"

"Our grads are in demand at all levels of government, corporations, and in libraries and archives. We make sure the more valuable assets of governments and societies — the information they hold — is accessible and usable over time."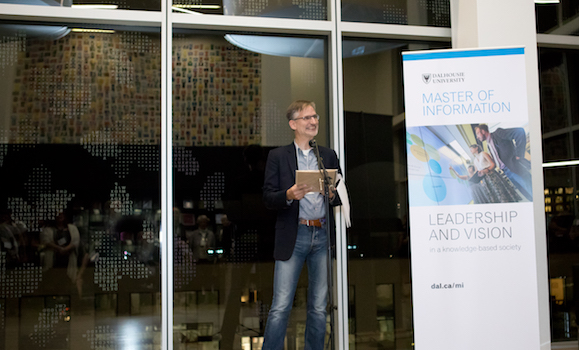 David McDonald regales attendees with anecdotes from SIM's history.
Putting it in context

Student assistant Robyn Nicholson (MI'20) has been helping with the preparations for SIM 50. "It's been a special time to be completing this degree," she says. "It's helped put my own degree and my prospective career in context with the last half century of the field. Some of the materials I was looking at in the archives were from the first year of the program. A lot of the values they outlined, like focusing on the Atlantic region while still being dynamic, are still maintained today."

"It's kind of a dichotomy," she adds. "It's an institution where things have been done largely the same way for a long time, yet there have been huge technological changes."

David McDonald agrees. "Libraries are now becoming more community-oriented spaces," he adds, "Not just a place to read or get information. It's interesting to see how 'library as space' is being captured, and how libraries are valued as a symbol of freedom."

"I want people to recognize how important it is for us to have a school like SIM, and to recognize the importance of information in society, and how easy it is to lose that access to information! Librarians not only protect that access but curate the information to make it more accessible."

"It's a very interesting time for this profession," adds Toze. "There are so many more possibilities, our role in society is growing, and we look forward to what the future brings."

For more information about the January 14th Dalhousie-Horrocks National Leadership Lecture, visit the SIM website.