Earth Science and Environmental Sciences at Dal joined forces last year, bringing two closely related disciplines together under one banner as the Faculty of Science's newest department.

James Brenan, chair of the new Department of Earth and Environmental Sciences, says the idea for combining the two emerged out of a recommendation from a review of Environmental Sciences done two years ago suggesting the program find a departmental home.

The review — which included both internal and external reviewers — revealed that the size of the program limited some of its potential for growth. After several consultations, it was decided that the Department of Earth Sciences was the best fit because both disciplines share many similarities.

"If you look in general at other jurisdictions and other universities, Earth Sciences — in terms of the type of research that is done and the interest of the faculty — is generally speaking a better fit because an important branch of Earth Sciences is to look at the interface between human activities and the earth, which is something that is very much within the umbrella of environmental science," he says.

Although the disciplines overlap in significant ways in subject matter, their student size and faculty structure at Dal have traditionally been very different.

"In the Environmental Science program there is a large number of undergraduates: it's something like 120 students, but a relatively small number of faculty. However, in the Earth Science program, we have a small number of undergraduates, maybe 60 or 70, but we have a larger faculty," explains Dr. Brenan, pictured below.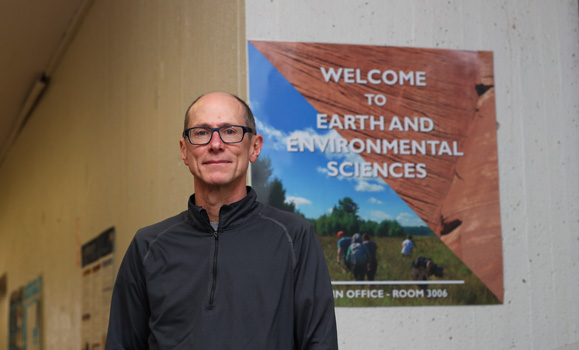 A significant benefit of the new program is the upgrade to the existing departmental infrastructure. There will be a new undergraduate teaching lab renovation which represents a significant update to an existing classroom. There's also a plan for a mixed office and research space, which will include a new teaching lab that will be focused on teaching of Geographic Information Systems, says Dr. Brenan. Several office spaces and classrooms have already been renovated.
 
Other benefits of this union include the creation of a new student gathering space, increased undergraduate research and co-op opportunities, and increased staff support. There are also ongoing discussions about hiring new faculty members with expertise in both disciplines.    

According to Dr. Brenan, the new department will serve as a bridge between Earth Sciences and Environmental Science students. It will enable students to understand the relationships between both disciplines leading students to a more holistic view of both fields.

Find out more about this program at its website.