With exams over and many Dal students heading home for the holidays, campus is getting quieter by the day. But not all students are able to spend time with family over the break, particularly those international students here from afar.

That's why, for the last five years, Dalhousie has hosted a special international student holiday dinner for those individuals not travelling home.

Dal invited its community to donate funds to support students attending the banquet this year, surpassing its $4,000 goal by raising $5,210 through the projectDal website — all of which goes towards providing a great dinner experience for the students.

"It's definitely something that seems to resonate with our alumni community," says Stacey de Molitor, an engagement specialist in Dal's Office of Advancement who organized the campaign this year.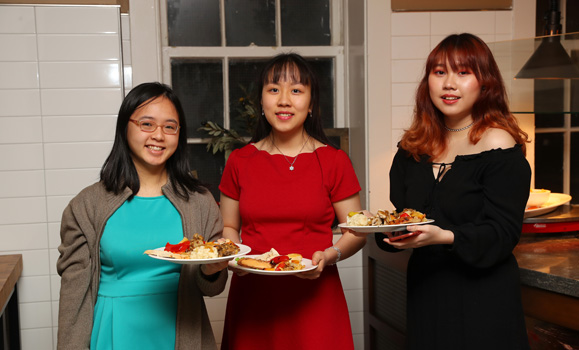 "I was a foreign medical student at Dalhousie many years ago," writes donor John J. Akabutu on the campaign site. "I know the experience of longing for home during the holiday season all too well.  
As in the past, this year's dinner — happening tonight (Dec. 18) in Shirreff Hall — aims to offer the 200 attendees a traditional East Coast holiday dinner experience. There'll be turkey, stuffing, cranberry sauce and various other options to accommodate those with dietary restrictions.
Centred around community

First launched in 2015, the event has grown over the years and now includes pre-dinner alumni punch reception in the Shirreff's Victorian Lounge. There, attendees are treated to a fun icebreaker game. Last year, de Molitor says they played a round of intercultural bingo that proved extremely fun for guests.

"People were making mad dashes to get all the boxes ticked off on their cards," she says. "The level of excitement in the room was palpable."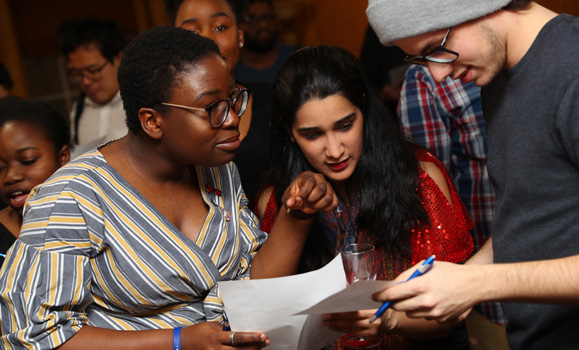 Dal's Interim President Teri Balser and the Honourable Lena Diab, Nova Scotia's minister of immigration and Acadian affairs and Francophonie, will be on hand at this year's dinner to welcome students and make them feel at home.

"It really is an event that is centred around community," says de Molitor. "It's a heartwarming rich opportunity to get to know one another and just get to know the company around you."

The event is organized and run in partnership by Dal Advancement, alumni volunteers, donors, Food Services and the International Centre.