The Dalhousie Art Gallery's annual showcase of student, staff, faculty and alumni work has taken a more artistically diverse tone this year, with an unprecedented amount of media, audio and performance work added to the more traditional visual creations.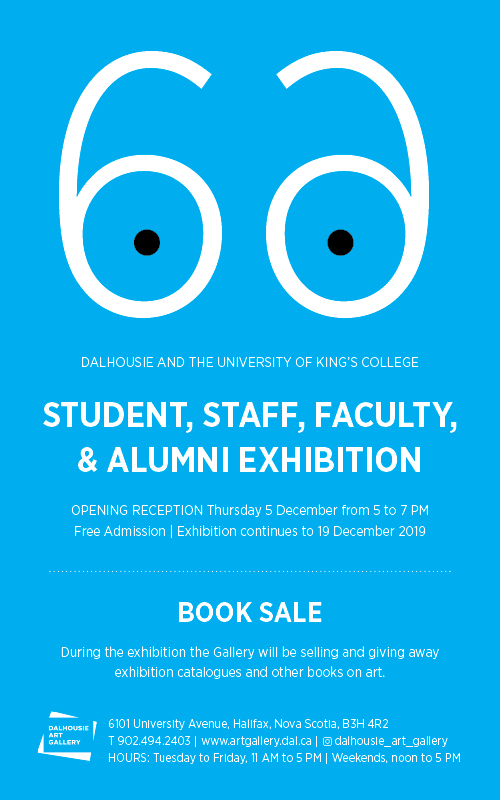 "Usually, we are a visual art gallery, but the gallery can be expanded to include audio new media, spoken word, and all variations of performance," said Wes Johnston, assistant curator and lead designer of the 66th Student, Staff, Faculty, and Alumni Exhibition.

This year's exhibition featured more than 80 participants with various forms of artistic expressions from the Dalhousie and University of King's College communities.

There were three performances during the opening ceremony, which was held in the gallery last Thursday (December 5th). Shanay Comeau presented her piece, The Selfishness of Beings, which used an interplanetary being to explore the destructive effects of so-called progress on the planet. Pedro Montoya's performance, Baby T-Rex, challenged the imagination of the audience to see the baby T-Rex, which he carried in his pocket. The last performance, Recovering Addict, was by Josh Dass, a third-year, double major in Creative Writing and Sociology.

"I really like writing; it helps me get out what I can't say," explained John. "I write about my life and experience. Addiction and recovery is my life today. My goal is to share the message because people are dying; it's that serious, it's deadly."
A variety of talent

Zeqirja Rexhepi, a popular artist who resides in Nova Scotia (pictured below), displayed his painting, Compozicion 2. Rexihepi immigrated to Canada 20 years ago because of the war in Kosovo, and his work integrates all that is good about his Albanian heritage and his Canadian experience. Compozicion 2 explores the process and progress of gender equality.

"All my artwork is about hope and life," he said.


One of the largest pieces in the exhibition is Michael MacLean's Scars of Klondike. His laser engraved woodcut cotton print piece described the effects of mining in Yukon. "It's about using visual arts to talk about difficult issues like climate change and how we are changing the landscape," he said.

Several works on display were created by students in Professor Shauntay Grant's poetry and spoken word classes. Also, several architectural pieces were designed and photographed by students of Ken Kam in the Faculty of Architecture and Planning.  

Johnston encouraged artists and people interested in the arts to submit their work for the next exhibition in 2020.

"This is a very warm and welcoming community," he said. "There is no judgment of the work coming in, we simply open our walls, our floors, and space to everyone with anything they think is a creative work."

The 66th Annual Student, Staff, Faculty and Alumni exhibition runs through December 19, during regular gallery hours. Visit the Art Gallery website for more details.