Equity, diversity and inclusion in the classroom and beyond was the agenda for Wednesday at Dalhousie.

Taking advantage of the fall study break, 200 faculty, students and staff — with upwards of 70 individuals watching online at any given time — gathered on Nov. 13 for a full-day forum about embedding EDI (equity, diversity and inclusion) in teaching and learning at the university.

With panel discussions, hands-on workshops and a keynote from leading scholar George Dei, the forum offered Dal's academic community the opportunity to consider questions about decolonizing curricula, supporting diverse perspectives in the classroom, and creating a more inclusive academic experience overall.
Watch the forum: Livestream archive of the morning sessions (an edited version with slides will be available in the near future)

"There is some movement, some activity in the right direction here at Dal and across the country, but we have a long way to go," said Katherine Harman, Senate vice-chair of academic programs, opening the event. "I think your presence and your interest in this event is a representation of a movement that is happening at Dalhousie… but we cannot be complacent."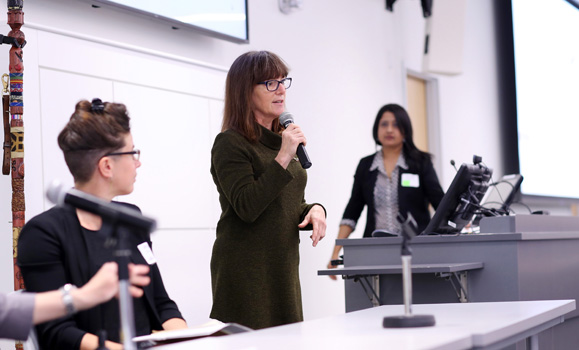 Senate Vice-Chair Katherine Harman speaks at the forum.

Theresa Rajack-Talley, who joined the Dal community this fall as the first vice-provost of equity and inclusion, set the stage for why this discussion is so important.

"Embedding EDI in Dal's teaching and learning should be strategic, and guided by student learning outcomes and skills, regardless of discipline, faculty or degree program," she said.

"Through embedding EDI in teaching and learning, we can diversify our syllabus and curriculum, digress from the canon, de-centre knowledge and knowledge production, devalue hierarchies, disinvest from citational power structures and diminish the magnifying of some voices over others."

Academia as liberation

The morning's keynote presentation from Dr. Dei offered much for attendees to reflect on. A professor at the University of Toronto's Ontario Institute for Studies in Education with expertise in anti-racist research and Indigenous knowledge, he spoke of building new futures and being visionary about creating better spaces for students and others in the academic community.

"The reality is that we have our Black, our Indigenous, our racialized students struggle, really, to find their feet, to find their place in these institutions," he said. "This is why it is so imperative that we begin to talk about how we can create new spaces, decolonial spaces."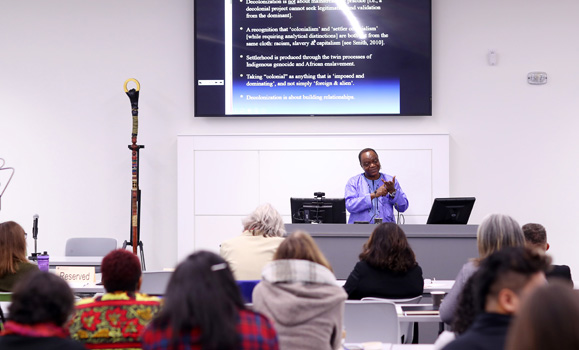 Keynote speaker George Dei.
He discussed the idea of academics being not simply intellectuals, or even public intellectuals but "academic warriors," and he challenged universities to serve as spaces for liberation. He also discussed his views on the intersection between academic freedom and questions of equity.  

"We forget that academic freedom can only be sustained if we respond to questions of equity, social justice and questions of integrity of our scholarship. For those of us who are so caught up in maintaining our academic freedom because we think it's what creates a democracy, [because] it's what creates a marketplace of ideas to engage scholarship — let's not forget that it can only be sustained through academic responsibility and integrity."

Perspectives from the Dal community

With Dr. Dei bringing an external perspective to the forum, the remainder of the morning's panels were about sharing voices from within the Dal community. First was the student panel, which featured recent Social Work graduate Melissa Myers (who now works in HRM's diversity and inclusion office) discussing "barrier after barrier" she faced navigating her years as a student with a disability, and Health Promotion student Phoebe Owen on her personal experiences and what she heard from other students about the hardships in trying to push EDI perspectives forward.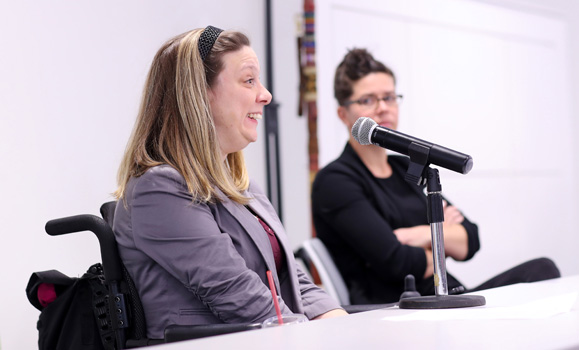 Student panel members Melissa Myers (left) and Phoebe Owen.

"The need to create safe classroom environments in which all students can see themselves and their perspectives represented in faculty or curricula shouldn't be up for debate," she said. "As students, we see inconsistent priorities and messaging and, as a result, are left constantly trying to assess which spaces are safe for us to try to do this work in."

"Issues of EDI do not only affect students who belong to specific identity categories," she later added. "There are ripple effects for everyone when we as students witness another student not being supported or experiencing harm."

In the second panel, focused on faculty perspectives, Engineering's Amyl Ghanem discussed how "curriculum" is about more than just the lessons themselves.

"We need to first educate our colleagues that the definition of curriculum is broad," she said, noting that it's much more than simply the "y = mx + b" of a given lesson. "What we are teaching our students includes how we teach them, as well as the teaching materials and the environment we teach in."

"The language I love, and I've been thinking a lot about lately is inclusive excellence," said Lisa Goldberg of the School of Nursing. "It's really this idea that any institution can't really be excellent unless that diversity, inclusion and equity is woven through everything that the institution does. Because that's, ultimately, what's going to be excellent: you don't have excellence unless you have that at every level."

Watch the forum: Livestream archive of the morning sessions (an edited version with slides will be available in the near future)
Others offered their perspective on what a diverse curriculum means in their own field.

"My overall objective as an educator is to instill in students a scholarly appreciation for how difference, diversity, equity and justice inform health care and health outcomes," said Ingrid Waldron of the School of Nursing. "For me, an inclusive curriculum is about getting students to think critically about how social identities, social processes and social iniquities within our social structures impact health, mental health and well-being."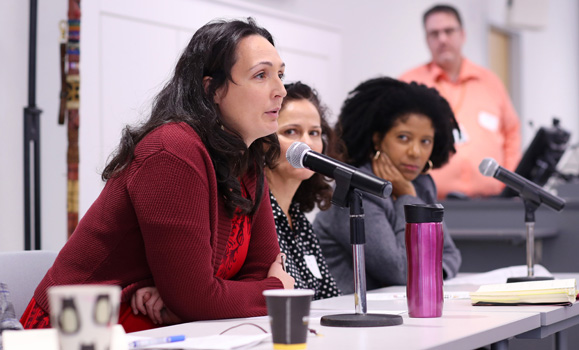 Naiomi Metallic (left) speaks during the faculty perspectives panel.
"For me, it is curriculum that is going to be providing a base knowledge and skills and substantive knowledge that our future professionals will have," said Law professor Naiomi Metallic, "that will ensure they cause less harm or no harm to the people they will be serving."

And discussing specifics on how to move inclusive curriculum forward, Judy MacDonald of the School of Social Work spoke not only on training and support for faculty and setting clear equity goals but the importance of representation more broadly.

"We need to show students that their mirrored representation is there," she said. "It makes a difference when you go into a classroom and you are not the only student who is African Nova Scotian, but your professor is African Nova Scotian and the receptionist at the front desk is as well. That makes a huge impact on people, showing them that they're welcome and wanted."

Critical, essential work

The afternoon featured three concurrent sessions and workshops: one on cultural context for Science and Engineering, one on the principles of inclusive classrooms and one on universal design for learning.

For the Dalhousie University Senate, and the university more broadly, the hope is for the event to spark further discussion and work within and between Faculties. Later this year, Senate also hopes to issue a call for proposals around EDI initiatives that will be presented in conjunction with the annual Teaching and Learning conference on campus in the spring.  

Of the forum and EDI efforts across campus, Interim President Teri Balser said: "It really is critical work. It absolutely is essential.

"This is exactly the kind of thing that keeps us moving forward. Because if we really are going to decolonize, if we're going to internationalize, if we're going to diversify any part of the university, our curriculum, any of it, we have to be thinking about and attending to every part of the system: the way we teach, the way we perform every aspect of our activities.

"That doesn't mean reject all of it; it means don't be unconscious. Be deliberate; don't fall into complacency… really think about every aspect of what we do."

Feedback from the forum has been very positive, say the organizers, and a survey has been sent out to participants and attendees to assist future planning.
Watch the forum: Livestream archive of the morning sessions (an edited version with slides will be available in the near future)