Ian Nason remembers bringing one of the first desktop computers to Dal's administration.

"There wasn't one in our budget office when I started here in 1982," says Nason, currently Dal's vice-president finance and administration. "I convinced the leadership of the day to buy us an IBM XT so we could use spreadsheets as a business tool — Lotus 123. So I was involved in the early days in getting us on the technology train, but I had no way of knowing how pervasive it would be in our lives."

Today, the responsibility for keeping that "technology train" going runs through Nason's vice-presidential portfolio. So does building, upgrading and maintaining Dal's physical campus. Hiring and supporting Dal's faculty and staff. Financial management and payroll. Heck, just within one unit — Ancillary Services — you have everything from Residence and Food Services, to the Arts Centre and Conference Services.

How does one succeed in overseeing such varied university functions? With a great team, says Nason.

"Someone once said early on in my career, if you're in a managerial role, you're only going to be successful to the extent that the people around you are skilled, motivated and share your values. I believe that's been my good fortune."

Moving onto the next chapter

The person who leads that team is preparing for a well-earned retirement.

This week it was announced that Nason plans to wind down his nearly four full decades working at Dalhousie, finishing his tenure as vice-president finance and administration next June. It was news he originally thought he'd be sharing earlier: he had discussed retiring last year, in fact. But with the changes underway in Dal's administration — particularly the presidential transition and a new provost — he agreed to stay on through the first months of Dr. Deep Saini's upcoming presidency.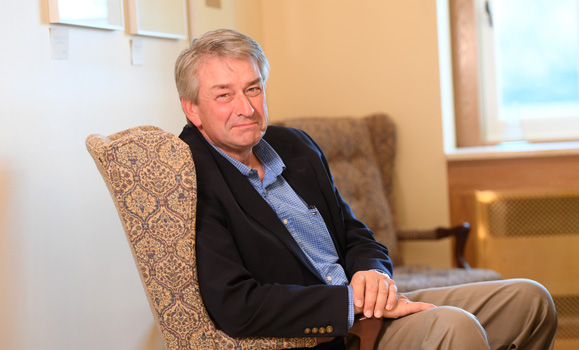 "That's just who Ian is: a generous and dedicated university leader," said Interim President Teri Balser, in her email to the university community this week. "So, while Ian's news may not have been a total surprise, it still comes with a sense of sadness for those of us who've been lucky enough to work with him." She says the search for Nason's successor is expected to begin this fall.  

Ian says that missing the opportunity to work more closely with Dr. Saini is one of the downsides of his timing. "It's not an easy decision, but I've been working for 42 years now, most of it at Dal. I've enjoyed it immensely, but new people will have new things they can bring to this position, and that's good for Dalhousie."

Dr. Saini, writing by email, says it's clear from his interactions with Nason that his knowledge, experience and insight have been invaluable to Dalhousie over the years. "Certainly, they have already been invaluable to me as I prepare to serve as President," he says. "While Ian's counsel will certainly be missed, I am grateful to have him as part of our senior leadership team through June and know he will always be a friend to Dalhousie."

Supporting a growing university

Nason is confident about the state of his own group and their various functions in the wake of his forthcoming departure.

"The team that I work with most closely is extremely talented. They provide, day in and day out, great leadership to the various functions they represent, in support of Dal's academic mission"

Susan Robertson, currently the assistant vice-president of Financial Services, has worked alongside Nason for her entire 27-year career at Dal.

"It is huge loss for those, like me, who have had the opportunity to work so closely with such a genuine and caring leader," says Robertson. "Though I am pleased to see him retire after such a distinguished career at the university."

Nason says that what unites the people who work in the various units under the VP portfolio is a commitment to service, to improving processes, and to maintaining great relationships with constituents on campus, be they students, faculty, staff or otherwise. It's about how best to serve the Dal community.
"No one individual possesses all the knowledge and intellect to drive this university forward, and so you have to seek the views of others and listen carefully to them," says Nason. The range of issues is varied and can be all over the map. The excitement, the reward, is working through those situations with others to find a productive way forward."

The university has changed a great deal since Nason started working at Dal, only a few years removed from being a student himself. As his career has grown — from starting in Dal's budget office through to becoming the director (later assistant vice-president) of Financial Services and then the vice-president in 2014 — so too has Dalhousie. The university's enrolment was just over 9,000 students in the early 1980s; today, that number has more than doubled. The university has grown significantly, including the addition of two campuses (Sexton and Truro) that were completely separate universities when Nason arrived. And the digital age has changed nearly everything about how Dal functions, requiring operational processes to be completely reshaped and adding a whole new level of IT infrastructure requirements.

Looking forward

When asked what he's most proud of in his time at Dal, Nason speaks not of IT improvements, or the 32 consecutive balanced budgets he's helped produce, but the willingness of individuals across the entire university to collaborate and work together.

"You try and be fair in your dealings with people, and with issues," he says. "I'll have had the opportunity to work alongside faculty members and staff in most areas of Dal, students, community members and six presidents. Each day can be a humbling – and eye-opening – experience. I'm grateful to our community for challenging, and at times changing, my thinking as we've worked together to propel the university forward."  
 
As for what the future brings, his personal plans for retirement are still taking shape, though he's eager for the chance to get to spend more time with his family – and especially his new grandson Jack. The future will likely involve work in the community, be it volunteering or otherwise. As for Dal's future, his optimism shines through, as does his belief in the importance of taking a forward-looking perspective.

"The recipe for success is always to imagine what the future will be and then figure out how we set the university up for it."