The Faculty of Graduate Studies is on the hunt for OpenThinkers, the 10 PhD students from across the university who will make up the first cohort of Dalhousie's OpenThink Initiative.

What's an OpenThinker? Professor Lynne Robinson, the academic director of the initiative, says they're, "people who are passionate about their research and want to share it to make positive change in the world."

OpenThinkers will be a group of graduate researchers given the skills and platform they need to influence public discourse and policy. As part of the OpenThink Initiative, which gets formally underway in January, they will attend a series of OpenThink Workshops focused on harnessing social media, writing for the public, pitching and talking to the media, composing editorials, and creating infographics.

Drawing on experts at Dalhousie and the University of King's College, as well as external partners like NATIONAL Public Relations, the initiative will provide this select group of students with the skills and confidence they need to open their thinking to the world.

The application deadline for the program is November 29, 2019 — apply now [PDF]

Taking advantage of support and training

"We will help you discover and tell your research story," says Dr. Robinson in her pitch to potential OpenThinkers. "We'll help you identify the facts you want to share, the insights you want to impart and the opinions you think are important."
More than that, OpenThinkers receive a $1,500 scholarship, opportunities for travel grants and demonstratable proof via the products they create that they have the ability to do "knowledge translation."

Emily Pelley (left)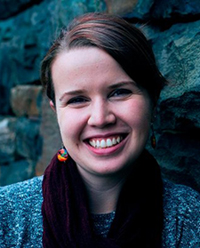 , a Dal PhD graduate and participant of OpenThink's small pilot program, says this skill is in great demand by funders and employers alike.
"It's more than an altruistic program where we're saying, 'Oh we should share what we're learning,'" says Dr. Pelley, now an assistant professor in the Department of International Development Studies at Saint Mary's University. "There is the very practical application of 'Okay, you need to get a job. You need to be able to apply for funding. You need to stop and explain what you're doing in a really clear way.'"

To this end, she says the program forced her to think about how she was communicating her findings and why people should care about them.
"It's a practical skill that every graduate student desperately needs. So, I'm very glad that the program is now open for PhD students from across the university to apply."

Workshops open to all grad students

In addition to the 10 OpenThinkers who will make up the first cohort of the initiative, the first half of each OpenThink Workshop will be available to all master's and PhD students. This will ensure that everyone benefits from the expertise of presenters. The second half will be a working session specifically for the OpenThinkers, so they can put what they've learned into practice.

Each OpenThinker will maintain an active Twitter account, contribute 12 short items of research-inspired writing to a blogging platform, and one editorial for The Conversation Canada or another news-based publication. To support their progress, they will attend monthly meetings with their peers to share their work. The content they produce will be amplified by the Faculty of Graduate Studies and Dalhousie through their communications channels.

"We're creating a platform to promote and celebrate the diversity and talent of our PhD students," says Marty Leonard, dean of the Faculty of Graduate Studies. "The OpenThinkers will become ambassadors for graduate studies at Dalhousie and inspire a deeper understanding of the valuable research all of our 709 PhD students contribute to the world."

Dr. Robinson says they will also play an important role in helping people make sense of their lives, noting that people are craving evidence-based information as news becomes increasingly polarized and misinformation floods the feeds of our social media channels.

"While in school, PhD students have the potential to be opinion leaders in the academic world. The OpenThink Initiative will also empower them to be opinion leaders in the world beyond the university."
Learn more: dal.ca/openthink