Great music for a great cause.
That's what members of the Dal community encountered when they dropped by the Dalhousie Arts Centre last Thursday afternoon for the launch of the university's United Way fall fundraising campaign.
Community choir group The Big Sing was on hand to help lead attendees at the kickoff in a piano-based rendition of The Beatles classic "Here Comes the Sun."
The Big Sing, which formed in 2017, invites musicians and non-musicians alike to its performances, where they practice and then perform a full song with the crowd in a single session.

Ivan Joseph, Dal's vice-provost of student affairs and co-chair of Dal's campaign steering committee, introduced Big Sing co-leads Jack Bennet and Caitlin Bowers at the event, poking fun at his own lack of musical abilities to help put those shy singers in attendance at ease.
"If you are really worried about it, just do what I do and stand at the back and move your lips," he said to chuckles from the crowd. "But if you are a great singer, please stand at the front. And let's remember why we are doing this: it's to celebrate the launch of a campaign that will do good in the world."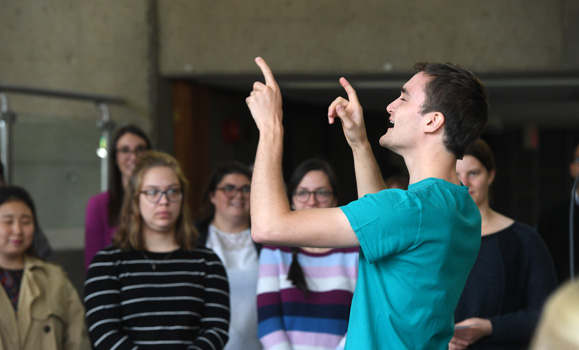 A longstanding partnership

Dalhousie has a longstanding relationship with the United Way that stretches back to the organization's origins more than 90 years ago. Every fall, the university runs a fundraising campaign for the organization, which supports a number of different community groups.
Learn more: dal.ca/unitedway
"Every donation makes a difference and supports the United Way's crucial work helping tackle issues like food insecurity, poverty, housing, employment skills, support for youth and so much more," said Christina MacNeil, faculty administrator in the Faculty of Architecture and Planning and co-chair of Dal's campaign committee along with Dr. Joseph.
Dalhousie hopes to raise $165,000 this year in a campaign running from October 15-30.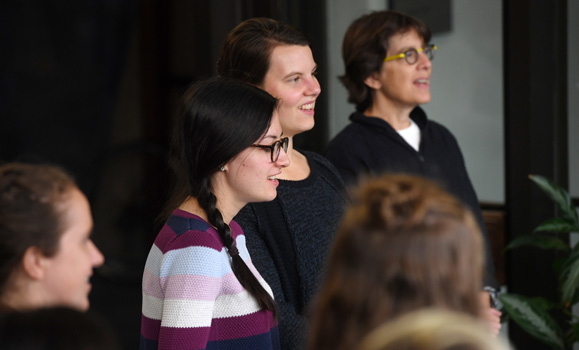 Helping incarcerated women

Before warming up their vocal chords with The Big Sing, attendees heard from Emma Halpern, executive director of the Elizabeth Fry Society — a United Way-funded organization dedicated to helping incarcerated women find a path back to society after doing time.
"Women who are incarcerated in this country have extraordinarily high rates of trauma and abuse and experience of addiction and mental health challenges," said Halpern, an alum of Dal's Schulich School of Law.
Halpern and her team do advocacy and legal work, assisting women transitioning out of incarceration through programs and spaces such as Holly House — a shared living space where up to eight women at a time can live and receive guidance on a personal transition plan. Plans, facilitated by Elizabeth Fry's professional staff, include education and employment exploration, housing search support, community resource referrals and more.
Turning a corner

Attendees at the launch heard from Chandal, a Holly House resident originally from Barrington Passage, N.S., who shared aspects of her own journey trhough an abusive relationship, substance abuse, and, evenutally, incarceration.
Now enrolled as a student at the Nova Scotia Community College, she says Elizabeth Fry has helped her turn her life around.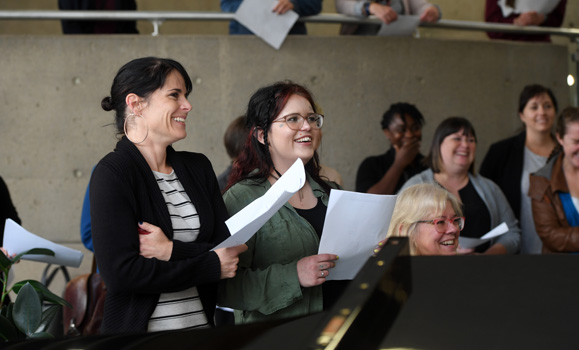 "They have worked so hard for me. And they saw good in me, which is awesome," she said.
"I may not be perfect, but I grow everyday with the help of E Fry."
Find out more about how to donate to Dalhousie's United Way campaign.