As part of the university's equity, diversity and inclusiveness strategic priorities, the Human Resources department launched the Talent Pathways program in 2018. The program is designed to reduce barriers for equity seeking candidates seeking meaningful employment at Dalhousie.
James Edgar knows first-hand the benefits of Talent Pathways. Earlier this year, he began working as an office clerk with the Department of Economics — an opportunity he found through the Talent Pathways program after working on a contract with the Faculty of Medicine.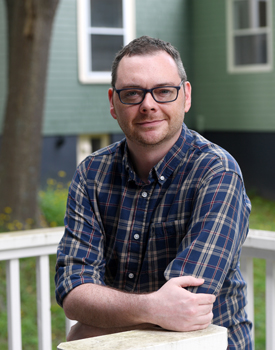 "As the project with the Dean of Medicine's Office was ending, they advised me about the Talent Pathways program that was getting off the ground at the time," says Edgar. "I reached out and provided them with my resume, even though I had another gig lined up outside of Dalhousie. In November, I reconnected with Talent Pathways and I was in luck — a leave position was available in the Department of Economics."
Talent Pathways provides candidates an opportunity to gain valuable working experience while developing skills and competencies that may assist in finding further employment. Talent Pathways recruits and places candidates from equity-seeking groups as defined in the university's Employment Equity Policy into short-term (temporary) opportunities on campus.
"We strive to help people in the community, particularly those from equity-seeking groups, find short-term employment at Dalhousie," says Mitchell Breau, Talent Pathways program coordinator. "Once they are hired, it may open up more opportunities to them that they otherwise would not have known about."
Hiring managers are encouraged to contact the Talent Pathways Coordinator for when filling a short-term position. Further information on how to access Talent Pathways is available on HR site of myDal.
"The Talent Pathways program is an important resource for faculties and departments trying to source qualified talent," adds Breau. "We work with our HR partners to understand the needs of each position and share available candidates in the roster that we are continually building."
Candidates seeking short-term employment are invited to submit their cover letter, resume and workforce questionnaire online through an ongoing Talent Pathways posting. Applications are kept for one year. Candidates will be contacted for further discussion as opportunities become available.
"As someone with a chronic health condition who has previously worked in media – a shrinking industry – and politics, I have felt it best to prepare for a more stable career," says Edgar. "Thanks to Talent Pathways, I've had access to training on software and web applications that are common at Dalhousie, but not at other public and private institutions. I see that as a real advantage and an important skill to add to my resume when looking for a full-time position at the university."
As of August 13, James Edgar began a new three-month term position at Dal as Administrative Support, Information Technology Services, which he also found through the Talent Pathways program.
To learn more about the Talent Pathways Program visit dal.ca/TalentPathways.