Fourth-year Computer Science student Ethan Foss has already started his career though he's still about a year from graduation.

Ethan gained his experience through the Computer Science co-op option, which allows him to alternate between career-focused work terms and study terms — he's nearing the completion of his second work term.

"I've had the chance to work with two awesome companies on exciting projects," Ethan says. "I was able to really take an active lead in and really be given that independence to learn while also being supported in the event of obstacles and that's really the best learning experience for me."
The deciding factor

Ethan grew up hearing great things about the industry from his uncle, a software engineer. He loved his uncle's stories about his work. Over time, Ethan realized it felt like a good fit with his interests.

"I'd always been interested in technology and computers," explains Ethan, "I'm excited about the opportunity to be able to continue to learn and continue to work on new technologies and to be able to build on my experience throughout my entire career."

Ethan spent most of his childhood in Halifax so choosing Dalhousie's Computer Science program just made sense — it's the only dedicated Faculty of Computer Science in the region. And its programs are an integral part of Halifax's booming tech scene.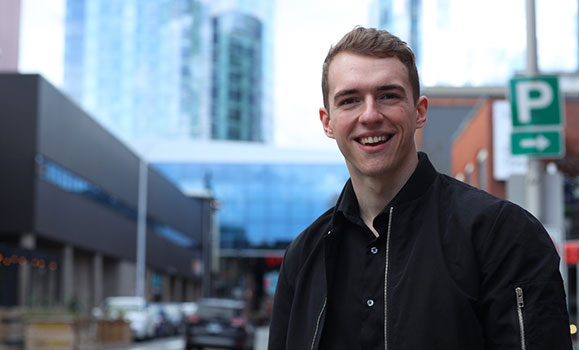 A solid introduction

"My first co-op experience, I worked as a QA tester and automation developer at IBM," recalls Ethan. "That was an amazing experience right off the bat. Being able to work your first co-op term at IBM is something not a lot of people can say!"

At IBM, Ethan had the opportunity to work on a large-scale project while getting a great introduction to the ins and outs of a corporate office environment. He was made part of the team and given the opportunity to contribute ideas and have influence in the process, something he wasn't expecting in a co-op position.

"I was happily surprised with the amount of hands on development experience I was given," Ethan says. "In both positions, I was treated like a full employee. Both organizations made sure I had everything I needed to do my work and that I'd be given interesting tasks. It's invaluable because when you graduate, you know how to work in that environment."

His second work term took him to the Halifax office of Communications Security Establishment (CSE), the Government of Canada's national cryptologic agency. Ethan really took to his work at CSE and hopes to continue in that direction with his career. "Working in a government position and knowing the impact my work will have on other people, that's really rewarding to me."
Future potential

Ethan feels that's the real benefit of the co-op program — the opportunity to try different things and work in different environments so you're able to focus your learning on the specific topics you enjoy.

"It would be so much harder to really figure out what interests you, what's the right fit for you and what you want to work on once you've graduated. Being in the co-op program gave me the opportunity to  really narrow down and define my career goals."

And, of course, he's started making invaluable connections in the industry that will give him a real advantage when he graduates next year.

"I'm excited to see where all this takes me," Ethan concludes. "I've made so many connections and had so many chances to get involved in the industry. I've built a network that will mean so much to how my career grows and the opportunities I get.