Many hands have been busy in preparation for Dalhousie's 10th annual Mawio'mi—and some of them just about have their contributions sewn up.

This year, Mawio'mi volunteers will be wearing re-usable vests that have been crafted right here on campus thanks to a collaboration between the Indigenous Student Centre, the Costume Studies Student Society and the Dalhousie Bookstore.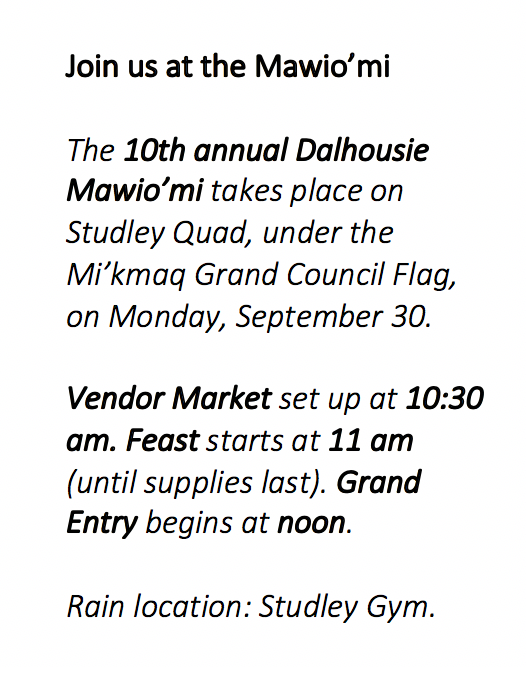 Mawio'mi event organizer Michele Graveline, Dal's Indigenous student advisor, has been thinking about this project for a while. "I'm very eco-minded," Michele says. "I take it really seriously, so I've struggled with handing out new cotton t-shirts every year. I wanted to do something different."

On the advice of colleagues, Michele reached out to Anneke Henderson, senior instructor at the Fountain School of Performing Arts to see if the Costume Studies Student Society would be interested in taking on the project. They were thrilled with the opportunity.

"First, we identified what the garment would be," says Anneke. "It's a really simple vest that you pull on, no closures. And then we thought, wouldn't it be wonderful if we could use custom-printed fabric to incorporate some imagery that makes them really special and significant."
A rewarding collaboration

Michele embraced the idea of a custom-printed fabric, hand drawing a design that includes hieroglyphics from Mi'kmaq and other Indigenous nations. Natalie Mike, Student Affairs communications officer, digitized the drawing for the fabric company. The resulting material — which is predominantly black and white with a few red flowers to honour Missing and Murdered Indigenous Women, Girls and Two-Spirits — adds a one-of-a-kind binding around the edges.
With the fabric collected, it was time to start creating. Anneke contributed her time for design modification, pattern development and sizing of the vests, including a fitting to be sure everyone was happy with the design and fit. She invited volunteers from the Indigenous Student Centre to the Costume Studies studio for a tutorial and then, through the summer, the volunteers set to work cutting out the pattern pieces. Once they'd finished, Michele brought the back pieces of the vests to the Dalhousie Bookstore for screen printing.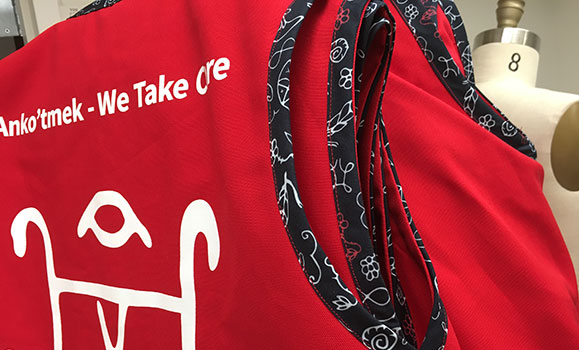 "We looked for a word in the Mi'kmaq language that means volunteer but there wasn't a direct translation," Michele explains. "Last year we researched the hieroglyphic for 'we take care' so that's what's on the back of the vests — it's fitting for a volunteer."

The pieces literally started to come together last week when at least a dozen students from the Costume Studies Student Society met for an evening to get started constructing the vests. There will be 22 in total, in four different sizes.

"I can't wait to see them in use at Mawio'mi," Anneke says. "They're a deep red, so they'll definitely stand out. The project was well thought through with lots of details that make it meaningful."
A taste of something new

The volunteer vests aren't the only new feature at this year's Mawio'mi. "We'll be having frybread tacos," says Michele. "It's a fried bannock round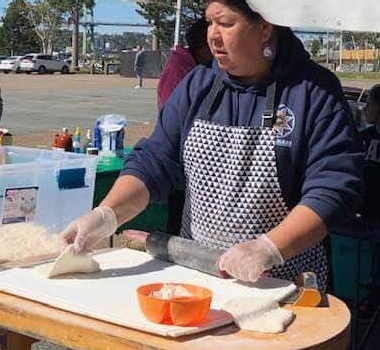 as your shell, with the usual taco fixings. There will also be a vegetarian version." Aunt Sheila's Mi'kmaq Taco, pictured right, will serve until 1pm or until supplies last.
This year the Mawio'mi falls on Orange Shirt Day, so a table will be set up to share information about the legacy of residential schools in Canada. Everyone is encouraged to wear an orange shirt to honour the Indigenous children who were taken from their homes and communities. There will also be a table acknowledging Missing and Murdered Indigenous Women, Girls and Two-Spirits with an opportunity to create a doll as part of the Faceless Doll Project.

"There are all kinds of layers," Michele says. The Mawio'mi is an opportunity to learn about those things but also to celebrate. We'll have dancers and the big drum. A vendors market with beautiful things to sell. And student performers—they'll be sharing spoken word, flute playing and contemporary dance. And if there are any other Indigenous students who want to take part, just let me know," she laughs.

The 10th annual Dalhousie Mawio'mi takes place on the Studley Quad, under the Mi'kmaq Grand Council Flag, on Monday, September 30. Vendor Market set up at 10:30 a.m., the feast starts at 11 a.m. (until supplies last) and the Grand Entry begins at noon. Rain location: Studley Gym.