Representatives from the Community Foundation of Nova Scotia and Green Shield Canada visited the Faculty of Dentistry at the end of August to present Dr. Ben Davis, dean of the Faculty, with a gift to the Faculty of $200,000.

The donation will support the Faculty's plan to expand its outreach initiatives and work with more local community groups whose clients may be struggling to receive oral health care.

Finding new ways to provide oral health care to underserved communities in the Halifax region is a priority for the Faculty of Dentistry. It helps those who – because of low incomes, mental health difficulties, or addictions – have difficulty obtaining care, and it enables the Faculty, as Dr. Davis says, "to mentor dentistry and dental hygiene students and show by example what it means to be a compassionate professional."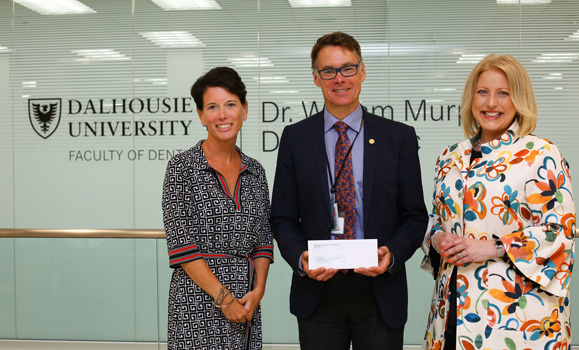 From left: Theresa Rose (Green Shield Canada), Dr. Ben Davis, Stephanie Clark (Community Foundation of Nova Scotia).

To mark its 60th anniversary of charitable giving, Green Shield Canada partnered with Community Foundations across Canada to donate $6 million to six communities. The Six 4 Six initiative is focused on making an impact in oral health and mental health.

The Faculty of Dentistry will use its gift to provide clients of Phoenix Youth Programs, the Mi'kmaw Native Friendship Centre and the Immigrant Services Association of Nova Scotia with oral health-care services. Additional community-based partners may be added as the initiative progresses.

Stephanie Clark, interim CEO of the Community Foundation of Nova Scotia, and Theresa Rose, senior account executive of Green Shield Canada, visited the Faculty to make the presentation. Clark said that the Faculty's track record with the previous Green Shield Canada grant, together with a solid proposal that embraced both oral health and mental health, were the main reasons they decided to support the Faculty's work again.

"We are incredibly grateful to the Community Foundation of Nova Scotia and Green Shield Canada for awarding us this generous grant," said Dr. Davis. "It will allow us to care for a larger number of people from some of the most vulnerable segments of our community."

Working with Green Shield Canada

The Faculty of Dentistry enjoys a long-standing partnership with Green Shield Canada. In 2017, the Faculty received a $250,000 grant, which enabled it to expand the New Immigrant and Refugee Oral Health Clinic.

An early step in the new project is to hire a navigator. The person in this role will liaise with the Faculty's community partners, provide education on health, identify clients in need of oral health care, and help those clients gain access to services within one of the Faculty's dental clinics, such as the North End Community Health Centre or the New Immigrant and Refugee Oral Health Clinic at the Faculty's onsite clinic. The gift will also enable the Faculty to cover the costs of providing preventive and restorative dental and dental hygiene care for clients who are unable to pay.

"The Faculty of Dentistry's proposal really set out a clear path to help more underserved individuals get the oral health care they need, in partnership with other community organizations," said Clark.

"Working in the outreach clinics with these different groups of patients is a great opportunity to get the students involved in giving back," added Rose.

The struggle to get oral health care

On a tour of the new Dr. William Murphy Dental Clinic, Dr. Davis told the guests that oral health care "falls outside the normal health-care model". Low income individuals without insurance coverage or who do not qualify (or know about) government-funded services frequently resort to hospital emergency rooms for treatment.

"Emergency room doctors are often unable to manage oral disease and can only offer pain relief or antibiotics," said Dr. Davis.

Individuals with mental health problems and addictions suffer a disproportionate burden of oral disease and also have added challenges in accessing oral health care. Rates of mental illness and addiction are much higher among the homeless and street-involved populations than the general population, with most going for long periods of time without receiving oral health care.

"Our hope is that this gift will help to give individuals who have difficulty accessing oral health care a better quality of life," said Dr. Davis. "At the same time, our Faculty will develop partnerships with a broader range of local community groups, and our students will benefit from both the learning and insights they gain."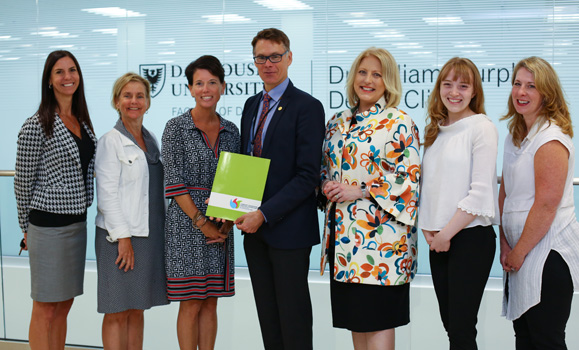 From left: Prof. Heather Doucette, Dr. Mary McNally, Theresa Rose, Dr. Ben Davis, Stephanie Clark, Emma Cruddas, Stacey McCarthy.