The Government of Canada has recognized the work of Jeff Karabanow of Dal's School of Social Work.  

In March, Dr. Karabanow received the Senate 150th Anniversary Medal, awarded to those who are "actively involved in their communities who, through generosity, dedication, volunteerism and hard work, make their hometowns, communities, regions, provinces or territories a better place to live."

He received the award in recognition of his community-based research and initiatives. Senator Dr. Wanda Thomas Bernard made the presentation.

Dr. Karabanow says he was surprised to receive the medal.

"I was honoured to know that my research and work with the Dalhousie Social Work Clinic and the Out of the Cold Shelter were being discussed and recognized at Senate," he says. "It was very meaningful to me that both were mentioned, allowing for Dalhousie and even Halifax and Nova Scotia to be celebrated.

"I was really humbled by the recognition, but the work has long been a collective effort. Everything we have done has been through strong teamwork and partnerships."

The medal recognized his work in community-based research over the past 20 years, specifically in homelessness and trauma. His research is highly participatory, not just shining a spotlight on problems, but actively partnering with others to find solutions. The work involves Dal Social Work and other students, faculty, service providers, policy makers and research participants themselves, including homeless youth.

"We're not doing research 'on' people; we are doing research 'with' people," he says, adding that the work has included videos, animated shorts and comic books that have been distributed to schools and others across Canada. "I want my work to expand to the field and the streets," he says.

--
What's next: Dalhousie Social Work Clinic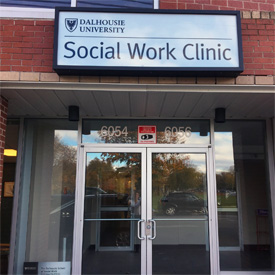 Now entering its fifth year, the Dalhousie Social Work Clinic is a busy spot at its new, more accessible location on Quinpool Road.  

Dr. Karabanow says the new location is a great, new space for interaction between the students and clientele.

"The students are seeing a lot of clients, working together on case management and advocacy. Our students are learning different dynamics about practice they say they wouldn't have gained elsewhere, and developing deep ties with community organizations," he says.

The first of its kind in North America, the clinic has served more than 450 clients since it opened, and the numbers are growing. It currently manages more than 250 active client files and over 80 Dal and other students have participated, from Social Work, Occupational Therapy, Pharmacy, Medicine, Nursing, OT, psychology Nutrition, and Management.  They partner together as they will after graduation in their careers, to advocate on clients' behalf to help them solve justice, employment, health, housing, transportation and other challenges.

"It's amazing how this has rolled out, we're constantly getting referrals — we're at a stage now where we've really found our niche in the area of service delivery," he says. "I love the fact that the clinic is a great platform for students to get a meaningful, anti-oppressive lens on their scope of practice, regardless of discipline."

He says much of the credit for the Clinic's success should go to the School of Social Work, Dalhousie and the Faculty of Health. "Dal, the School, and the Faculty supported us every step of the way. There were times when we weren't sure if we could even keep the Clinic going, but thanks to the support of the School, Faculty and Dal, we are sustainable."