A Toronto based start-up is making its way to Atlantic Canada.

EnergyX Solutions Inc, which is a graduate of CDL Atlantic and co-founded by a Dal alumnus, helps homes and businesses lower their energy usage, improve their bottom line, and reduce their carbon footprint. They accomplish this by using an Artificial Intelligence (AI) powered online energy audit in combination with robust data reporting and processing tools.

The company has helped utilities across North America digitize more than 500,000 energy audits to date and generate more than 200 million kilowatt hours in savings – which equates to around $25 million in energy savings for buildings in North America alone.

EnergyX had been eagerly looking to establish its second Canadian office in Halifax to grow their team and presence in Atlantic Canada. And, thanks to a $500,000 repayable contribution from the Atlantic Canada Opportunities Agency's (ACOA) Regional Economic Growth through Innovation (REGI) program, it's now actually happening.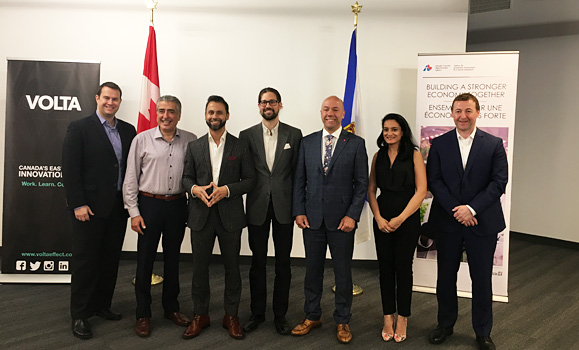 Photo from the ACOA announcement.
"ACOA has been wonderful to work with and extremely supportive of our technology and growth ambitions," says Nishaant Sangaavi, CEO and co-founder of EnergyX. "We already have several clients in Atlantic Canada and some of our investors are from here. The growth of EnergyX in this region was bound to occur and the funding from ACOA was a catalyst to make this happen."

Video: Watch the announcement

Connecting utilities and customers

Sangaavi had spent a number of years in the Netherlands working in the energy conservation field, but the concept for EnergyX developed after he moved back to Canada in 2015.

"I recall receiving a high energy bill from my local utility and giving them a call to better understand what I could do to save energy," says Sangaavi. "I was appalled at the lack of insights they had about my home."

He then made the decision to pay for an energy audit, and had an auditor come to his home to conduct a comprehensive study. Once that was complete, he received a long, detailed energy report, which was costly and full of technical jargon.

"Home and business owners, like you and I, want to save energy, money and lower their energy usage. At the same time, utilities require insight about their customers' buildings in order to offer numerous energy efficiency incentives and rebates they have available to their customers. There is a disconnect between what customers want and what utilities are currently able to provide, and this was the impetus for EnergyX's birth."

EnergyX successfully secured seed funding in 2016, and has not looked back since. They have won two MIT awards for their AI technology, raised $2.7 million in financing, successfully graduated from three world-class accelerators, achieved exponential growth year after year, and grown to a team of 25.

A life changing experience

EnergyX was part of the 2017/18 cohort of companies in the CDL Atlantic Energy stream. Through the company was based out of Toronto, the focus on energy is a large component of the Atlantic stream, and the company was chosen to participate in Atlantic Canada.

CDL Atlantic, which is hosted at Dalhousie, is a seed-stage program for massively scalable, science and engineering-based companies and has expanded nationally. This initiative capitalizes on the university's world-class research expertise at the intersection of sustainability and technology in oceans, energy and food.

"I believe academia is gaining a better understanding of the start-up ecosystem and how instrumental start-ups are to solving real-world problems and creating impact," continues Sangaavi. "The focus on innovation, entrepreneurship, and technology is very evident based on the quality of new graduates. The fact that CDL Atlantic is housed at Dalhousie is a true testament to this."

For Sangaavi, the experience at CDL Atlantic was fun, fast-paced and extremely focused on growth and learning.

"We passed every session, met numerous investors and advisors who gave us very relevant and candid insights on our business model, value proposition and competitive advantage," says Sangaavi. "I would say that it was a life-changing experience for us and one that I would recommend to all entrepreneurs regardless of what stage their business is in."

With all those accomplishment in such a short amount of time, what's next for this innovative energy company? According to Sangaavi, continued growth and progression.

"Our AI technology is evolving rapidly to deliver critical counter-intuitive insights for driving energy efficiency," says Sangaavi. "We will continue to grow our team in Toronto and Halifax as we work closely with our utility clients, bring on new ones and empower homes and businesses to become more energy efficient. We will also look toward opening an office on the West Coast shortly."