If you think "Soapbox Science" is just a name, think again.

Yes, there's literally a soapbox involved — one built by Dal engineers, in fact. And over the course of three hours on a busy Saturday at the Halifax Seaport Market earlier this month, that soapbox hosted 12 different female scientists talking about their research in fun, inspiring and engaging ways.

The speakers at the July 6 event included familiar faces like Dal Chemistry Professor Mary Anne White — a longstanding voice for science education in the Atlantic region — alongside emerging researchers like Dal PhD student Martha Paynter, who spoke about the health of mothers in Canadian prisons.

"We were looking for a really diverse group, representing different stages of their academic career, from PhD candidate to senior scientist," explains Emma Finlayson-Trick, a master's student in Microbiology and Immunology who led the creation of the Dal chapter of Soapbox Science last year.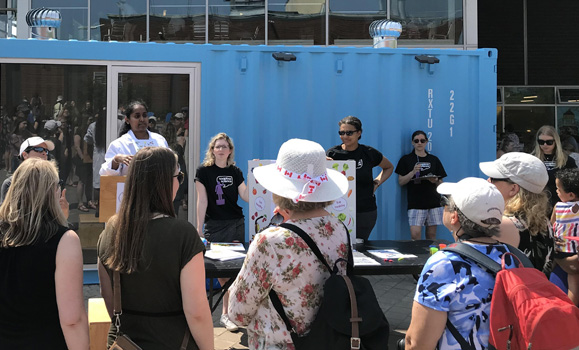 Wasundara Fernando speaks from the soapbox
Other speakers included recent Dal PhD grad Wasundara Fernando on rethinking breast cancer treatment with apples and fish oil, Saint Mary's prof Linda Campbell on Nova Scotia's lakes and rivers, and Acadia prof Melanie Coombs on how natural prodcuts can kill unwanted cells.

In total, more than 800 people dropped by to listen to the research presentations during the event — an increase of more than 100 over the previous year.

Bringing science to the people

Soapbox Science is a platform available to local organizations around the world to host public outreach events and raise the profile of female scientists and the work they do.

Finlayson-Trick first heard of the organization on Twitter, bringing the idea to faculty members Dr. Craig McCormick (Department of Microbiology and Immunology) and Dr. Alison Thompson (Department of Chemistry) to help make the first event last year possible. This year, Dr. Alyson Kelvin (Department of Pediatrics), who took part in last year's event as a speaker, stepped up to join the organizing committee.

"Being a female scientist, I know the daily struggles," says Dr. Kelvin, citing issues like sexual harassment and discrimination. "This was a really important initiative for me, to make the point of how women are making such great contributions to the research fields, and how we need to bring awareness to not only that, but to their struggles on a daily basis."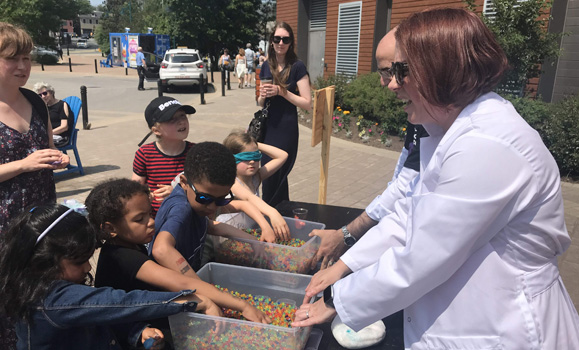 Getting hands-on.
For Finlayson-Trick, the universality of the program was also exciting.

"Halifax has some really great hands-on activities that are geared towards engaging certain demographics in science — in particular, programs for kids," she explains. "What I thought was great about this is that it's geared at everybody. You're going to a random public spot and engaging as many people as are coming by. The fact that it's profiling female scientists is also great."

Engaging the community

With the help of more than 20 volunteers, in addition to the 12 speakers, this year's Soapbox Science event was another success.

"The speakers had a great time, and said they got great questions and feedback from the public," says Finlayson-Trick.

"The families, in particular, were really excited about bringing their young kids up to do activities with the speakers," adds Dr. Kelvin.

After organizing two Soapbox Science events in Halifax, Finlayson-Trick is moving on from her role leading the event: having handed in her master's thesis, she's moving back to her hometown of Vancouver to pursue a medical degree. With the momentum built from the first two years, Drs. Kelvin and McCormick are hopeful in finding someone new to help lead the initiative going forward.

"I think this a fantastic opportunity for a student leader to take on the role that Emma has initiated," says Dr. McCormick.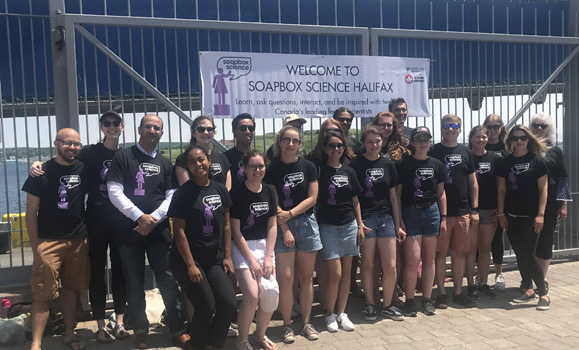 Soapbox Science Halifax volunteers.