When Dalhousie veterinarian Chris Harvey-Clark noticed some of his students weren't joining in on class discussions as much as he would like, he decided to try something a little unorthodox to boost class participation.
 
Dr. Harvey-Clark, the university's director of animal care, offered students in his popular summer shark course the chance to boost one part of their mark.
 
All they had to do was make some shark art.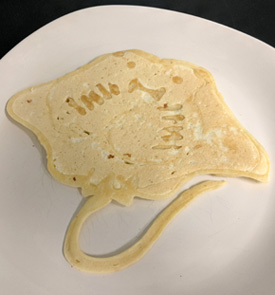 "We've had a tattoo, a haiku, a pancake in the shape of a manta ray -- anything to do with sharks," says Dr. Harvey-Clark, listing just some of the items that have landed on his desk since he introduced the course's art component a few years ago.
Some of the mostly third-year students "Biology and Conservation of Sharks, Skates and Rays" have gotten a bit cheeky with the concept, like when Dr. Harvey-Clarke received 'bite coins' -- currency with sharks painted on them, in a spin-off of BitCoin. He's also gotten a shark-shaped sleeping bag, a wood burning of the seven sharks of Atlantic Canada, a painting of a whale shark and an image of a blue shark inspired by pop artist Roy Lichtenstein.
 
Dr. Harvey-Clark tries to foster a lot of classroom discussion and feedback from his students, but one year noticed they were not as communicative as in previous years. So he added the artistic component to encourage students to share their thoughts while expressing their understanding and fascination with various shark, skate and ray species in creative, outside-the-box ways. And it's been a hit ever since.

Shark school in session

Caleb Beck, a fourth-year honours Marine Biology major, turned to his experience as a bartender to come up with an art project.
 
"I ended up making iced tea with frozen shark-shaped pineapple ice cubes in it," he said.
 
"I've worked a few bartending-serving jobs, so making drinks is my strongest artistic talent, plus it was nice for us to have a treat after the exam!"
 
The two-and-half week course, part of the Department of Biology's SEASIDE summer program, is in its seventh year and is in big demand.
 
Dr. Harvey-Clark says they can get up to 80 applications for only 18 spots, each submission requiring an interview and an essay. Part of the appeal might be that students get to spend time at sea, catching sharks to be tagged while also learning about working with sharks in the water.
 

The objective is to teach students about the diversity, physiology and anatomy of elasmobranches – skates, sharks and rays – and explore the threats against them, tools for protection and the role they play in the ecosystem.
 
"It is a unique course in North America because it combines classroom work with field work," said Dr. Harvey-Clark.
 
"It's very hands-on. Students get to reel in a shark, while someone is running a stop watch and someone is at the head making sure that the shark is getting fresh water flow."

Local collaborations

During his time in the course, Beck was involved in the dissections of a skate and a spiny dogfish. (No animals are killed for the course — the specimens for dissection come from accidental bycatch from fisheries, offering students another important lesson in conservation.) He says the experience was invaluable, albeit a little stinky
 
"They are valuable tools for teaching," he said.
 
"There were aspects of their physiology -- such as the dogfish's liver or the skate's reproductive system -- that I had seen in slideshows a million times, but I never really understood until I could see and touch them for myself."

Dr. Harvey-Clark uses a local fisherman to help with blue shark tagging, which involves using a barbless hook to catch the shark before students lift it carefully on board and carry it to a surgery table. The instructors, using aseptic surgical technique, make a small incision and insert a tiny sterilised acoustic transmitter into the shark's abdomen. The transmitter sends out continuous pings with the shark's identification and location to nearby receivers, allowing the animal to be tracked for up to 10 years.
 
He says a lot of the students who have taken the course have gone on to work in other labs or research facilities "where they get do all things sharky."
 
Beck, who grew up far from the ocean in northern Ontario, says he hopes to go to grad school and work in academia someday.
 
"I have always been fascinated by sharks since I was a kid and having a chance to learn from some of the top shark researchers in the world was a chance I couldn't pass up," he said.
Art credits
- Pancakes: Kate Medcalf
- Wood burning: Riley Marchand