This article is part of a series shining a spotlight on the personalities and priorities of Dal's senior leadership team. Revisit previous profiles at the Leadership and Vision website.
Both of Graham Gagnon's parents thought he would go into agriculture. They worked at the University of Guelph in the field, after all, his dad as a chemist in a farming extension lab and his mom as a secretary in the agricultural college.

And it's true that Dr. Gagnon spent the summers of his youth doing labour on farms, including some that were part of the university. He planted various tree species on rotating experimental plots and had fun doing it. "It was part of a group of experiments being done by the agroforestry program. It got me thinking about university as a career."

But, to everyone's surprise, he got a scholarship to study environmental engineering at the University of Guelph instead.

"I liked the idea of doing some sort of public good," he says. "In the early '90s a lot of farmers were using their land to bury other people's waste and having their water contaminated as a result. Environmental engineering seemed an opportunity to help."

A focus on clean drinking water

For his PhD degree, Dr. Gagnon headed a mere 28 kilometres west to the University of Waterloo, but it felt like it was a world away. It was a thrilling spot for a young engineer, with seemingly limitless opportunities.

"Waterloo was one of the biggest engineering hubs in the country. We had Microsoft on campus. Open Text was starting. Sun Microsystems invented Java at that time and it was an exciting place to learn and code."

But Dr. Gagnon was still pulled by the desire to help people access clean drinking water, at a time when Milwaukee was making headlines for the largest waterborne disease outbreak in U.S. history. His PhD in civil engineering focused on water treatment, and when he graduated in 1997, he applied for a job as a professor with what was then the Technical University of Nova Scotia (TUNS).

"I had a room at the Cambridge Suites and walked across the street to Sexton Campus. I talked to the department head and a young professor, and they were excited to be in the process of merging with Dalhousie University. I went for a walk down to the ocean past Government House and sat on a park bench at what is now Bishop's Landing and thought that this would be a special place to live and work."

Later, in 2007, he became the NSERC / Halifax Water Industrial Research Chair, and four years after that the director of the Centre for Water Resources Studies. Last year, he became Dal's associate vice-president of research.

Supporting the Dal research community

Two decades after joining Dal, he still finds it special, but in a completely different way. "Dalhousie brought on computer science, engineering and architecture at the same time [in the merger with TUNS] and at first it was a lot of getting used to each other, figuring out how it all functioned together," he says.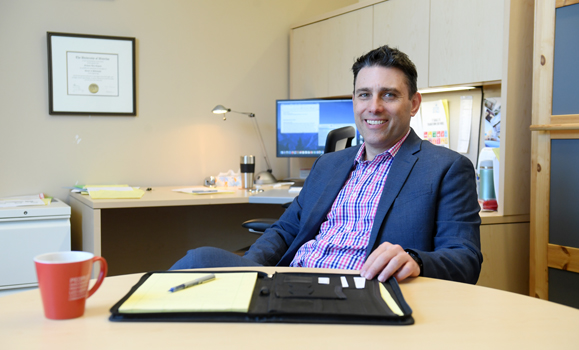 But now the makeup of students and faculty have become much more diverse and as institution we have grown to be more inclusive. "When I first started my career at Dal felt like a very regional school," he recalls. Now it reminds him of the buzz he felt as a young student in Waterloo, with big-name tech companies onsite to recruit and the attraction of international students with a collective goal sharing the latest thinking.

"Tesla is on campus. I see us as a national, outward facing university with international reach, thanks to a series of excellent leaders at all levels, inspiring the community to reach a new levels."

Dr. Gagnon, who still maintains an active lab, is working with Alice Aiken and Marty Leonard toward the ambitious goal of doubling the number of PhD students at Dal.

"When that goal was stated aloud, it was a groundbreaking moment," he says. "Everyone stopped to say, wow, how are we going to that?" From there, the leadership team at Dal started carefully considering how the university's research strategy and its work with international partnerships could support that goal.

Dr. Gagnon also takes inspiration from Dal's work on the Ocean Frontier Institute — "talented researchers doing extraordinary things" — and is working on initiatives to create similar collaborations in health and environment. "We know we have a strong research team in energy, water, and environment," he says, "and we're consulting with senior and early-career researchers about their visions to develop a Clean World strategy that enable our research communities' goals."

A focus on collaboration

Collaboration is a significant part of Dr. Gagnon's work, and a natural part of his approach. He spends much of his time developing a range of policies including a recent Policy on Research Centres and Institutes.

"I'm an engineer not a lawyer," he says. "I never thought I'd be too excited about a policy. But it's been interesting and exciting to meet with people around campus to develop policy for the Senate, meeting subcommittee members and different deans and leaders."

In his research work, he says the key to finding workable solutions to environmental challenges lies in the ability to meaningfully consult all stakeholders. This skill has helped him immensely in his policy role at Dal, because it's through consultation that he comes to understand everyone's desired outcomes and he knows he has the Dal community behind him.

"It's a matter of learning from others and doing your best to understand different views," he says.
On the importance of personal stories…
"As leaders sometimes you have information about a situation. But you don't necessarily have an appreciation of the on-the-ground perspective or "this-is-what-I'm-experiencing story" from the people affected. You have the data but it's not until you see the faces in the community that you can learn how they'll be affected. As leaders, problem solvers, and decision makers, we need those personal anecdotes. You have to sit down to get the whole story."
On his approach to collaboration…

"I guess you could say I use a collaborative approach to manage workflow. When projects succeed it's often because the full range of people are engaged and empowered in the activity. For example, in my research activities in drinking water, I have found that if professional leaders in work partnership with the communities that they serve in a meaningful way, engineering projects are able to achieve a long-lasting impact."
Five questions
When you were a student, what was your favourite course?
Economics and statistics.
What's your favourite hobby or pastime?
Running.
If you could only bring one artist's music with you to a desert island, who would it be?
The Tragically Hip.
If you were to leave academia and go into any career you wanted, what would you choose?
I would probably become a farmer.
If you could have dinner with one person — living, deceased or fictional — who would it be and why?
Jackie Robinson. I'm a big baseball fan and I'd love to learn more about him.