On Thursday afternoon (May 16), Dalhousie's Board of Governors announced that Deep Saini has been appointed as the 12th president and vice-chancellor of Dalhousie University.

Dr. Saini, currently vice-chancellor and president of the University of Canberra in Australia, brings to Dalhousie a compelling blend of national leadership and global perspective. He's a renowned plant scientist who grew up in India, was educated in Australia and has worked at four of Canada's leading research universities. Having spent much of the past decade as president or principal of a major university campus, he's ready and excited to help lead the Dalhousie community into its third century.

"I am honoured and humbled by the opportunity to serve as the 12th president and vice-chancellor of Dalhousie University," says Dr. Saini, who will begin his five-year term on January 1, 2020. "The university's students, faculty and staff are proudly devoted to the synergy between world-class education and a rich tradition of outstanding research and scholarship. I am thrilled at being given the chance to be part of writing the next chapter of this compelling story."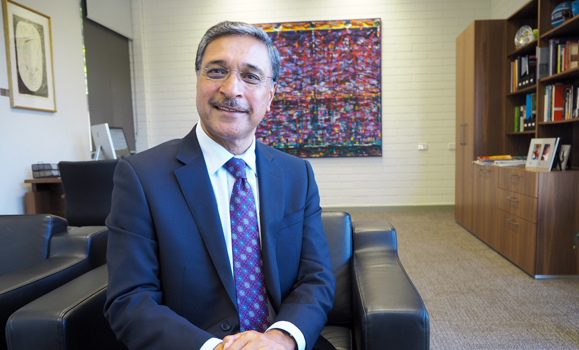 Dr. Saini was the unanimous choice of the search committee, chaired by Board of Governors Chair Lawrence Stordy and consisting of representatives from the Board, Senate, students and administration.

"The search committee was thrilled and thoroughly impressed by the quality and quantity of candidates who were interested in this opportunity, from around the world — a testament to Dalhousie's growing national and international reputation," says Stordy.

"Even among this competition, however, Deep truly stood apart. He's a warm, genuine and inspiring individual ready to build on Dal's 200 years of achievement and chart a course towards even greater success in our third century ahead."

Dr. Saini follows Dalhousie's 11th President and Vice-Chancellor Richard Florizone, who served from 2013 until 2018, and Peter MacKinnon, presently serving as president in an interim capacity. With MacKinnon's term set to conclude at the end of June, the Board of Governors will review options for interim leadership for the remainder of 2019 in the coming weeks.
More info: Presidential Search website

A global journey

Dr. Saini is not the first Dalhousie president to be born outside of North America; in this respect, he follows inaugural president Thomas McCulloch (Scotland) and Howard Clark (New Zealand). But having grown up in India, a generation removed from poverty, his path to Dalhousie is quite unlike anyone else who's taken up the mantle of the presidency.
Inspired by his father's example — a man whose own educational journey transformed his life and that of his family forever — Dr. Saini pursued higher education, studying botany at the Punjab Agricultural University in Ludhiana, India before moving to Australia to complete a PhD in Plant Physiology at the University of Adelaide. Following graduation, Dr. Saini and his family relocated to Canada to take on a postdoctoral fellowship at the University of Alberta. It was the start of an accomplished academic career that would make him a leading researcher in plant biology, eventually becoming director of the Institute de recherche en biologie végétale (Plant Biology Research Institute) — a leading research establishment at the Université de Montréal.

In 2006, Dr. Saini moved into his first senior administrative role, becoming dean of the Faculty of Environment at the University of Waterloo. There, he launched several new programs and increased both operating and facilities funding. He then joined the University of Toronto as principal of the university's Mississauga campus, leading major internationalization efforts, overseeing a significant facilities expansion and increassing faculty complement by nearly 100 professors.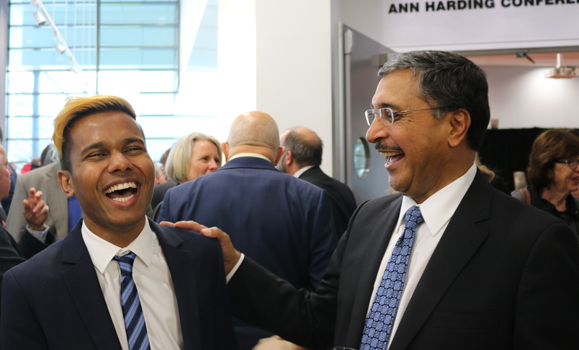 And for the three-and-a-half years prior to joining the Dal community this January, he has served as vice-chancellor and president of the University of Canberra, a young university of comparable size and international ranking to Dalhousie. There, he's led the development and implementation of a new strategic plan positioning the school as a national leader in professional education and experiential learning, mission-oriented research as well as in equity, diversity, inclusion and access.

He is fluent in four different languages (English, French, Hindi and his native Punjabi), with a working knowledge of a fifth (Urdu). His awards and recognitions also speak to his diverse impact, including honours from the Canadian Society of Plant Physiologists, Nanjing University, the Sikh Foundation of Canada, the Royal Society of New South Wales, the Punjab Academy of Sciences and the Indo-Canada Chamber of Commerce. He was featured in India Abroad's "2011 Power List" and is the recipient of a Queen Elizabeth II Diamond Jubilee Medal.

"I've lived a myriad of experiences during my journey — from sitting cross-legged on a dusty school floor to the administrative 'cabinet' of a global top-20 university, and now to the helm of a rapidly rising young institution in Australia," says Dr. Saini. "But the opportunity to return to Canada and become part of Dalhousie's journey as its president is one I simply could not pass up."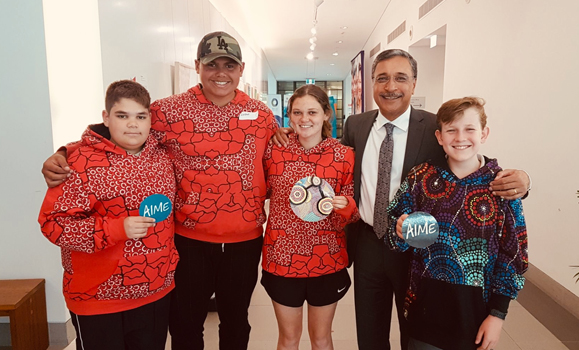 Inspired by Dalhousie

So why Dalhousie? Well, for one, he says he's long admired Dal for its quest for global excellence while remaining, first and foremost, a university for its community.

"Dalhousie's singular commitment to its anchor role in the region's economic and social development is fittingly matched to its lofty national and global aspirations," he says. "It's a balance that I have espoused throughout my career and will form the cornerstone of my leadership at Dal."
He's also inspired by Dalhousie's extensive efforts in recent years to better support a more diverse, inclusive university community.

"Having come from a humble background where nothing could have predicted that I would someday lead one of Canada's top universities, Dal's founding idea of a university that is 'open to all' resonates particularly close to my heart. I can't wait to get down to work to bring this idea to life in its modern context, positioning Dal's core value of commitment to equity, diversity, inclusion and access as its key differentiator and competitive advantage."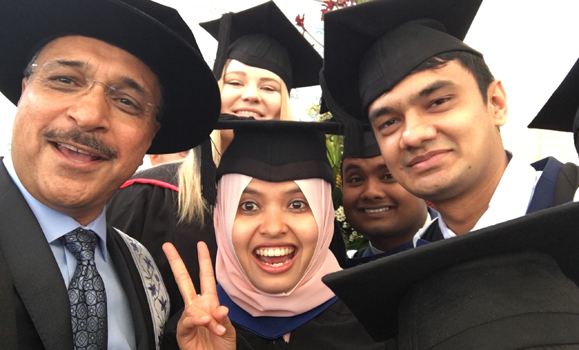 He also sees Dal as a "rising star" in mission-oriented research — but one which puts students at the forefront of that mission.

"Students are at the heart of the raison d'être of a university," he says. "Building upon Dal's national and international reputation for rich student experience, I look forward to a deep engagement with students, faculty, staff and community to position Dal as the national leader in delivering value to our students and offering a transformative educational and life experience on our four campuses."

Getting to know one another

That engagement will begin in early June, when Dr. Saini is hoping to make his first visit to campus as President-Elect. It will be a first chance for some in the Dal community to get to know a person who loves listening to music and cooking, and who is a lifelong advocate for fitness and athletics: he played field hockey and track-and-field as a student-athlete, and is now an avid golfer and expects to be a familiar face at Dalplex.

When he moves to campus in January, he will be joined by his wife, Rani. The family also has two grown daughters, Preety and Kavita, and two grandchildren. Dr. Saini says he and his wife are excited to become part of the Halifax community and experience Atlantic Canada to the fullest.

 "We have visited this lovely part of Canada several times and we are thrilled to have the opportunity to now fully immerse ourselves in the life here," he says.

Stordy, having gotten to know Dr. Saini through the search process, is excited about what the future holds for him at Dalhousie.

"He joins Dalhousie at a time of tremendous momentum: record enrolment and fundraising, significant renewal of our campuses, and a strong leadership team in place across the university," he says. "Under Dr. Saini's leadership, I'm certain these successes will be just a taste of what Dalhousie's third century has in store."