Mark Haggett, coach of the Dalhousie Tigers Football Club, knows a winning team is built on a winning culture.
"To anybody from the outside looking in, it's clear we wear our hearts on our sleeves and we put everything we have into this program," says Haggett, who helped lead the Tigers to an undefeated championship season in the Atlantic Football League last year. "It's about making everyone feel like they're part of the family."
And family looks out for each other.
That's why, when the team was in the market for new helmets for the upcoming 2019 season, they did something no other university football program in Canada has done before: committed to purchasing new smart helmets for the entire team, ones equipped to track and monitor player impacts.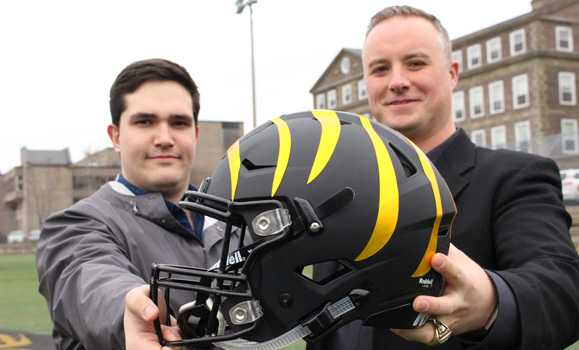 Team President Casey Jones (left) and Head Coach Mark Haggett show off the new helmet.
The team has already raised nearly half of the funds for the new helmets (which cost roughly $500 each) and are welcoming donations large and small to support the effort through a crowdfunding campaign on the ProjectDal website.
Donate to the campaign: projectDal.ca
"I think it's great as a club that we're so innovative, and proactive and mindful in the protection of our players," says Team President Casey Jones, who just completed his MSc in Pharmacology and is starting medical studies this fall, and who played for the team from 2014 to 2017. "Being the first program in Canada to use these helmets is really cool, and hopefully starts a trend across the country."
A tool for supporting player health and safety

Manufactured by Riddell, one of the top helmet makers in North America, the new helmets are a top-of-the-line, world-class model akin to what you'd see in the NFL. But what's unique is that they contain sensors that monitor and record nearly each head impact, large or small.
By being used in games and practices, the helmet's technology builds a personalized profile for each player based on their body size and position. When a hit (or multiple hits) reaches a set threshold, the coaches are alerted to remove the athlete from play so they can be formally assessed by medical professionals following the team's concussion protocols.

Image of the Riddell InSite® technology system.
For Coach Haggett, it's a new tool to allow his staff and on-field medical team — led by Wag Physiotherapy and Dalhousie Sports Medicine — to catch impacts they might not otherwise see with their own eyes, or which a player may not realize is as significant as it actually is.
"The biggest thing for us is player safety," he says. "Our athletes are students at this university. They have a lot of pressure on them academically. Their brains and their health matters more than the game, and we want to make sure we give them the best opportunity to go out there and not just compete, but compete safely."
During his playing days, Jones suffered a minor concussion that kept him out of play for a couple weeks — so he knows first-hand how serious these injuries can be, and the significant risks an undetected or undiagnosed concussion can have for a student-athlete.
"This will be like having another set of eyes on the field," he says. "It takes the guessing game out of it."
Support from across the community

Like nearly everything involving the Tigers Football Club — which brought football back to campus as a volunteer-led club sport in 2010, after a hiatus of more than three decades — acquiring the helmets was a true grassroots effort.
It began with Jim Wilson, the team's chairman and founder, who identified the opportunity to purchase the Riddell helmets. From there, the enthusiasm of the executive, coaching staff and returning players were all key to bringing the initiative to life.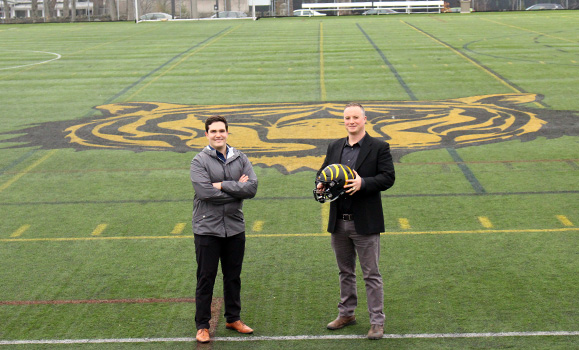 And now it's the team's fans, alumni and supporters who are making it all possible, with more than 50 individuals donating to the team's fundraising campaign thus far. And with all the media attention the team has received this past week, receiving national coverage from outlets like CBC and the Canadian Press, that number is poised to grow even larger.
"I think everybody's excited because this is the first initiative and campaign of this magnitude for these smart helmets in Canada," says Haggett. "We're out in front of it, actively working to eliminate the stigma around concussions. We're saying this is something that has to be talked about."
Jones, set to begin his medical degree at Dal this fall, is so excited by the new helmets that he's hoping to find a way to incorporate their data into his studies in some way, perhaps as a research project. "I think it's going to change a lot of things about how we understand and communicate about concussions as coaches and players," he says.
Want to help support the Dalhousie Football Club in purchasing their new helmets? Visit projectDal.ca to contribute to their fundraising campaign.