On Wednesday, April 24, the Faculty of Dentistry's simulation lab was officially named in recognition of a $1 million gift from dentalcorp, Canada's leading network of dental clinics.
Four executives from Toronto-based dentalcorp were present for the naming, including CEO and founder Graham Rosenberg.
As Dr. Ben Davis, dean of the Faculty of Dentistry, made the announcement, the dentalcorp Simulation Lab was teeming with scrubs-clad second-year Dentistry students industriously practising for a competency assessment the next day — tangible proof of the importance of the lab to the Faculty.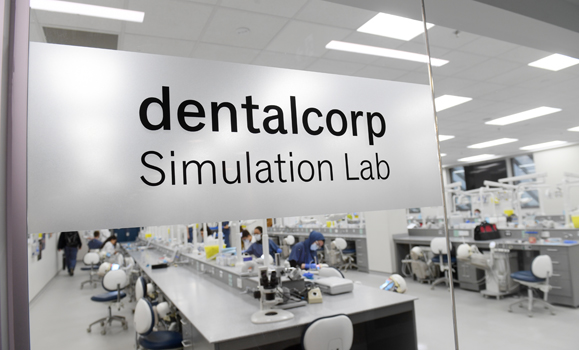 "The dentalcorp Simulation Lab is an important training ground for both young dentists and dental hygienists," said Dr. Davis. "It is here they receive their initial training and are exposed to the techniques they will need throughout their careers. It is where they hone their clinical skills before working on real patients. Its importance cannot be underestimated."
A modern learning space

The simulation lab provides bright, modern, and technologically sophisticated spaces for up to 50 students to learn and practise essential practical skills, including crown preparation, rubber dam placement, impression taking, and provisional restorations. It is also the setting for the annual Prosthodontic Olympics, during which second-year Dentistry students compete in five events that test their skills and speed.
Second-year Dentistry student Moe Alshateel spoke of the many hours he has spent in the lab during his first two years of Dentistry studies, developing his hand skills in drilling, perio examinations and debridement, and learning to work closely with his classmates as a result.
"This lab has witnessed so much sweat, blood and tears both of joy and frustration," he said. "The lab was our playground, giving us the ability to experience what it feels like to be a dentist."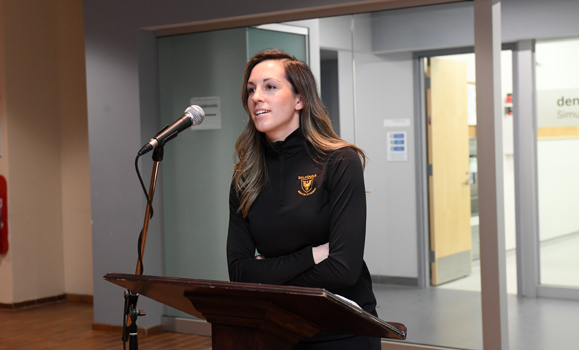 Student Mary Dionne speaks about the range of skills Dental Hygiene students learn in the lab.
Mary Dionne, a second-year Dental Hygiene student who will graduate in May, also spoke of the great variety of skills she and her classmates learned in the lab, from infection control to angulation.
"When we first set foot in this simulation lab, I think all of us were terrified. I know I did not know what to expect. But this lab helped to build the essential skills needed to transition into the clinic — and begin treating real patients."
The power of support

Both students expressed their gratitude to dentalcorp for supporting the lab, which as Moe said, is "very important to us".
"Our organization is dedicated to continuous learning and giving back to the industry," said Graham Rosenberg. "We are privileged to partner with the Dalhousie Faculty of Dentistry — a world-class academic institution that shares our commitment to advancing the field of dentistry through continued research and innovation. We are honoured to support the next generation of dentists and eager to see what they will accomplish."
"dentalcorp's four pillars — integrity, innovation, collaboration, and excellence — are foundational to our Faculty in that they guide our teaching, research, clinical care, and professional conduct," said Dr. Davis. "The dentalcorp Simulation Lab will help us to continue to prepare dentists and dental hygienists for the future so that they are both skilled and professional.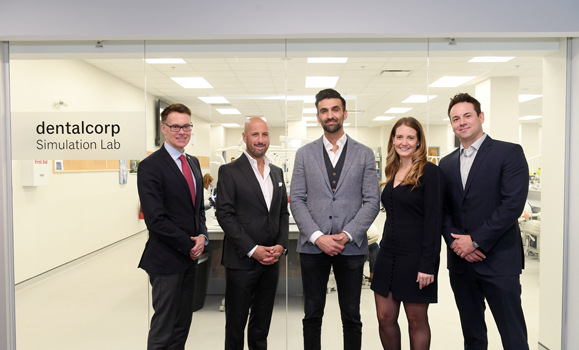 Left to right: Dr. Ben Davis, Graham Rosenberg, Guy Amini, Julia Croll, Cory Sears.