What kind of person do you need to be to earn the title of Top Co-op Student of the Year? Just ask Dalhousie's highest-achieving co-op students of 2018 and they will tell you. Ambitious. Positive. Proactive. Driven. Hard-working. Resilient.

This diverse group of undergraduate and graduate-level students is defined by their incredible ability to apply their academic strengths to their co-op job while pushing their skill sets to new heights, delivering the greatest possible outcomes for their employer.

Having already earned the respect and praise of their colleagues and supervisors, the top co-op students from each Dal faculty currently offering a co-op program will be formally recognized this week at the third-annual Dalhousie Top Co-op Awards. The ceremony, which also celebrates the best co-op supervisors and hiring organizations, affirms the importance of work-integrated learning to enhancing the student experience, preparing graduates to transition into the workforce, and help grow the economy and stimulate youth employment both locally and nationally.

It is no coincidence, then, that the Awards (jointly led by Architecture and Planning Co-op, Management Career Services, and Science Information Technology and Engineering Co-op Education) are held during National Co-op and Work-Integrated Learning Week. 

In 2018 alone, over 2040 work terms were completed by Dalhousie students, representing a five-year growth, and as of the academic year ending 2017/18, Dalhousie demonstrated a five-year growth in work terms with 23 per cent of students participating in work-integrated learning, and a three percent annual growth in co-op work terms over the year prior — a trend that all involved hope to see continue.

Get to know the six outstanding students selected to receive this year's award.

Victoria Ascah, Master of Planning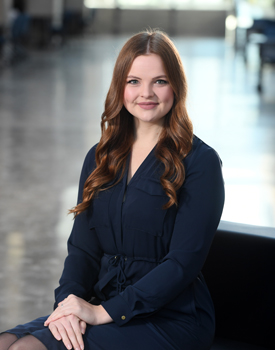 Master of Planning student Victoria Ascah identified Halifax as a city in a development transition. She was looking for a place she could study and be part of the change taking place.

During her first degree at the University of Alberta, Victoria studied post-conflict development in Kosovo. This study-abroad program led her to planning as she became interested in the politics of space and how she could take action to shape her community.

The co-op program in the Faculty of Architecture and Planning has offered her just that. Working for the Municipality of East Hants, Victoria has had the opportunity to work on a variety of planning-related tasks, from development agreements to interpretive signage. In doing so, she has been able to grow her career, her personal development, and her academic experience. Victoria reflects on her work term as the busiest but also most rewarding time of her life:

"I was able to not only apply the concepts I had learned in my first year to the real world, but also to bring what I learned in my work term back to my academic work."

Victoria also recognizes how she grew on a personal level by developing skills in critical thinking, time management, public relations, and political awareness. Perhaps most importantly, this work term has offered her the ability to experience what her chosen area of study is like as a career. Victoria is thrilled to have the affirmation that she has chosen a profession well suited to her. She has been inspired to pursue a career working within a municipal government and has discovered her passions include active transportation, sustainability, transportation equity, and winter city design.

Co-op work terms are not only beneficial for the student. Victoria's supervisor's reflections on her contribution are equally as glowing: "Victoria has exceeded our expectations in terms of work volume and the quality of her work," says Rachel Gilbert of the Municipality of East Hants.
Victoria was recognized for not only being a fast learner, but for having a skill set beneficial to complete a complicated task more efficiency and precisely than others in her office.

Victoria went above and beyond all expectation by taking the time during her co-op term to revitalize the Professional Pal Program. This program, a partnership between the Graduate Planning Society (GPS) and the Licensed Professional Planners Association of Nova Scotia (LPPANS), matches practicing planners with planning students. The connections Victoria made in the workplace and her diligent efforts resulted in the involvement of 27 planners who acted as professional mentors to 27 planning students.

Victoria's decision to study Planning at Dal was influenced by the academic requirement of completing co-op terms. She believed that experiential learning was a key component in understanding the path she was about to embark upon. However, she did not predict just how impactful this time would be. This work term has given Victoria the confidence and experience to ensure her future in Planning is very bright. (Anne Swan)

Claire Attridge, Bachelor of Science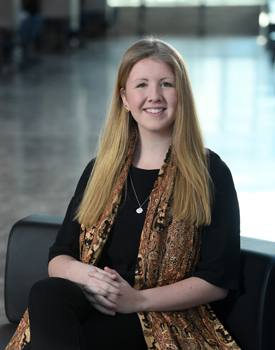 In grade 11, Claire Attridge took a class trip to Vancouver Island's Bamfield Marine Sciences Centre that would eventually impact her future career in ways she couldn't have possibly imagined at the time.

"I've always been a 'marine dork'" the fourth year Marine Sciences major confesses while laughing. "I knew I wanted to be a marine scientist event when I was young. You know, when kids change their minds all the time about what they want to be when they grow up? Not me."

Growing-up on the West Coast, Claire says she learned to love everything to do with water — diving, surfing, marine life, you name it: "I was enthralled with the ocean as a kid."

It wasn't until high school when she really started to think about her future career. Knowing that hands-on learning was important to her, the co-op program drew her attention to Dal, which also appealed given its location on the country's opposite coast: "I moved here not knowing a soul."

When the time eventually came to embark on her final co-op work term search, her thoughts returned to that high school trip to Bamfield.

"I remember at the time thinking, 'I'm going to come back here one day. I'm going to work here one day.' I fell in love with the place on that trip. And then I realized that I didn't have to wait until I graduate to make it happen.

"I put a lot of effort into pursuing this [co-op opportunity]," she acknowledges. After reaching out to Bamfield, Claire was connected with their director of education. After a few emails back-and-forth, she finally got a phone interview, and the rest is history.

Claire describes her time with Bamfield as a perfect culmination of her academic journey, and one that helped her live out her childhood dream: "It really took my academic skills and the skills I learned at my previous co-op jobs into the perfect smorgasbord of an opportunity."

In a full-circle kind of way, Claire's role at Bamfield had her coordinating the same types of field trips that she experienced there several years ago.
"There was this one evening, close to nightfall, and we had taken the group to a spot called Brady's Beach. There were beautiful sea stacks topped with trees, and it was just us and a perfect view of the water. The entire sky was bright tangerine and red. And this group of like 30 kids saw this and they were completely dumbfounded. They were the quietest they'd ever been all trip. To witness them seeing what I loved so much about Bamfield … it was really special."

With co-op behind her, Claire now has her sights set on spending the final year of her undergrad working towards an honours thesis in Marine Biology and Oceanography, where the skills she learned from her co-op experiences will be put to use in the classroom. After that, it's anyone's guess where the future will take her — travelling, scientific dive training, and pursing a master's degree are all on her list — but she guarantees she won't be far from water. (Allison Auld)

Katherine Bertagnolli, Bachelor of Commerce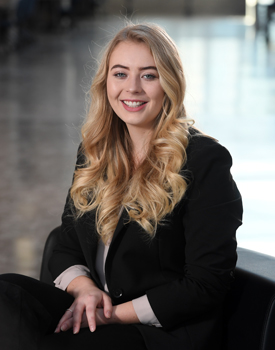 When you grow up on a fourth-generation family-run 3000-acre farm as Katherine Bertagnolli did, hands-on work experience factors heavily into your learning style and academic choices.

A native of Rocky Mountain House, Alberta, Katherine was exposed early on to the business side of farming and had a strong desire to see the world. Once she found out about Dalhousie's Bachelor of Commerce program, which offers three built-in co-op work terms and the option to complete them abroad, she knew it would be the right fit for her.

She quickly discovered that finding co-op jobs in other countries would require extra effort and advance planning compared to the typical Canadian co-op job search. Thankfully, as a three-time national gold-medal winner in speed skating, she had the competitive drive and determination needed to develop her own international co-op opportunities and outperform her peers.

"Being a competitive athlete and coach in junior high and high school, I had to figure out how to schedule those responsibilities around my commitment to doing well in school and helping out at the farm. In order to balance all of those priorities, I had to work hard and learn how to manage my time. These are the skills I drew on to land co-op positions in two different countries in the span of a year."

She spent her first co-op last winter working for Needhams 1834, as a Business Continuity Analyst in London, England, and a fall co-op in Tuggerah, Australia, at Bishop Collins Group where she worked as an Audit Trainee.
But Katherine wasn't content to simply show up and do the work. She consistently found ways to expand her on-the-job learning, take on extra responsibilities, and produce work that exceed the expectations of her respective supervisors – both of whom nominated her for the Top Co-op Student of the Year Award.
During her four-month co-op at Needhams, where she was the company's first-ever co-op employee, Katherine used her own creativity and initiative to create and present an interactive crisis management simulation tool that could be adapted to meet the diverse needs of prospective users. The firm has since been using the Jeopardy-style tool with a range of clients and sold a license to two universities.
Seeking a new challenge and a change of scenery for her fall co-op, Katherine describes her time at Bishops Collins as having "rewarded me richly with many difficult assignments." This included the audit of four separate political parties following a local election and completing tasks that are typically reserved for audit managers and directors.

Katherine attributes her success in the workplace and in school to the mentorship she has received, which has helped build her confidence, critical thinking skills, and adaptability.

"Between my professors at Dalhousie and my work term employers, I have been given a fantastic set of skills, some dynamic tools in my toolkit, and an increased confidence to achieve my goals."

With one final co-op ahead of her this summer, Katherine hopes to return to Australia and is pursuing opportunities that will further expand her international business knowledge and experience. If her past performance is any indication of what the future holds, she will no doubt aim high and face the challenge head-on. (Andrea McKay)

Myles Burry, Bachelor of Environmental Design Studies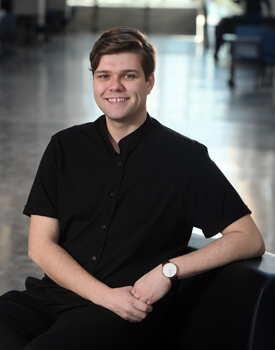 Myles Burry came to the Bachelor of Environmental Design (BEDS) program with a fair amount of knowledge in the field of Architecture. Having already obtained a three-year degree in Architectural Engineering Technology and a Bachelor of Technology, he was ready to expand his Architectural education and embark on the path to becoming a licenced architect. Born and raised in Newfoundland, Halifax was the natural choice for Architecture school. However, it was the co-op program that confirmed this.

"Dalhousie's Architecture program contains multiple work terms which I believe are very important to understating ones chosen field while providing valuable work experience," reflects Myles.

Myles' hopes for a beneficial experience did not disappoint. Employed at Rayleen Hill Architecture + Design Architects (RHAD) in Dartmouth, NS, Myles' technical experience quickly earned him a place as a valuable member of the team. With the help of his employer, Rayleen Hill, and her team, Myles was able to move beyond his comfort zone and develop skills that will benefit him throughout his career.

Working in a small firm presented the opportunity for him to learn about the business side of the profession, something rarely talked about in school. Myles learned from a small business owner about what she believes works and what doesn't, what types of projects to take on, and how to properly engage with clients and contractors. He also had the opportunity to step outside his comfort zone and practice communicating with other allied professionals. This helped him become much more comfortable and confident in his communication abilities.

"My work with RHAD Architects allowed me to develop my overall career and personal skills while confirming the benefits of real-work experience in a multi- faceted profession," says Hill.

Myles' employer also benefited from his contribution. He impressed Rayleen's team with his ability to produce work quickly and effectively.

"We were often surprised at the speed with which Myles submitted his work and assumed that the quality must have suffered. After careful reviews, we were always proven wrong."

Myles is applauded for helping his employer achieve their bottom-line goals and commended for his personality, which contributed to the overall wellness of the office culture and the relationship with the clients with which he directly communicated. Not all skills can be perfected in the classroom! (Anne Swan)

David Idemudia, Bachelor of Engineering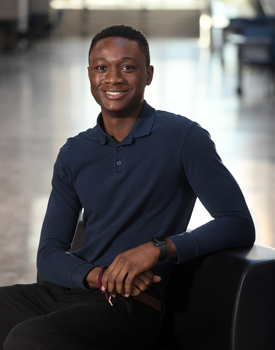 Reflecting on his childhood growing-up in Nigeria, David Idemudia explains how his dad, a land surveyor, would frequently take him and his older brother on car rides to show them the different projects he worked on every day. He was proud to teach them about what he did for a living and the impact his work had on the world around them.

As a kid, David aspired to follow in his dad's footsteps and becoming a land surveyor himself, but later decided that engineering held his interest a bit more. When it came time to choose his discipline during his second year of engineering, he landed on civil — a discipline that frequently works with land surveyors and was all too familiar to him.

When he started at Dal in 2015, the co-op program couldn't have been further from David's mind. His plan was set (or so he thought). He'd complete his Bachelor of Engineering within four years, following which he'd dive into a master's degree. A career could wait, at least until his education was complete.

But when it became time to decide upon his civil engineering specialty, his plan suddenly was tossed out the window. A conversation with his faculty co-op advisor left him considering the many benefits of co-op, and the allure of gaining experience in different fields within his discipline became intriguing: "I figured, why rush my education and miss valuable work experience when I could be rubbing minds with the industry's finest engineers at such a young age?"

David explains that there are three main fields within civil engineering: structural (buildings), transportation (roads), and municipal (water, sewers).

"Because you can't easily see it, people don't necessarily appreciate the municipal aspect of engineering. But structural … people see a nice building and can easily appreciate the structure for all it offers. And as an engineer, I can look at a building and say, 'I did that.' One day, I want to be able to take my kids and say, 'see that building? I did that,' just like my dad used to do with the land he surveyed."

Thanks to a co-op work term with the Halifax Port Authority, David's already been given the opportunity to work on the first legacy project of his young engineering career: the design and construction of a stairway and fire escape for the large grain elevator located in Halifax's south end.

It's a project that was entirely his — from start to finish — where he developed the preliminary design, prepared the project for construction tender, responded to questions from bidding contractors, and ultimately selected the winning bidder to construct the project. A big job for a young engineer, whose talent is already putting him in high-demand. One of those successful bidding contractors, Harbourside Geotechnical Consultants, were so impressed with his work at the Halifax Port Authority, they offered him an eight-month co-op position on their team.

David shares that co-op has allowed him to grow his confidence to new levels. Though he began his first co-op job feeling nervous and shy, he's already seeing himself as an engineer, and is both motivated and excited to begin his career. (Allison Auld)

Amelia Stead, Bachelor of Computer Science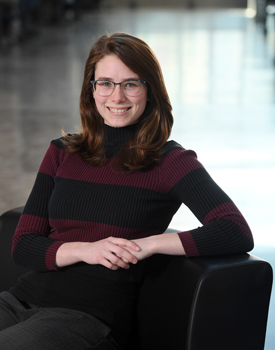 "I can't imagine having done my degree without co-op."
 
Fourth-year computer science student Amelia Stead has found herself in an enviable position during this final term of her undergrad.

With three co-op work terms and nearly all the required Computer Science undergrad courses behind her, Amelia now has her eyes focused on the finish line. Once her studies wrap-up this spring, she'll be joining her most recent co-op employer, software firm Analyze Re, on a full-time basis. But in the meantime, she's enjoying the short-term opportunity to discover life outside of computer science and co-op.

"I'm able to take all kinds of different electives — like English, creative writing, and music. I'm really enjoying getting to see what classes look like in other faculties. It's been nice to find a balance."

The co-op program was a big part of what brought Amelia to Dal in the first place, but it was through her co-op experiences where she discovered the areas of Computer Science that were the best fit for her.

After she finished her first work term with Halifax-based firm QRA, Amelia discovered that she thrived within a small company setting. Knowing this, it was her mentor who suggested she explore Analyze Re as a potential co-op employer. And even though the company wasn't seeking a co-op student at the time, that small detail didn't deter her. With a little research, Amelia sent a message to an employee she found on LinkedIn, which led to meeting with the team, and ultimately, a job offer. Things went so well, too, that her term was later extended to eight-months, allowing her the opportunity to work on both sides of the company's business and to get a better sense of different career paths.

As spring convocation looms ahead, having a job offer in-hand is a big relief for the soon-to-be-graduate, who is looking forward to holding down a role for more than four months at a time.

"It's nice to have the offer in place already. I'm really excited to start my career. I've really been passionate about all my co-op jobs, and I rarely felt like a co-op student. I like to think I was just as dedicated as any full-time employee, and I always hoped that they'd notice my absence at the end of my co-op."

Now looking back, Amelia shares that she owes her certainty in career path direction to co-op and describes her co-op experience as an opportunity of growth: "Co-op challenged me. It was a challenging experience, but in a good way! It pushed me ... and made me grow." (Allison Auld)