For Alex Carson, having the U Sports Final 8 tournament in Halifax is about more than just basketball. It's about community, and it's about family.

"My dad and I would go to all the games when I was growing up," says Carson, who grew up in Lower Sackville. "It was so much fun, and so exciting to see those games. We'd be in there all day, watching them all, every day of the tournament."

For nearly three decades, from 1984 until 2012, Halifax hosted the Final 8, the national university men's basketball championships, at what is now the Scotiabank Centre. The tournament embedded itself deep in the city's culture, making an impact not just on bottom lines of local business, but in the hearts and minds of young athletes like Carson.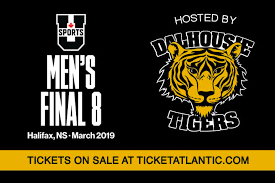 After a three-year absence, the Final 8 made its return to the city two years ago: first with Dalhousie hosting in 2017, then Acadia the year after. Now, it's back again this weekend (March 8-10), with Dalhousie as the host squad.
The Tigers team, fresh off its triumphant win at the AUS championships last weekend, faces UBC in the quarter-finals Friday night at 8 p.m. (Tickets are available from Ticket Atlantic.)

"While hosting the Final 8 is of great value to both our athletic and basketball programs, it is also an event that has a long history with our community," says Tim Maloney, executive director of Athletics and Recreation at Dal. "To play a leadership role in bringing this event to Halifax is something we are very proud of at Dalhousie."

Carson, now a third-year Recreation Management student, and a guard who's the Tigers' top scorer this season, feels the same way.

"I just feel like Halifax is a great city to have it in," he says. "No matter who's playing, be it a Halifax team or two teams from Ontario, the crowd is always into it. I love having the tournament here."

Clicking at the right time

Carson has good reason to be excited, given the roll his team has been on.

Though the Tigers were always assured a spot in the Final 8 as the host team, they still had to battle through a tough Atlantic University Sport (AUS) conference to reach this point, one that included an ascendant SMU team that rode a 19-1 conference record to the top seed. It was a bit of a wakeup call for a Tigers team that, under the leadership of award-winning head coach Rick Plato, had claimed three of the past four AUS championships heading into this season. But the team clicked at the right time, finishing the regular season on an eight-game winning streak.

"To get wins at such a high rate like that, you obviously need a deep team," says Xavier Ochu, an Arts student who joined the team as a guard in the middle of last season. "We have a lot of guys, from the first guy to the last guy, who can play and give good minutes when they get on the court."

"Then we carried that right through playoffs," adds Sascha Kappos, fourth-year Marine Biology student and power forward. "We won Friday, Saturday, Sunday. So we're feeling very good right now, I can't lie."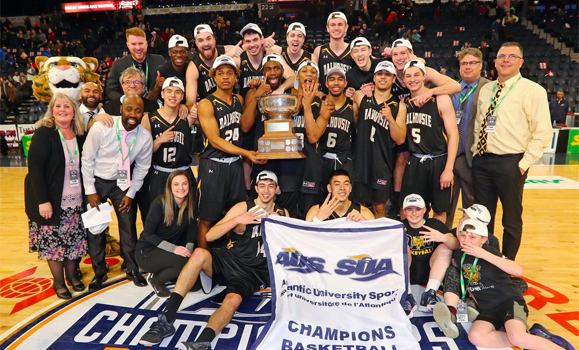 The Tigers celebrate with their AUS championship banner this past weekend.
With a characteristically strong defensive effort that kept point totals low but the competitive level high, the Tigers bested SMU in the championship game 65-55 — making it four titles in five years for Plato's squad.

"I really think the boys are ready," says Plato. "From day one, we wanted to go in as AUS champions. Despite some mid-season growing pains, the boys persevered, overcoming injury and illness."

Now, they get to return to the Final 8 after missing out last year. Kappos says the team rallied hard this year, with encouragement from coaches being key.

"This year it came to a point of knowing that we had to bounce back, that we had something to prove not just getting into the national tournament as the host team but trying to show that we have earned the spot by trying to win our conference," says Kappos. "I think that's something that's been taught to us by the coaching staff from the first day of practice."

Building on success

The Final 8 also offers the Tigers the opportunity to repeat or even exceed their success in the 2017 tournament, where the team took home the bronze medal and just barely missed out making on the championship game, losing by a single point in their semi-final against Ryerson. It was the Tigers' best-ever finish at the tournament — and proof that the team's run of success in the AUS is no regional fluke, but evidence of a basketball program that's earned its place on the national stage.

"Two years ago when we hosted, playing with the support of a fantastic home fan base was extremely important to our bronze medal finish, and I'm hoping we have the same again this year," says Plato. "I have tremendous confidence and belief in this group. If we focus on the game one possession at a time and do the little things, I think it will be a successful weekend."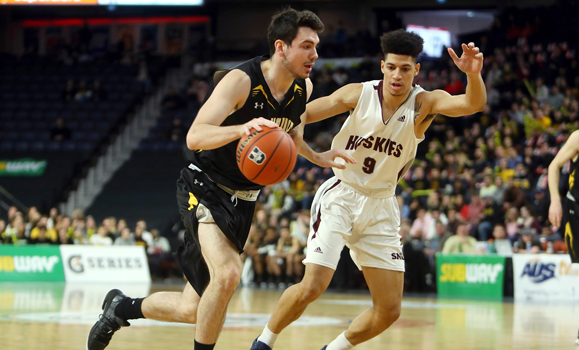 Carson (pictured above) has fond memories of the 2017 tournament — but he experienced all of it from the sidelines. Suffering an injury just before Christmas, he was out-of-commission for the rest of the season. Now, this year, he gets to be part of the action.
"I love our chances," he says. "We're peaking at the right time: we're on an 11-game win streak, everyone's playing well and we've got some time now this week to prepare. Everyone's locked in right now."

For the players, that means extensive time on the court, continuing to become the best athletes they can be while also keeping one eye on their studies.

"I know, for me personally, every professor I've had to work with has been great, whether it's with assignments or with extra study sessions when you miss a class or something," says Carson. "The support system here for student athletes is really great, and I think it's what helps our student-athletes excel both in the classroom and on the court, or in whatever sport they play."

Cheer on the Tigers this weekend

Now, the Final 8 approaches, and Dal's players are ready to take on Canada's best.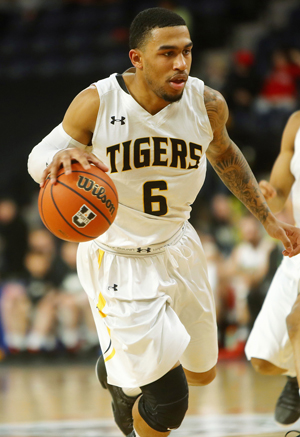 It's the highest level of amateur basketball in Canada, and to have that many eyes in us is going to be really cool," says Ochu (pictured left). "We're hosting, it's right in our backyard, and we're going to have the most fans and the most support."

Earlier this week, Student Affairs gave away 350 free tickets to students for Friday's night's 8 p.m. quarter-final against the UBC Thunderbirds, who enter the tournament ranked fourth (just ahead of Dal in fifth) with a 17-3 record in their own conference. And with tickets discounted to $10 plus fees for students, staff/faculty and alumni, the team is hoping for a packed house for its first big game of the tournament — with hopefully more big games to come on Saturday and Sunday.

"The City of Halifax is one of the best basketball cities in all of Canada," says Kappos, "I think you're going to see some of the most intense games and some of the most highly atmosphere, best energy games… I'm just going to enjoy the moment as much as I can, work out and play as hard as I can."

"We want to get as many fans there as possible," adds Carson. "We're going to show up just like we did in the AUS championships. Everyone on the team's really looking forward to playing this weekend. It's going to be something special."

Tickets for the Final 8 are available from the Ticket Atlantic box office. Dal's first game is Friday night at 8 p.m. Tickets can be purchased for double-headers on Friday, Saturday and Sunday; individually for the championship game on Sunday; or as a full package for the entire weekend. Student tickets for the doubleheaders are just $10 plus fees for students; staff/faculty and alumni can use promo codes "dalstaff" or "dalalumni" to get tickets at the same price.