A shift in public discourse around equality, diversity and safety inspired Sage Franch (BCS '16) to begin her journey from Tech Evangelist at Microsoft to start-up founder.

"I was inspired when movements such as #MeToo and Black Lives Matter were in the spotlight to really think about how workplaces are in a period of change," says Franch. It was at the tail end of some of these movements that Crescendo was born.

Solving problems before they happen

Crescendo started life as an anonymous online tool for employees to report sexual harassment in the workplace. Over time the platform has expanded to support all forms of harassment and developed into a resource that acts as much more than a reporting tool for companies.

"Our research found that we needed to make our tool inclusive to all employees," explains Franch. "We've turned it into more of a "training" tool that workplaces can adopt to become more inclusive. It uses social media style content rather than traditional training modules to share perspectives and individual stories. We hope that it helps everyone to learn empathy and appreciate new perspectives.

"We aim to help companies to solve problems before they happen."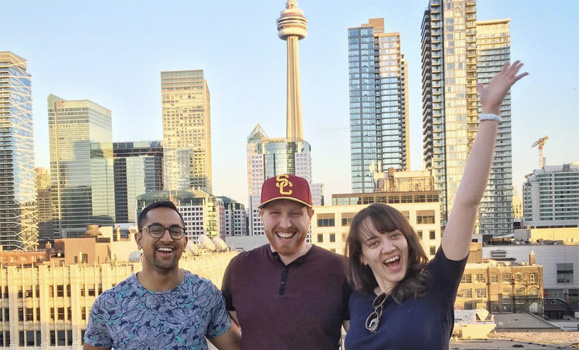 Crescendo recently celebrated its first birthday. After a whirlwind year, the company completed the Techstars Accelerator Program in December and has a distributed team with offices in Montreal and Toronto, has a team of seven plus additional contractors, and works with organizations including Wealthsimple and Inkbox.

"This time last year Crescendo was just an idea on the back of a napkin, now we're working directly with forward-thinking companies who are paving the way for diversity and inclusion."

Creating a community

This isn't the first time Franch has had the confidence to start a movement and support conversations around topics like diversity and inclusion. In 2013 Franch launched the Trendy Techie, an online fashion and tech blog that was inspired by Franch's own experiences in the tech industry.

 "I looked online for someone who was writing about similar experiences and there wasn't anyone at that time, so I did it myself for all of those individuals out there."

From what started as a way of sharing her story, the Trendy Techie has bloomed into a huge online community.

"Over time the Trendy Techie has become a support network for hundreds of people working in STEM. I hope that it helps people feel valued in these industries."

Keeping busy

When asked how she's finding juggling life as a start-up founder, Franch admits she takes everything in her stride as no stranger to being busy in all aspects of life.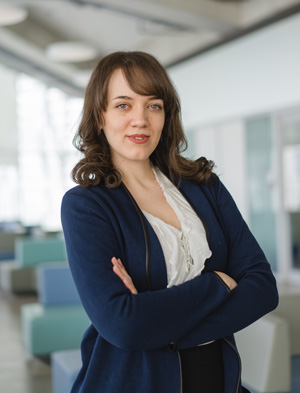 "After my first co-op placement with Microsoft in 2014 they offered me a full-time position," explains Franch. "I went for it and was working forty hours a week alongside taking six courses in the Faculty of Computer Science for over a year."

This didn't mean that Franch slowed down in other areas. She continued to run the Trendy Techie and actively engage in extra-curricular activities on and off campus.

"I was president of the Women in Technology Society (WiTS)," says Franch. "When I was at Dalhousie there were only seven WiTS members, it's amazing to see how much the society has grown since.

"The Faculty of Computer Science had a big impact on me. It's a tight knit community and I had close relationships with my profs and staff members, there was a support network that allowed me to get to know people as people."

Stimulating connections and conversation

With Crescendo turning one, Franch is reflecting on not only how far the company has come but what lies ahead and the impact of their work on the ever-changing workplace.

"Workplaces are becoming more and more globalized with offices and employees around the world, and more people working from home," Franch says. "Crescendo helps to address some of the issues that can arise from this shift to bridge the gap between workers.

"The most amazing and in some ways unexpected impact of all of this is the conversations that are starting within organizations outside of the tool – employees are using their learnings from Crescendo to teach others.

"I have been contacted on social media by employees who have used the tool with really positive feedback, that's a personal highlight for me and I'm really excited for the impact we can continue to make."
It was recently announced that Franch has been selected as a member of the G20 Young Entrepreneurs' Alliance (G20 YEA) Canadian Delegation to Japan in May 2019. The G20 YEA is a collective of organizations from the G20 countries, dedicated to promoting youth entrepreneurship and fostering global connections between young entrepreneurs. 
As a representative for young Canadian entrepreneurs, Franch plans to collect ideas and input from young innovators across Canada, to share with other leaders at the summit. Updates can be found on her site.