Jason Grant (Class of '11 and '13) is excited for what 2019 has in store for Cultiv8, Dalhousie University's Agricultural Sandbox. Since its inception, Cultiv8 has morphed and adapted to meet the changing culture around campus and this year is expected to bring bigger and better things.

"In a relatively short time, we have finally arrived at the beginning; a foundation from which innovation can occur with minimal resources," explains Jason, Cultiv8 manager.

Cultiv8 is a space on Dalhousie's Agricultural Campus where students can creatively discover and test ideas, with or without a business goal in mind. Open to all Dal AC students from diploma to PhD levels of study, students engaged with Cultiv8 will learn to communicate, problem-solve, prototype and much more.

"In our supportive environment, we build confidence in testing ideas through creativity, exploration and collaboration, so that our students can become more competitive in the 21st-century workforce," Jason says.
An opportunity to collaboration

Founded in 2014, Cultiv8 is a result of the Nova Scotia Sandbox Project, a joint project hosted by Nova Scotia universities and community colleges. The project brings together students, mentors and advisors from across the province to help students develop entrepreneurial skills and mindsets. Students gain tools and practice in areas such as teamwork and collaboration, self-confidence, networking and more. Cultiv8 is one of nine sandboxes across the province.

"The skills we are offering our students will help change the culture around innovation in Nova Scotia," Jason explains.

At no cost other than their time, Cultiv8 offers students exposure to innovation through a variety of avenues. Students have access to inspirational tours to local agriculture and value-added agribusinesses, customized workshops and programs and collaborative boot camp experiences with students from across Nova Scotia. At the programming level, Cultiv8 is home to approximately 50 students and during any given year, students and public engagement has reached numbers in the thousands.

"Students are sources of limitless energy with initiative; they advocate for justice, are socially responsible and environmentally conscious," Jason explains. "They are nimble in their ability to pivot and they are all different. At Cultiv8 we believe that the next generation of Nova Scotia students will change this province into a collaboration hub."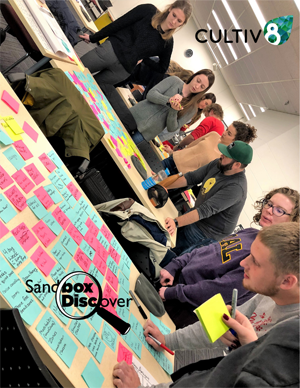 In the coming year, Cultiv8 intends to mentor and employ one or two student summer interns. They are also currently running two concurrent programs, Discover and Validate. As for events, Cultiv8 is organizing a pilot event with Lethbridge College and McGill University. The national agriculture event will select students from each campus to attend a five-day event in Lethbridge where students will participate in an agricultural design challenge.
The challenge will immerse students in the local community, expose them to exciting innovations happening in Alberta Ag and allow them to network with others from across the country. They will challenge their abilities to discover needs, ideate solutions, test prototypes and iterate their solutions based on stakeholder feedback.

"It is our plan to learn from this pilot run in September 2019 and begin to grow the event so that all agricultural campuses across the country can attend annually," Jason explains.
Poised for what's next


Having recently been approved as an incubator for the Mitacs eAccelereate program, Cultiv8 is poised for what's next. The Mitacs eAccelerate program provides student entrepreneurs opportunities to conduct research and develop their ideas in their own start-ups while continuing their studies.

"As we gain more traction and develop our student culture around innovation, so too will we integrate more deeply with industry, providing greater opportunities in terms of internships and becoming more desirable and competitive with regards to employability," Jason explains. "The creation and growth of sustainable businesses is the natural next step."

As with any new initiative, Cultiv8 has changed and grown dramatically since its inception. Early programming focused on engaging industry to share their problems so that students could develop solutions and pitch to stakeholders. While the concept worked well in the beginning, Cultiv8 has since taken a different direction. Today, Cultiv8 focuses on teaching students the skills to become more competitive and innovative, whether that's within their studies, their work, or as business owners. Cultiv8 provides students with tools which they can use for a lifetime.

"It is essential that we move toward the mindset of, 'sustainable business creation is neither quick nor easy, but is, with a targeted and low-cost approach, very possible,'" Jason says. "We provide tools to our students. While within the low-risk environment of the Cultiv8 Sandbox, it is the intention that our students use those tools to gain practice and proficiency toward successful innovation."