November 11, 1918: the day the armistice was signed, and the day The Great War was ended. It was meant to be the day the world entered into a new era of peace and prosperity. Instead, the people of Germany were faced with food shortages, disease, and civil war.
This is the world the audience members find themselves transported to in Ödon von Horváth's Don Juan Comes Back from the War — the latest production from the Fountain School of Performing Arts, which opens this week at the Dalhousie Arts Centre. The war has left Don Juan determined to renounce his womanizing ways once and for all. But he quickly discovers that even the war may not have been enough for him to change, and as the show progresses he is forced to grapple with, and choose between, the man he wants to be and the man he is.
The period-appropriate costumes, selected by fourth-year costume studies student Ophelia Stone, and marvellous props by technical theatre students Kevin Dacey and Riley Valotaire, succeed in transporting the audience back in time to one of the most tumultuous periods of the 20th century. Third-year design student Qing Wang has set the production in a museum detailing some of Don Juan's exploits. This is not only a practical choice, which accommodates the rapid-fire succession of scenes, but a compelling one that suggests Don Juan, like any figure in a museum, has a more complicated story than what his legend suggests.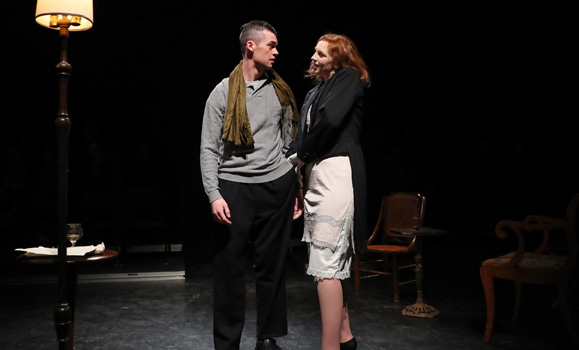 Don Juan is asked to dance by a bold designer in a jazz cafe. - Jacob Hemphill & Sarah Nearing
Director Jure Gantar has chosen to explore this complexity by casting three different actors (Albert Arseneau, Jacob Hemphill, James Temple) in the role of Don Juan to convey the character's transformation over the course of the play. The three actors have each had a chance to explore the man, rather than the myth, that is Don Juan. Hemphill has partly based his interpretation on Lord Byron's poem about the character, in which Don Juan is "not a womanizer; he's easily seduced by women."
Horváth's play poses the following question: is Don Juan really the irredeemable character of legend, who in most dramatic imaginings is violently dragged to hell for his lechery? Or is there some responsibility for the way all of his "scandalous love affairs" turn out that lies with some of his scorned lovers?
All's fair in love and war

"Why should all the Don Juans be men?" asks one of the women in Don Juan. It's a shockingly modern question for a play originally published in 1936, and it is a line which resonates with many of the show's female-identifying actors.
"Well, what is a Don Juan? Is a Don Juan a seducer, or is he seduced himself?" asks Tori Devine (Second Soubrette, Second Girl of Easy Virtue, Second Lady). Many of the women in the show actively attempt to seduce Don Juan, and in a compelling twist, it is the women who have control over Don Juan — not the other way around.
While none of the characters are named in the program, there are a few select women who are explicitly given names. But Don Juan remains nameless, which implies that he is perhaps objectified by the women more than he objectifies them. "The women are more of a dominating force in this play," says Hemphill.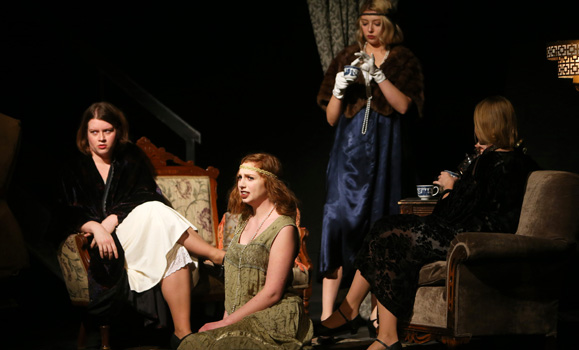 Four vastly different women wait in a Profiteer's house for a man who may never arrive."- Vanessa Allen, Sarah Nearing, Tori Devine, and Kit Bump
Don Juan has 35 distinct female characters, and each actress in the third-year acting class has the opportunity to play three or four characters each. Vanessa Allen (Grandmother, Fourth Lady, Brunette, Masked Lady) appreciates that this show allows her and her classmates to, "experience different women, and different characters, and different facets of being a woman, which is what the show kind of also brings into play."
A man on the brink

According to the French philosopher Albert Camus, there are three ways to overcome existential despair: by being an actor, a conqueror, or a Don Juan. For Gantar, this particular Don Juan is in search of an escape from despair, but that escape isn't just meaningless sex.
"[He is] someone who repeatedly falls in love in an existential act…it's wonderful." The Don Juan that Arseneau, Hemphill, and Temple portray is dark and tormented and all the more charming for it.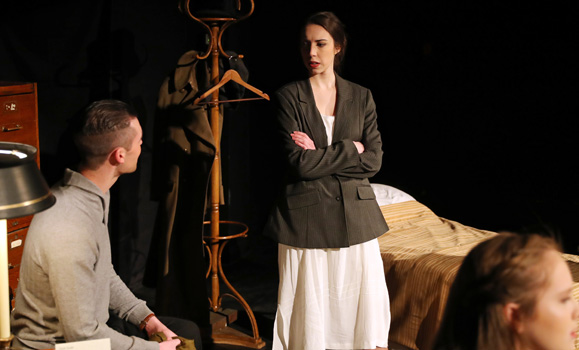 Don Juan is lectured by a revolutionary young woman about the suffering of the broad masses. - Jacob Hemphill, Danielle Toner, and Maja Packer
"I think Don Juan is so alluring because of his sex appeal, obviously," says Assistant Director Nicole Langdon. "You want to see him redeem himself, and if not that then you probably wish you were more like Don Juan. He simultaneously entices you and repulses you, so it's all the more satisfying to see him struggle in a world full of scorned women."
Tear down this wall

Assistant Director Logan Robins believes that the idea of Don Juan, "has remained so attractive to people over the centuries because it is an archetype that has never changed, that is, until very recently." In Horváth's play, "the chronic womanizer" discovers that "his lifestyle doesn't have the same charm it used to, and that change is on the way. We are at a moment in history where the walls of sexuality are shattering and in the crossfire are the toxic men who have held the wall up for so long — men like Don Juan."
What makes this production of Don Juan so compelling to modern audiences is its myriad political underpinnings, exemplified by the distinct virtues and flaws of each character. Don Juan is not the irredeemable figure he is often made out to be: Don Juan spends the entirety of the play desperately trying to find his true love once again. He is a tragic character haunted by the man he was before the war—a man he desperately wants to escape.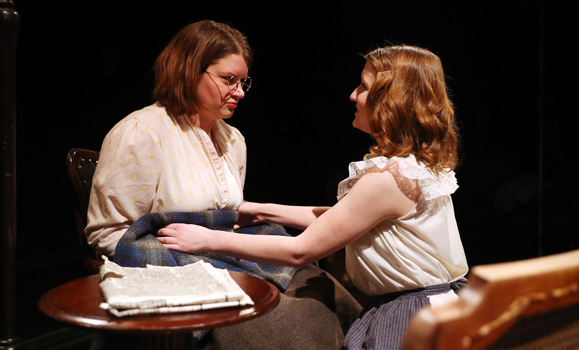 A spirited maid tucks in a curmudgeonly grandmother. - Vanessa Allen & Regan Bennett
But he is prevented from doing so by the women who objectify him throughout the play, and who are objectified in turn. Don Juan challenges audience members to consider what part they have played in holding up the proverbial wall mentioned by Robins — whether they are in some small way Don Juans, regardless of their gender identity.
Political underpinnings aside, in the words of Robins, Don Juan Comes Back from the War "is a play that will make the audience laugh, cry, and go home to burn old pictures of their ex."
Don Juan Comes Back from the War runs from February 5-9 in the David Mack. Murray Studio of the Dalhousie Arts Centre, with evening performances nightly at 7:30 p.m. and a 2 p.m. matinee on Saturday. Tickets are available from the Dalhousie Arts Centre Box Office.