The Dalhousie Tigers Women's Hockey team took on l'Université de Moncton Aigles Bleues on Saturday night, emerging with a 3-2 win and two important points in the standings.
But just as important was the occasion: the annual Bell Let's Talk game, with the Tigers and the Aigles Bleues uniting forces with student-athletes across country in support of mental health.
The first 100 fans through the door received an official Bell Let's talk Day toque, and members of the Student-Athlete Mental Health Initiative (SAMHI) were on-site encouraging everyone to fill out speech bubbles and sign the official event banner to join in the conversation.

On Wednesday, more than 20,000 student-athletes across Canada will help lead the campus conversation about mental health, joining with fellow students and others in the university community to discuss the impact of mental illness and how to fight the stigma that keeps too many from seeking help.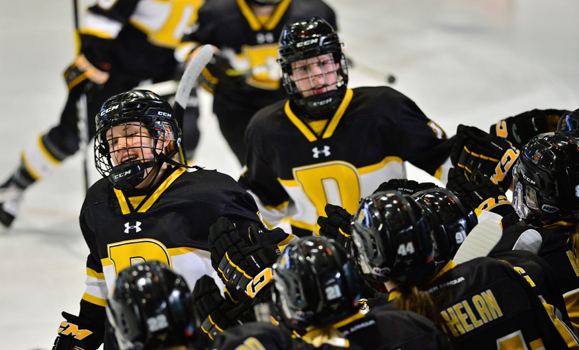 As for the game itself, L'Aigles Bleues were first to find the back of the net in the game off a Tigers turnover at their own blue line and Maelle Rioux (Quebec, QC) was left all alone against Fabianna Petricca (Woodbridge, ON).
The Tigers were able to strike early in the second period, after Annika Rose (North Vancouver, BC) made a break into the zone and was taken down behind the goal line. Moncton attempted to clear the puck and move up the ice but the clearing attempt was blocked and sent in to Rose who was all alone with plenty of space to pick her spot over the blocker and tie it up at 1-1.
A shorthanded goal had Moncton leading 2-1 going into the third. Both teams showed great stints of attacking pressure in the third period, with Moncton getting the better of the chances on the power play, but midway through the period Keana Oshowy (Woodbridge, ON) was able to pick the pocket of a Moncton defender and was all alone in front. Oshowy cut across the crease and waited long enough to get around a diving Berthiaume and send home the tying goal.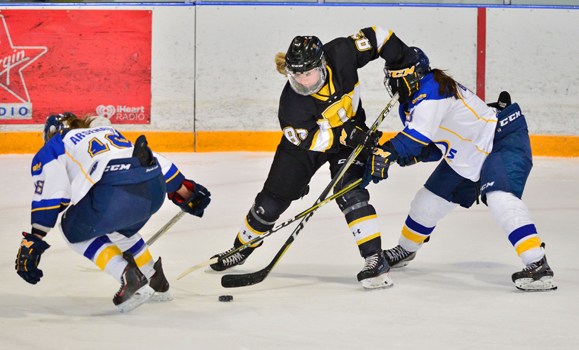 Moncton took a costly penalty late in the period with the game still tied, and the Tigers were able to capitalize. Working the puck along the point, Rose fired a hard slap shot through a big crowd in front that Berthiaume couldn't get eyes on. The puck rang off the far side post, across the goal line to the second post and just barely crossed the goal line before it was cleared. After a discussion between the officials, it was ruled a goal for Rose, and the Tigers took a 3-2 lead with under two minutes to go. Rose was named the Subway Player of the Game in the win.