One or two days every month, a group of Dalhousie students can be found gathered in the International Centre practicing their English language skills and socializing with other international students.
Called the Language Spot, the program is designed to allow the students to hone their skills in a comfortable and inclusive setting.
"It's casual conversation in a social space," says Brandon Randall, projects and events co-ordinator at the International Centre. "It's a great way to learn English — to be immersed in it and use it often in conversation. It's not about helping with schoolwork, it's practice through socializing. And it's done in a way that's not intimidating."
Since the program was successfully piloted late in the 2018 winter semester, Randall and the communications co-ordinator, student Deborah Sanni, have made some changes to the program, most notably the recruitment and training of students to volunteer as English coaches.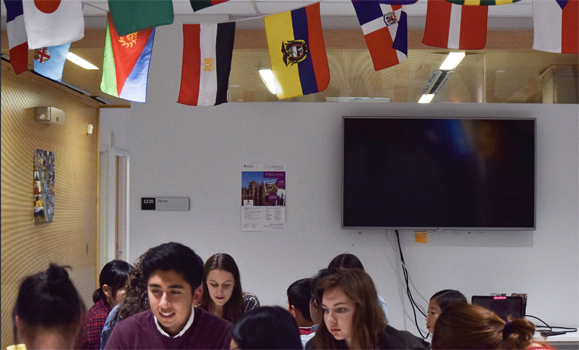 Randall says the goal is to create a more casual setting, one where students and coaches can each learn from each other.
"It's a great place to have fun and make friends," says Fionie Jia, a second-year Commerce student from China.
Sharing experience

With more than 4,000 international students from more than 120 countries at Dal, one of the benefits that the coaches enjoy from working with international students is the opportunity to learn about different cultures — and also to share their own Canadian experiences.
"It has been amazing to be a part of this collective culture experience," says Gregory Photopoulos, one of the student coaches. "Not only do I get to share more about Canadian culture, I also get to see my new friends experience the Haligonian lifestyle through events and get-togethers."
Indeed, the goals for the program include connecting international students with peers from different cultures, and getting them more involved on and off campus by encouraging them to socialize, explore, and enjoy Halifax and Nova Scotia during their time at Dalhousie. To help achieve this, every student coach is teamed up with a group of international students and will host their own social event for the group outside the International Centre once a month. Typical events include touring Halifax, trying out new food, and getting to know Canadian culture through themed events.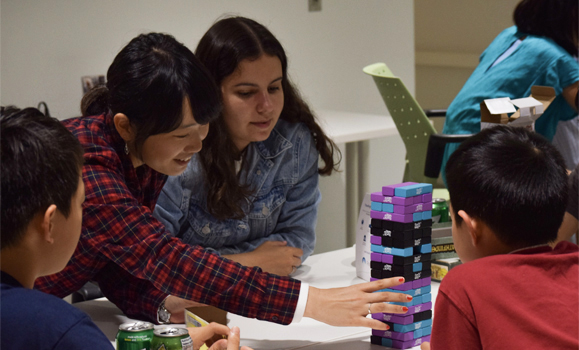 "It's an incredible opportunity not only to meet new people, but also to introduce yourself to various cultures and widen your global perspective," says language coach Sidney Wood.
Coaching for success

Not all the language coaches are students. Dalhousie alumnus and faculty member in the Department of Pathology, Calvino Cheng, and his wife Sharon committed to spending two nights a month volunteering as coaches. On December 21, they hosted a pizza and board games night at the International Centre for students who were staying in Halifax for the holidays.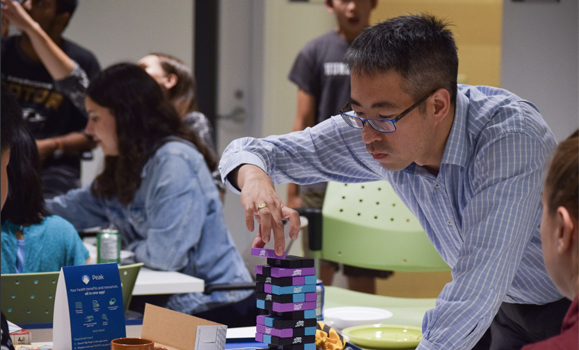 They say their family benefits from the experience as much as the international students.
"It's been great to unwind over games and hang out on Friday nights with students from all over the world," says Calvino. "Lots of laughing and sharing of stories.
"It has been amazing to watch our four kids enjoy hanging out with the students and vice versa. It has also been amazing to watch students who didn't previously know each other leave as friends. There is something life-giving about being with students."
Even though the program is geared towards international students, it's open to the entire Dalhousie student community and Randall says he'd like to eventually see it expand to welcome new immigrants as well. In fact, the name "Language Spot" was chosen to reflect the fact that it's more than an English tutoring program, it's all about an exchange of languages.
"Everyone learns something new" says Randall. "It's a learning opportunity for everyone — especially the English-tutors. Friends of international students are also welcome to participate — maybe they could end up as English coaches!"
The next Language Spot event, cookie decorating, takes place In the International Centre on Thursday, January 31. Check the International Centre Facebook page for more information about the events and volunteering.