This article is part of a series shining a spotlight on the personalities and priorities of Dal's senior leadership team. Look for more profiles in the weeks to come, and revisit previous profiles at the Leadership and Vision website.
Flunking out of university was perhaps the best thing that ever happened to Ivan Joseph.

It certainly didn't seem that way at the time, of course — especially when he had to come clean to his traditionalist Caribbean parents. But the big slice of humble pie led him to some of his most inspirational mentors, who in turn taught him the essential nature of community and connectedness.  

Dr. Joseph, who today is Dal's vice-provost student affairs, was born in Guyana but moved at a very young age to a farm in Maple, Ontario — now part of the City of Vaughn, but at the time a rural village of about 1,000. "My dad worked for the farmer there as a hired hand," Dr. Joseph says. "He was a graduate of the Nova Scotia Agriculture College — now Dalhousie's Faculty of Agriculture — in Truro; he'd been recruited there from Guyana."

The farmer who first hired his father was named Lauren, and he was an early mentor for Dr. Joseph. "He could find a four-leaf clover in every batch," he says. Lauren's uncanny ability to find hidden treasure has stuck with Dr. Joseph, reminding him to make an effort to find people's unseen talents whenever possible.

Finding his focus

Dr. Joseph's upbringing was strict, and when he finally attended university the sense of absolute freedom went to his head. He believed he could get by attending one class a week. After learning the hard way that getting through university would take more effort than that, he decided to find a fresh start somewhere far from his small hometown, where he was unknown. He chose pre-med at a small athletic school, Graceland University in Lamoni, Iowa, but first he had to convince admissions to let him in.

They gave him his second chance, and he spent the first term in his room studying and doing little else. He scored a 4.0 GPA that term. He'd swung from one extreme to another, but "living like a hermit" to do so left him still feeling unsatisfied. The late Tom Powell, who was at the time the Dean of Students and the man who gave Dr. Joseph his second chance, encouraged him to get more involved in campus life. Soon he was singing in a student choir, participating in student government, and serving as captain of the soccer team.

"In short, I was connected, and for me it created meaning and purpose."

Dr. Joseph's life took another detour on graduation. The plan had been to study medicine, but he realized he was only trying to prove he was smart enough and to chase status; he had little passion for medicine itself. Dean Powell inspired him to take a more academic route, getting his master's degree in Higher Education Administration from Drake University in Des Moines.

Taking a new path

But when it came time to start a career, he had a simple epiphany. "I didn't like paperwork, so I became a soccer coach."

That is, he became director of soccer operations, head men's soccer coach and an assistant professor of health and physical education at Graceland. As a head coach he won three conference titles, conference coach of the year, and a national championship. "For 15 years I never felt like I worked." He also completed his PhD in Sports Psychology from Capella University so he could become a better coach — a direction inspired by reading Bob Rotella's book Golf is Not a Game of Perfect, about the importance of confidence and a focused mind.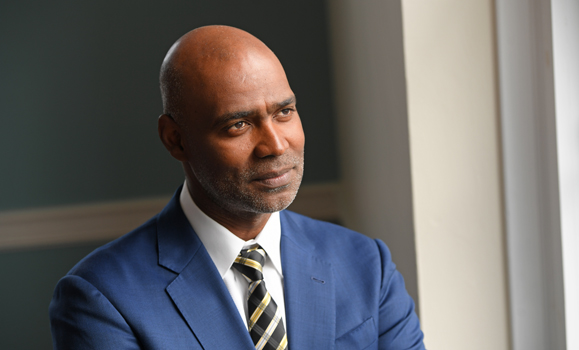 He knew it was time to move on from what he considered his dream job when he found he wasn't doing the extra little things. "The job had lost its challenge. I needed to be scared. For me, that fuels the fire of the soul."

That need took him to Ryerson University, where he eventually served as director of athletics for a decade. "It was the first time I had a secretary. But there was no school for learning to lead."

For that knowledge, he drew from the lessons of Dean Tom Powell at Graceland, and of the farmer, Lauren, who his father worked for in Maple, Ontario. It was all about giving people chances to succeed, connecting them with the right opportunities so they could show their inner four-leaf clover.

Making his way to Dal

After a run of incredible success at Ryerson, including a $100-million athletic facility revitalization, the need for fear kicked in again, and he moved to Halifax to take on his current role at Dal. First impressions? "A welcoming community that is invested in the success of their students" he says. "Dalhousie has a solid reputation on a global level, a reputation of excellence in and out of the classroom and I look forward to the opportunity to make this place my home"

While Dal is known for academic and research excellence, Dr. Joseph feels the extracurricular experience is just as important for students. Fun, yes, but his role is ultimately about the essential role of community. "I want to make sure students feel connected, feel that they matter and belong."

He sees student networks as a series of "intentional communities," and the goal is making it as easy as possible for students to find their spots, to make a big campus like Dalhousie feel small. He draws back on his own experience that proved so pivotal. "I flunked out because I was just a number and people lost track of me."
 
Making sure no one feels like just a number means paying close attention to offering students a diversity of top-quality role models. Dr. Joseph recalls playing every sport except golf, despite the fact that he worked at a golf course as a teenager. "Then I saw Tiger Woods and I wanted to golf. People see themselves doing the things people who look like them do. That showed me the importance of having diverse leaders." [Dr. Joseph also admits to bawling hysterically when he first saw Black Panther in the theatre.]

In his current role, Dr. Joseph tries to encourage diversity, first and foremost, by being aware of his own biases. "We all have them," he says. "We must educate by how we weave diversity, inclusion, cultural awareness and celebration into our curriculum, our hiring, our professional development, et cetera, on a year-round basis."

His number one priority in his new role is to connect with students across Dalhousie, in all programs, people of all communities and backgrounds. This starts with working directly with students to consult on their greatest needs, in order to build a plan that will best serve them.  "I want to let them know I'm here to be their champion."

On choosing a career path...
"Figure out what you're volunteering to do, and make that your career"
On the importance of extracurricular activities...
"People will blossom because of the experiences they have here. We don't do that by accident. We have to create intentional, educational experiences in every aspect of student life."
On his own influences...
"Being an athlete hasn't really influenced my leadership style, per se. I'm more influenced by having been kicked out of school, by my recognition of mentors who helped me navigate through that, by my belief in second chances. These shaped how I lead."
On success...
"I often give talks about building high-performance teams, which is very similar to helping students find purpose. People want to feel like they matter. I talk about cohesion. I talk about accountability. Building high-performance teams is like building a successful life. How I speak to a high-performance athlete is the same as how I talk to a student, because we all want the same basic things: connection, purpose."
Five questions
When you were a student, what was your favourite course?
Anatomy and physiology. I loved learning how the body works. And the Latin. I loved the living laboratory in our own bodies.

What's your favourite hobby or pastime?
White-water canoeing in winter, when the water is high enough. There are so many jewels in Nova Scotia.

If you could only bring one artist's music with you to a desert island, who would it be?
Tracy Chapman.

What's the best advice you've ever received?
Go slow to go fast. It's always better to set your plan, in the long run.

If you could have dinner with one person — living, deceased or fictional — who would it be and why?

My 16 or 17-year-old self. The things and opportunities I took for granted are wasted. It's not that I have regret, but there are many things I could have taken advantage of, if I'd known.