Like many student athletes, Dal neuroscience major Isabel Sarty has a lot on the go each day as she moves between practices at the pool, class and study time.

And while the freestyle varsity swimmer relies on her trusty day planner for help in making it all manageable, she says the demands of her sport itself also play a vital role.

"Swimming creates a lot of structure and routine in my daily life," she says. "It means I have to get a lot of school work done in a small amount of time."

Sarty's rise in the ranks on the Dal women's swimming team has been swift. She won seven gold medals during last year's Atlantic University Sport (AUS) champsionships and had seven top 10 finishes at the national champsionships. She earned AUS all-star honours and was named female swimmer and rookie of the meet at the AUS championships. A swim team MVP, she was Dal co-rookie of the year at the end of the 2017-2018 season.  
A coach in the classroom

Just as Sarty has looked to her swimming coach for athletic guidance, she credits Dr. Leanne Stevens, senior instructor in the Department of Psychology and Neuroscience, for providing much-needed mentorship outside the pool as she plots her academic path forward.

"Leanne is really approachable, and I feel like I can trust her with any decision I have to make," says Isabel.

They first met during Sarty's second semester at Dal when they were introduced at an event organized by the Dean of the Faculty of Science to encourage interest in the faculty's different programs.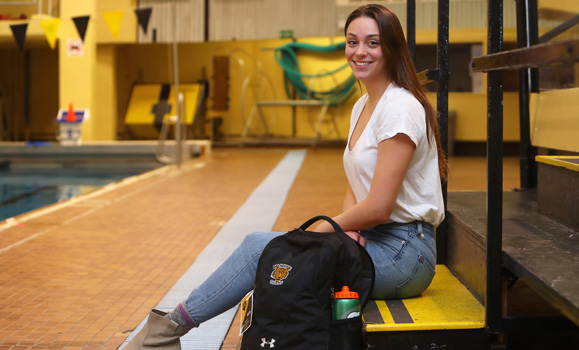 At that stage, Sarty was seeking answers to bigger-picture questions such as what a major in neuroscience could lead to after graduation.

But she was also seeking guidance on smaller decisions such as how to schedule her degree and what courses to take if she wants to graduate on a four-year timeline — planning that has been instrumental in allowing her to excel in both the academic and athletic worlds.

"As long as I plan everything out, it makes it a little bit easier," says Sarty. "I just have a checklist, and I check one thing off and then keep going."

Sarty is one of 97 Dal athletes this year receiving the distinction of being an Academic All-Canadian — an honor for members of varsity teams across the country who have maintained an academic average above 80 per cent.

In Dr. Stevens's view, Sarty is also ahead of the game in that she is already considering where her potential research interests lie — currently, in cellular neuroscience and mechanisms involved in cellular functioning. That has led her to consider applying for an NSERC scholarship to potentially do research in a Dal lab next summer.

"Having that initiative to do that in the fall term of your second year is excellent and to already start talking to people about research opportunities and thinking ahead sets Isabel apart from a lot of students that would be at the same level," says Dr. Stevens.
A rewarding experience

As first-year coordinator and as an advisor for her department, Dr. Stevens meets with a lot of students. She has been awarded the Outstanding Faculty Advisor Award by Student Affairs, Mentor of the Year and Professor of the Year by the Dalhousie Association of Psychology Students.

It's seeing students like Sarty develop that keeps Dr. Stevens motivated to be a mentor.

"It's really rewarding to see how people grow and change over the years," she says. "I'm always so impressed by students who have all these other things on their plate and still maintain such excellent academic success."

Of course, being resilient and prepared for setbacks is also important for student athletes like Sarty.

She says her approach is always to see those times as a catalyst for self-improvement.  

"You have to be able to accept it and look back at the race and talk with your coach and see what you did wrong and where you can improve," she says. "I think it's the same kind of things in school, but you can talk to your professor and see if there's any help you can get next time. Accepting failure and moving on and not dwelling on it is really helpful."