When Nova Scotia Senator Dr. Wanda Thomas Bernard was asked to make a keynote address at the College of Continuing Education's national conference last spring she said yes to the opportunity, but no to the speaker's fee. She had a much better idea.
She suggested her fee to go to Dalhousie's Ngena Bernard Association of Black Social Workers Transition Year Program Bursary.
Established in the name of her niece, who passed away in 2015, the annual award managed by the Association of Black Social Workers supports single mothers who graduate from the College of Continuing Education's Transition Year Program and go on to pursue social work at Dalhousie.
Andy Cochrane, Dean of the College, was inspired by the idea. So, when the conference's other keynote speakers – Dr. Arthur Levine, President of the Woodrow Wilson Foundation, and Dalhousie Professor Dr. Mike Smit – declined their fees as well, he decided to contribute them along with Dr. Thomas Bernard's donation.
Never giving up

The College also made a small gift in lieu of speaking fees for each of the 42 continuing education professionals who delivered seminars and workshops at the Canadian Association for University Continuing Education annual conference. The total donation came to $5,000.
"The legacy of this bursary is a legacy of second chances, of not giving up," said Dr. Bernard, a Dalhousie Professor Emeritus and Canadian Senator. "It's a legacy of trying to reimagine your life through a pathway to higher education. Those are the things Ngena was in the midst of doing when she died so suddenly and unexpectedly."
Bernard was joined at this week's celebratory event by Dr. Judy MacDonald, director of Dalhousie's School of Social Work, members of the Association of Black Social Workers, and staff from the College of Continuing Education.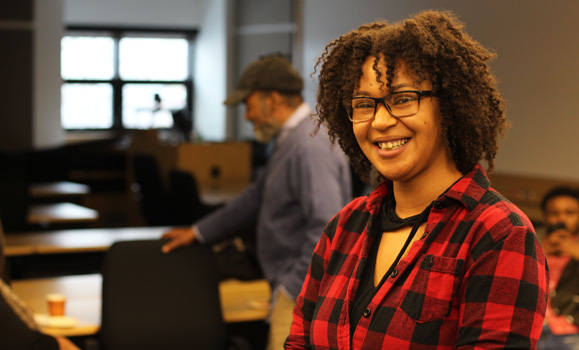 Amber Bernard (Andrew Riley photo)
Also, in attendance were Ngena Bernard's friends and family, including her sister, Amber Bernard, who entered into the Transition Year Program this year with a plan to pursue social work at Dal next year.
"I'm following in her footsteps and it's because of her that I took this step," said Amber. "I'm looking forward to working in the community with mothers and children and to support people in bereavement, similar to what I went through with Ngena."
The impact of the bursary is significant says, Dr. Bernard, noting that one of last year's recipients, Crystal John, is now the president of the Association of Black Social Workers.
"The bursary really tries to honour not just Ngena's memory, but the inspiration of what she was doing. It's a way of constantly giving back. The hope is when we award the bursary the recipient also accepts the legacy that goes with it. It's a legacy gift."