A milestone as exciting as a 200th anniversary naturally lends itself to thinking big, and that's just what Dal has done during its bicentennial year.
From the evocative Bicentennial Launch event in February and the Belong Forum series throughout the year to the Ignite Gala and coast-to-coast bus tour, you'd be hard pressed to find someone at Dal who hasn't been touched by the 200th in some way.
Each of these big events and moments, as well as the many other celebrations in faculties across the university, have played an essential part in shaping the 200th and contributing to its lasting legacy.
Below you'll find a handful of Dal 200 projects, some already underway and others in development, that have been designed specifically to help keep that positive, thoughtful legacy of the bicentennial alive as the university enters its third century.
Viola Desmond Legacy Lecture series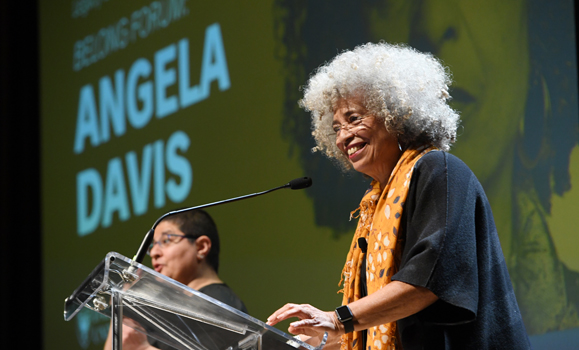 When Dal brought U.S. civil right icon Angela Davis to campus in October, it was an important occasion for more than one reason. For starters, the capacity crowd got to hear from the legendary international activist first hand and see her presented with an honorary degree from Dal. But it was also special because her talk served as the inaugural Viola Desmond Legacy Lecture, part of a four-year series that will bring big-name speakers from diverse communities to campus to discuss issues of diversity and inclusiveness. The series takes its name from the late Desmond, a Black Nova Scotian businesswoman who fought systemic racism in the province during the mid-20th century after she herself was arrested for disobeying a segregationist policy at a movie theatre in New Glasgow in 1946. Having Desmond's sister, Wanda, in attendance for Dr. Davis's inaugural lecture brought an added layer of meaning to a legacy initiative already having an impact.

Bicentennial Common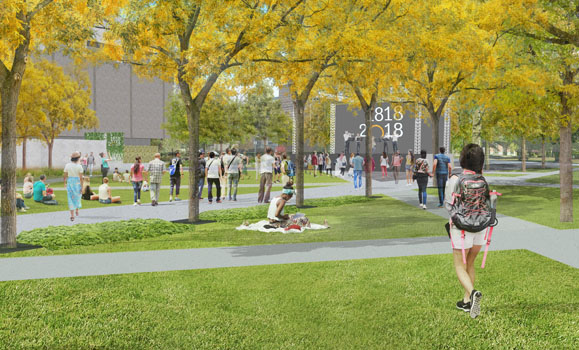 The Bicentennial Common is an ambitious reimaging of the high-traffic area stretching from LeMarchant Street and up past the Killam Library to the beginning of the upper portion of Studley Quad. The redevelopment — first flagged in the 2010 Campus Master Plan — aims to elevate the form, function and cultural significance of the high-traffic 60,000-square foot area in the heart of campus. "We're trying to make a space where everyone feels comfortable and welcome and that they belong in the space," says Nathan Rogers, assistant director of capital planning for Facilities Management at Dal. New elements will be introduced, including more green space, free wi-fi, concrete pavers, flexible seating, event infrastructure and a ceremonial circle for cultural activities, but the day-to-day programming and use of the space will be up to the Dal community. In a nod to the bicentennial, the iconic Dal 200 sign now on the upper part of Studley Quad will be integrated into the project as a visual reminder of the connection.
Time capsule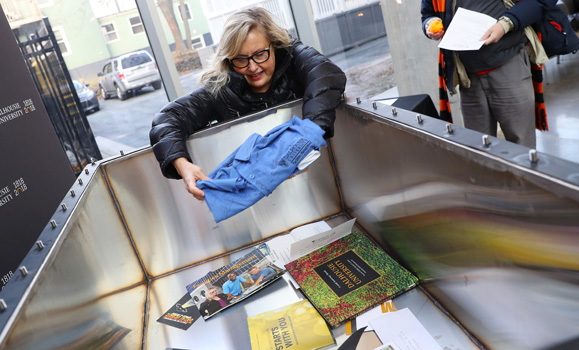 Another tactile legacy of Dal 200 that will be left behind: a physical time capsule, one that will eventually be stored in the Bicentennial Common. Designed and built by Dal's Facilities Management team, and organized by Dal Archives, the capsule is an opportunity for the Dal community to contribute small items of import — ones that speak to Dal 200 and this particular moment in the Dalhousie story. "It's a way to preserve memory of the event itself, but also the history of the university," says Michael Moosberger, university archivist. "It provides future generations a glimpse into what was important to the university community when the anniversary took place." Several individuals who attended the 200th anniversary wrap event in early December contributed items to the capsule, and those who would still like to can do so by contacting Michael Moosberger at michael.moosberger@dal.ca. All items require a submission form, which can be found here.
Computer Science more than doubles enrolment of first-year female undergrads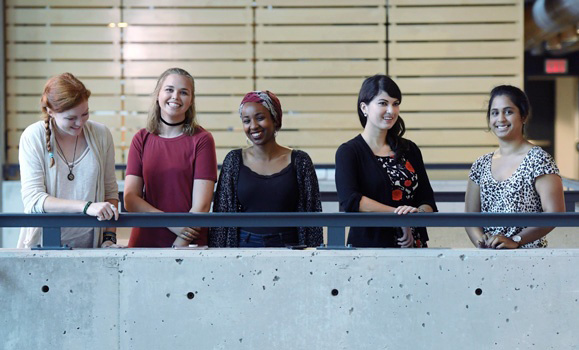 With Dal's 200th anniversary in mind, the Faculty of Computer Science decided to set a special and ambitious challenge for itself in the fall of 2016: to double the number of female students entering undergraduate programs in September of its bicentennial year. This fall, the faculty announced it has more than doubled its incoming cohort of female first years, jumping 144 per cent versus 2016. The faculty has been aiming to close the gender gap for years, recognizing that the more women (and other underrepresented groups) involved in technology related fields the more reflective the technology itself will be of those groups. Thirty-two of the women entering this fall did so under a newly established Women in Technology Scholarship, a program that should see the faculty's numbers continue to grow in the years ahead.

New building openings
After a couple of years of heavy construction across Dal's campuses, the university entered 2018 with a full slate of new building and facility openings in the cue — all underwritten with a special 200th excitement.
Dalplex expansion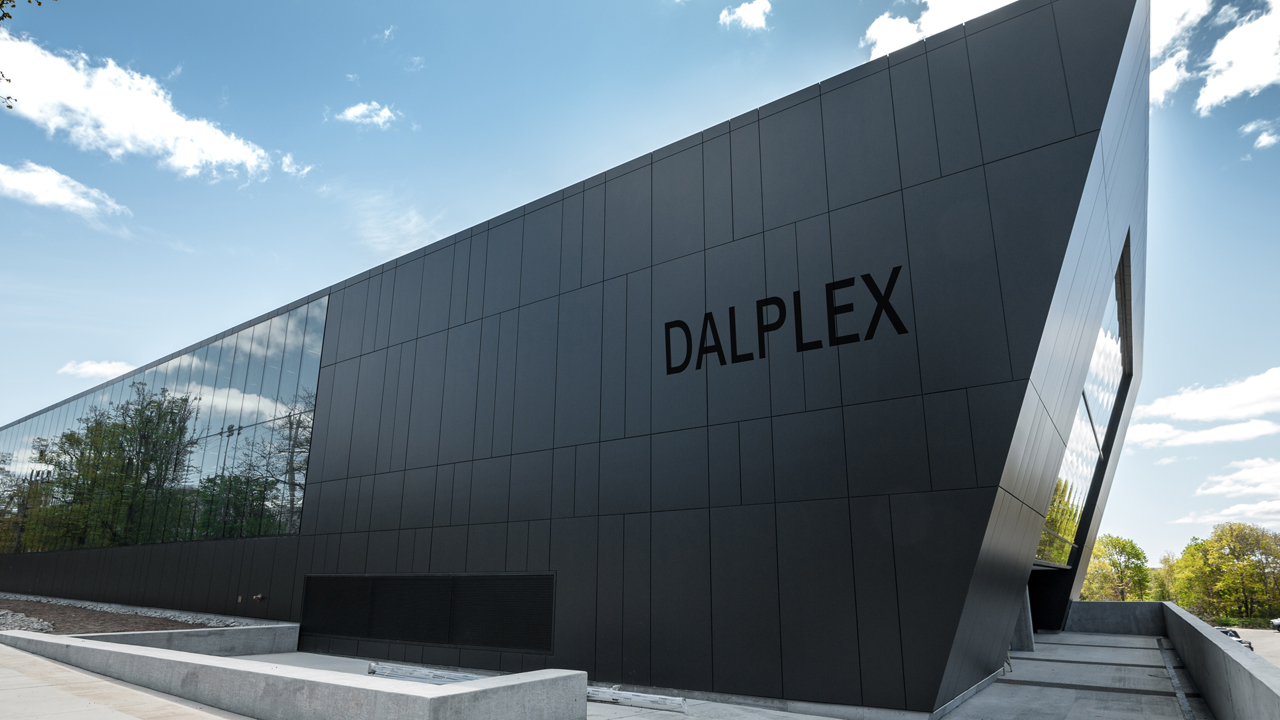 The opening of the $23.3-million Dalplex Fitness Centre expansion in May added 57,000-square feet of climate-controlled space to existing Dalplex facilities — further empowering students, staff, faculty and others to make physical health and overall wellness a priority.
Agricultural Campus facilities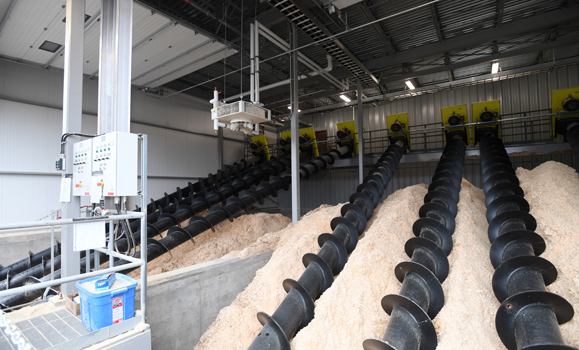 Members of the Agricultural Campus community in Truro, meanwhile, saw the addition of three new facilities, including a new biomass plant (above), student learning commons and a bicentennial garden.
IDEA Project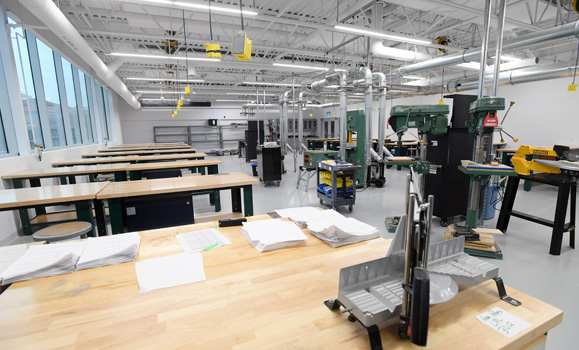 Dalhousie's $64-million IDEA Project has revitalized the university's downtown campus, solidifying its role as a hub of collaborative learning, design and innovation. Anchored by two new academic facilities with renovations to several existing buildings, the campus sets a new standard for engineering, architecture and planning education, empowering students and researchers alike to make a lasting impact on Nova Scotia and, more broadly, the world.
Dentistry Clinic renewal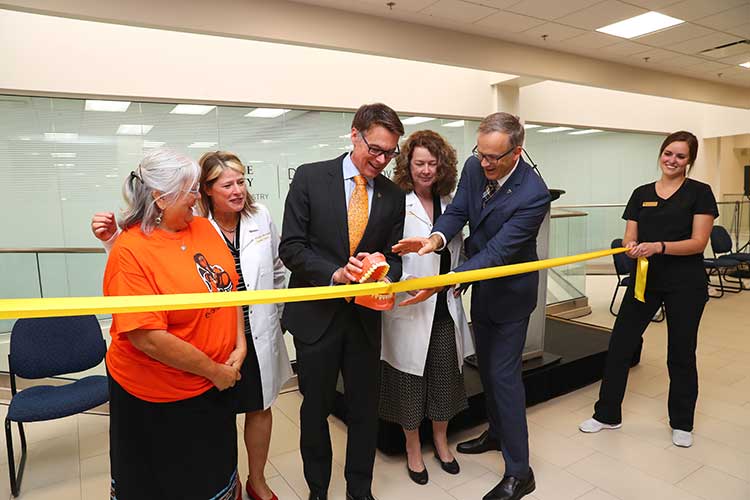 Oral health education at Dalhousie entered an exciting new era in 2018 with the completion of a $28-million clinic renewal project. The major renovations offer all dentistry and dental hygiene students the opportunity to learn in state-of-the-art, world-class facilities.