When Dal music lecturer Tim Crofts was approached to collaborate with former Parliamentary Poet Laureate George Elliott Clarke for the reading of the Dal 200 epic poem, he was rearing and ready to go. This was an opportunity of a life time.
Having trained as a classical musician and composer, Crofts was an obvious choice for the collaboration.
"George is a great poet, reader and improviser, and from the very beginning he treated me as an equal," says Crofts, who teaches in the Fountain School of Performing Arts. "This allowed us to riff of each other's talents to make a hybrid creation that brought the poem to life."
When Elliot Clarke shared the poem (called The Story of Dalhousie; Or, The University as Insurgency) with Crofts for the first time, it was substantial in both length and depth. It was for this reason that Crofts was able to apply his creativity and flexibility.
Crofts says the experience was quite interactive, with both artists pushing each other out of their comfort zones in order to create an extraordinary piece of epic proportions.
"The poem was really good and its historical significance cannot be denied. I believe however, that the musical accompaniment gave it color," says Crofts, who has performed the piece alongside the poet three separate times this year.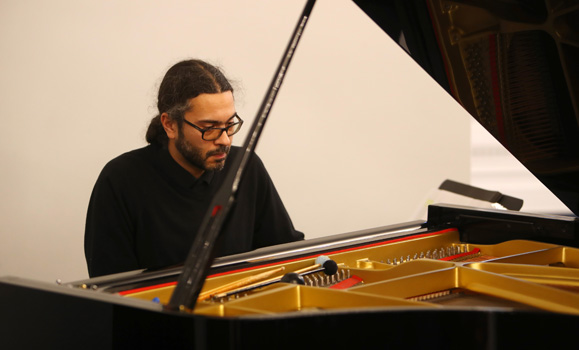 Crofts says Elliot Clarke's request for a jazz accompaniment to his poem has served to raise his own profile as a pianist and contemporary artist. He says he is now approached with messages of congratulations and admiration for his contributions to the poem.
Having played with Elliot Clarke three times over the past few days, his exposure has gone beyond Dalhousie to the greater Halifax region.
As Crofts continues with his career at Dalhousie as a lecturer and as an artistic associate of 'Suddenly Listen,' he expects to use his platform to increase visibility for contemporary music at Dal and beyond.
Crofts says he enjoyed the experience of collaborating with George so much that he hopes to have other opportunities to perform with him in other places across Canada.
With a mix of teaching, composing, performing and wrestling up other opportunities to grow his profile, Crofts says he is excited for what the future holds.