A year ago, Dalhousie was hard at work planning for the impending launch of its 200th anniversary celebrations on January 1, 2018.

Now, the university community and all those who organized and participated in the bicentennial's many special moments are looking back at the milestone year from the other direction.

"It's hard to believe that this full year has passed, to be honest," said Dal President Richard Florizone at a 200th wrap event last Friday.

More than 200 people from across Dal came out to LeMarchant Place atrium to join the president and others in celebrating the exciting and busy year that was.

"What an incredible year of activity it's been with academic events, community events, arts events, peeling back the layers of Dalhousie, inviting the community in, reflecting on our history and dreaming about our future," said the president.
Starting conversations, deepening connections

Dr. Florizone said the university connected past, present and future through major events such as the Bicentennial Launch and the Ignite Gala and started important new conversations about diversity and inclusion by bringing individuals such as Angela Davis, Rick Hansen and others to campus.

At other times, the university inspired curiosity and intellectual adventure through events such as The Great Debate and captured people's imaginations through original works of art and music, including George Elliot Clarke's epic poem about the history of Dalhousie. A coast-to-coast bus tour, meanwhile, brought the celebration across the country.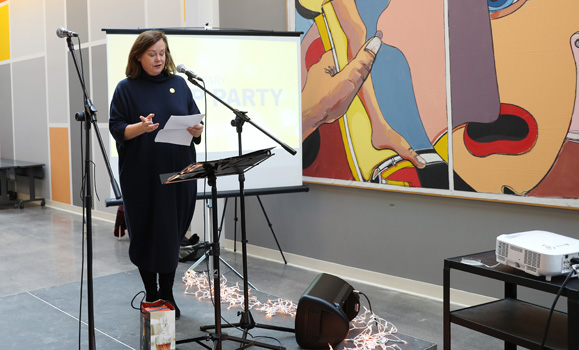 Dr. Florizone thanked Catherine Bagnell Styles (pictured left), assistant vice-president communications and marketing and Dal 200 lead, as well as staff, faculty, and alumni for working so hard to make the year a "stellar success."

"Through our shared efforts . . . we've opened doors, we've opened up this institution, and we've deepened our connections with the community," he said.

Following Dr. Florizone's remarks, Bagnell Styles provided a snapshot of facts from the year, including that more than 32,000 people (staff, students, faculty, alumni, retirees, community) attended 200th events in person or live online. She noted that more than 5,000 pieces of anniversary swag (shirts, mugs, etc.) were sold and more than 20,000 buttons were given out.

Bagnell Styles said it was an "honour" to lead the 200th celebrations and expressed her gratitude to the many individuals who helped reach these heights.

"We couldn't have done this without the team that worked on it," she said, noting the hundreds of people who participated in early engagement sessions years ago to individuals on event planning committees and her own staff in communications and marketing.

Sponsors and other supporting partners were also crucial to pulling off a successful anniversary, said Bagnell Styles.

"These are people who gave their time, they invested, they helped with audiences, and they really helped us amplify the story . . . and bring the community to Dal," she said.
 A 200th legacy

Attendees at the wrap event were treated to a lunch of soup, grilled cheese and 200th cookies as well as a charming singalong to Fleetwood Mac's "Don't Stop" with local community choir group, The Big Sing.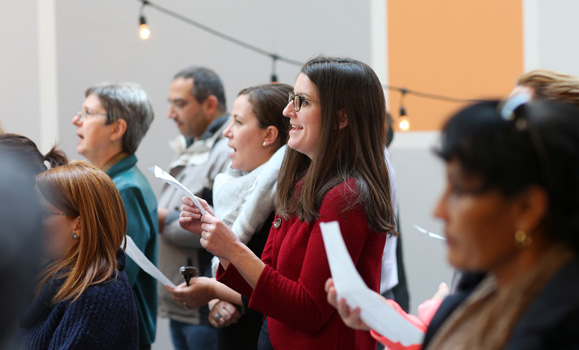 Both Bagnell Styles and Dr. Florizone took some time to look ahead to the legacy left by the 200th as Dal enters its third century.

With five state-of-the-art new buildings opened, a doubling of female students in Computer Science undergraduate programs, and the establishment of the Viola Desmond Legacy Lecture series, Dr. Florizone said that legacy will be "far reaching."

The wrap event served as a launch for another legacy project as well: a 200th time capsule that attendees were welcome to place items in. Posters, books, objects and letters, including one from Dr. Florizone to his successor 50 years from now, were among those spotted Friday. (If you missed your chance Friday, there's still time to submit an item. Complete a submission form with your object and full contact information. Download the form here.)

Guests also got their first glimpse of the Bicentennial Common, where the capsule will be buried. The project will see the lower part of Studley Quad redesigned into an engaging hub of campus activity. Artistic renderings and a bird's-eye view schematic of the future space were on display at the wrap, as were some tables and chairs to be included in the legacy space.

But for Bagnell Styles, it was the teamwork itself that feels like the most meaningful legacy of all.

"I personally think the most important legacy of all is how we have worked together," she said. "How we have built a team across the campus regardless of title, regardless of faculty, regardless of unit, regardless of experience, and we came together and we had a big dream . . . and we totally nailed it."