Five-and-a-half years ago, when Richard Florizone began his time as Dalhousie president and vice-chancellor, the Emera IDEA Building was just that: an idea, and a much smaller one at that.

But with a partnership between the university, its students, government, industry and donors, it morphed into a larger transformation of Sexton Campus that is set to shape teaching and research there for years to come. It's a project that embodies the mantra President Florizone has espoused time and time again during his presidency: "nobody does anything alone."

So it was only fitting that his farewell event would be held there, in the space that will eventually become the Emera ideaHUB — a space for bringing people together, just as Dr. Florizone has, in many different ways, as Dal's president.

The celebration, which took place Wednesday, November 28, brought together faculty, staff, students, government reps, community members and so many others to share their well-wishes for Dal's 11th president as he prepares to leave the university for his next chapter: leading the Quantum Valley Ideas Lab in Waterloo, Ont.
Read also: Florizone's farewell: The Dal News interview

"Your vision, your spirit and your passion are infectious, and you've left an indelible mark on Dalhousie," said Larry Stordy, chair of Dal's Board of Governors, who served as the event's MC.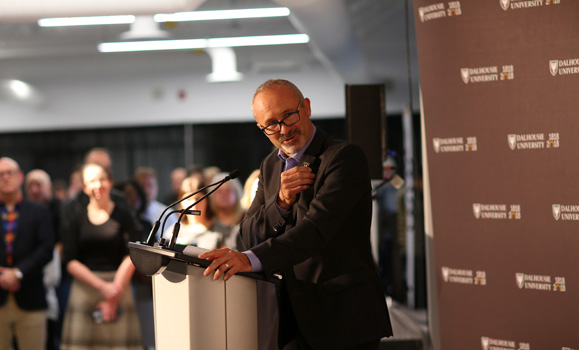 Board Chair Larry Stordy proudly shows off his Dal pin at the event.

"Richard inspired us to believe we could do more, and we did," said Alice Aiken, vice-president research and innovation at Dalhousie. "He encouraged us to be better and believe in ourselves, and we did… his ability to work for what is right, to trust those around him to do their jobs, and to pick his battles showed us all what leadership is and could be."

Inspiring connections

Stordy and Dr. Aiken were two of several speakers at the event who spoke to President Florizone's ability to unite people around common goals.

"You have inspired us all to a greater purpose, strengthening this institution innumerably," said Kevin Hewitt, chair of Dalhousie's Senate.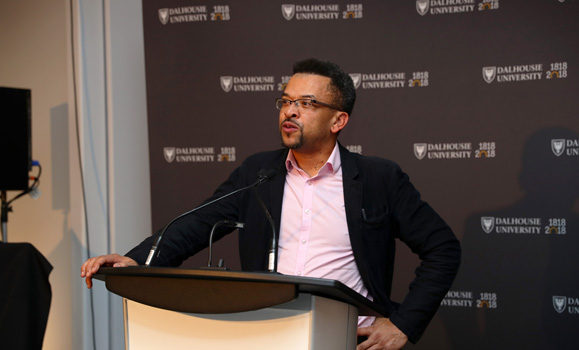 Senate Chair Kevin Hewitt

Jolene MacEachern, manager, Industry Liaison and Innovation (Agriculture/Aquaculture), works on Dal's Agricultural Campus, and said President Florizone's ability to make connections across the various groups that contribute to Dal's mission — students, faculty, staff, alumni and so much more — was crucial to the university's successes during his presidency.

"Thank you for acknowledging the potential of all members of the Dalhousie community, and thank you for rolling up your own sleeves and getting down in the dirt when required," she said.

And that collaboration stretches well beyond just the university itself. Kelly Regan, Nova Scotia Minister of Community Services and past Minister for Labour and Advanced Education, brought well-wishes from the provincial government, and spoke of President Florizone's commitment to advancing social, economic and community development in Nova Scotia.

"What you've done for research and innovation in this province will shape this province for years to come, and we sincerely thank you," said Minister Regan. "You are the biggest advocate for Dalhousie, and a great partner to us and the other nine universities and the NSCC… You really represent the value of people working together and succeeding together."

Building community through respect

In highlighting some of Dal's biggest achievements in recent years — attracting unparalleled investment in ocean research and development, forging new partnerships for exciting new spaces for students and researchers — several speakers also talked about President Florizone's enthusiasm for and commitment to making progress on diversity, inclusion and equity within the university.

One of them was recent grad Bintou Kaira, who got to work with Dr. Florizone as an engineering student.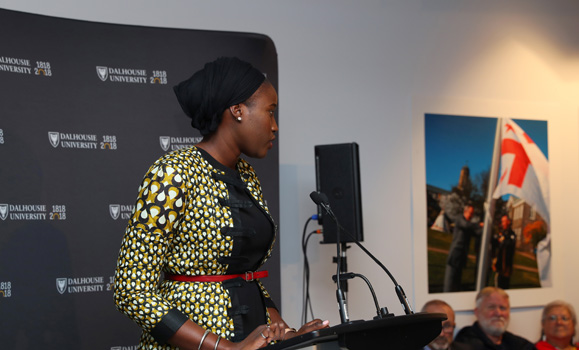 Bintou Kaira

"We can all learn one thing — or more — from Dr. Florizone's leadership," she said. "I am most impressed by your humanness: being conscious and present. Dr. Florizone, as you said to me when I walked down the graduation stage: always be yourself. I return these same words to you… keep being you, a human being who believes in community and standing up, together."

Then there was a special presentation by Dalhousie Elders-in-Residence Geri Muskaw-Leblanc and Debbie Eisen, who gifted President Florizone with a ceremonial ribbon shirt.

"Throughout the time that this program has started, the Elders in Residence have had the utmost respect and support of Richard, throughout anything we did," said Elder Eisen. "We want to honour Richard and honour him for what he has done for us."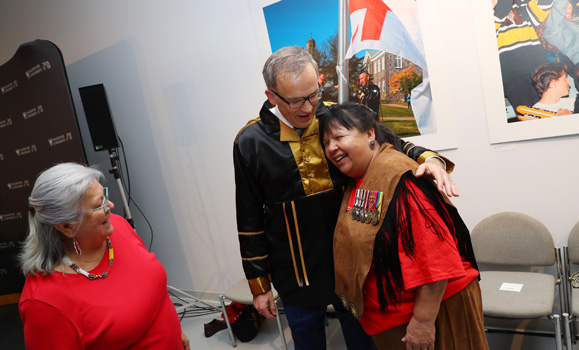 President Florizone with Elders Geri Muskaw-Leblanc (left) and Debbie Eisen.

"Thinking big"

Other special presentations at the event included a gift for President Florizone and his family of a model birch bark canoe created by Mi'kmaq artist and Elder Todd Labrador, and the unveiling of a plaque in his honour that will be installed in the Emera IDEA Building — "a tribute not only to your championing of this IDEA Project," said Stordy, "but your championing of Dalhousie University."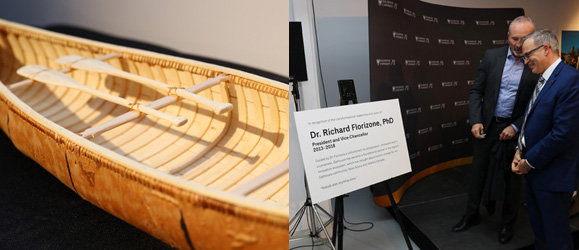 The canoe and a printed version of the plaque.

"I'm both humbled and deeply grateful," said President Florizone of the reception.

He shared a long list of thank-yous, covering a wide range of groups: his leadership and office teams; Senate and Board; students, faculty and staff in general; DSU and other student leaders; his peers and collaborators at other universities; alumni, community members, donors and other supporters; government at all levels; and, last but not least, his family — wife Mona and daughters Zoe and Elinor. "Thank you for your love, support and inspiration," he said.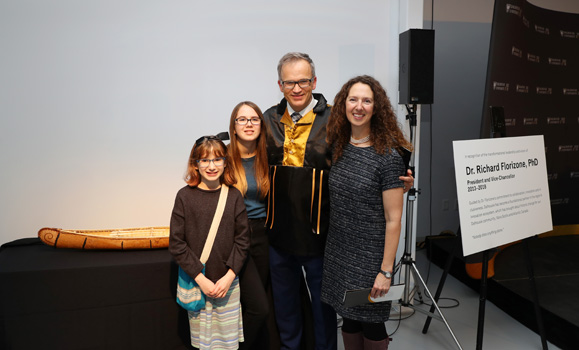 President Florizone and his family.

For his parting words at the event, he explained how Dal's achievements in recent years are built on a drive to "think big" that has been there all along — even if it hasn't always been obvious. He spoke to the examples set by several of the Dalhousie Originals highlighted during Dal's 200th anniversary celebrations, such as astronaut Kathryn Sullivan, former Lieutenant Governor Mayann Francis and others.

"These examples, past and present, prove to you the promise and potential of Dalhousie and Atlantic Canada: that when we come together, in new ways, on big common goals — guided by our mission and values — look what we can do. Together we can build a university, a community and a country that is intelligent, inclusive and inspiring; where we can reconcile our past and draw upon the diverse strengths of all our people; where we inspire creativity, courage and compassion; and where we can bring together the very best in our region with the best in the world for the benefit of all.

"That's the power of Dalhousie. That's the power and potential of all of you. That's the potential of our region and, I think, the dream of Canada."