It was a clean sweep for Dal researchers at the 16th annual Discovery Awards Thursday evening (Nov. 22).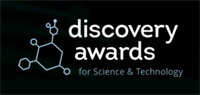 Dal researchers won all four major categories at Thursday night's ceremony: Professional of Distinction, Emerging Professional, Innovation, and Science Champion. Several Dal researchers were also among the finalists recognized, and a retired Dal faculty member earned a well-deserved induction into the Nova Scotia Science Hall of Fame.
The Discovery Awards, hosted by Halifax's Discovery Centre, are an annual event that recognizes talented individuals and outstanding companies that have helped to make Nova Scotia a leader in science, technology and innovation. This year, the awards were co-sponsored by Dalhousie and Saint Mary's University.
Get to know the four winners, Hall of Fame inductee Gerard Stroink and the other Dal finalists below.
Professional of Distinction
Dr. Patrick McGrath
Canada Research Chair in Pediatric Pain at Dalhousie University and the IWK Health Centre

Dr. Patrick McGrath is known internationally for his extensive research in pain management and treatment in children and adolescents.
He is also the co-founder of the Strongest Families Institute, a not-for-profit corporation providing evidence-based services to children and families seeking help for mental health and other issues impacting health and well-being.
Children and youth who've completed programs provided by the Strongest Families Institute have not only improved in terms of the initial problems that brought them to the institute—they have also shown better school attendance and academic progress, and less bullying and victimization. At the same time, parents' moods and family relationships have improved.
Emerging Professional

Dr. Erin Bertrand
Canada Research Chair in Marine Microbial Proteomics, Department of Biology

Erin Bertrand is an assistant professor in Dal's Department of Biology and Canada Research Chair (CRC) in Marine Microbial Proteomics. She joined the Dal community in 2015 from the Scripps Institution of Oceanography and the J. Craig Venter Institute in California.
Her research is helping understand how warming temperatures and other stressors may change the nutrient requirements of phytoplankton — small organisms that form the base of the food webs that support global fisheries and are crucial in the relationship between the ocean and the amount of carbon in the atmosphere. With a particular focus on the Scotian Shelf and the Southern Ocean, Dr. Bertrand's research shows how the tiniest of things can have a global impact.
Dr. Bertrand was also the 2017 recipient of the Simons Foundation Early Career Investigator in Marine Microbial Ecology and Evolution Award.
"I'm truly honored and grateful to be recognized by the Discovery Centre — an organization that does so much to help people in our province experience science," she says. "I'm fortunate to be leading an excellent group of young researchers in my lab and an pleased to accept this recognition for all of us." 
Science Champion

Dr. Kevin Hewitt
Professor, Department of Physics and Atmospheric Science

Kevin Hewitt is a professor in the Department of Physics & Atmospheric Science and chair of Senate at Dalhousie University. In the classroom, Dr. Hewitt strives to link Physics to the everyday lives of the learner. In his Molecular imaging lab, he has developed novel nanoparticle probes for cancer imaging and treatment, new optical imaging approaches and a prototype medical diagnostic tool for liver steatosis.
Dr. Hewitt combined an interest in science and community engagement by co-founding the Imhotep's Legacy Academy, a STEM outreach program for African Canadian students from junior high to university. He grew this program from a small room in the Physics building to a provincial program with an annual budget approaching $500,000.
Over the course of his career, Dr. Hewitt has attracted more than $3M in research funding, published over 30 papers, delivered over 60 invited presentations in Canada, US and Brazil; universities in China, Ethiopia, the US and Canada; and supervised numerous students. He is also the co-inventor of an instrument to diagnose liver steatosis.
Innovation

DMF Medical
Created by faculty members in multiple departments

Created by Dr. Michael Schmidt (Department of Anesthesia, Pain Management & Perioperative Medicine) and Dalhousie colleagues Dr. David Roach (Rowe School of Business) and Florentin Wilfart (School of Biomedical Engineering), DMF Medical is a company with the goal of making anesthesia safer by preventing the death of brain cells during general anesthesia.
The company's lead product, memsorb, is a C02 removal device which uses membrane technology rather than absorbent chemicals to remove toxins, creating a safer delivery of anesthesia.
Hall of Fame

Dr. Gerhard Stroink
Professor Emeritus, Department of Physics and Atmospheric Science
Gerhard Stroink is a long-serving faculty member in the Department of Physics and Atmospheric Science, retiring in 2007. A pioneer in biomagneticism, his research in both physics and biomedical engineering has had international reach. But Dr. Stroink's impact in the Nova Scotia science community has been just as profound.
A member and past president of the Nova Scotia Institute of Science and member and chair of the advisory board of SuperNova, he is renowned for his outreach efforts to introduce young people to science. In the 1970s, his "open house" days — where children and youth could come to the Dunn Building to participate in hands-on experiments and other interactive exhibits — grew into a travelling science show at schools, malls and community fairs. Dr. Stroink would take this concept to new heights as one of the three co-founders of the Discovery Centre, leaving a legacy that has inspired generations.
Other Dal finalists
Dr. Graham Gagnon (Professional of Distinction finalist)
Dr. Gagnon is the Faculty of Engineering's first NSERC Industrial Research Chair, which was established through a partnership between NSERC and Halifax Water. The Research Chair has been renewed twice with additional partners that include Cape Breton Regional Municipality (CBRM) Water Utility; LuminUltra Technologies Ltd; CBCL limited; and AGAT Laboratories. In addition, Dr. Gagnon is the Director for the Centre for Water Resources Studies, which is the focal point for applied water research in Atlantic Canada. As Director, he has developed a research partnership with the Atlantic Policy Congress of First Nation Chiefs with an aim of providing clean water for First Nation communities through the establishment of a First Nation Water Authority.   
Dr. Sultan Darvesh (Professional of Distinction finalist)

Dr. Darvesh is the Dalhousie Medical Research Foundation's Irene MacDonald Sobey Chair in Curative Approaches to Alzheimer's Disease. He has devoted his career to studying Alzheimer's disease, and along with his researchers, is developing a technology that diagnoses the disease in its early stages. He is also the co-founder and director of the Maritime Brain Tissue Bank, which was established to collect brain tissues and make them available for researchers who are trying to better understand the causes of dementia.
Dr. Mita Dasog (Emerging Professional finalist)
Dr. Dasog is an assistant professor in the Department of Chemistry, where her research group explores materials for use in clean-energy applications. Dr. Dasog works to develop materials for use in devices that convert sunlight to chemical energy — precisely what photosynthesis does in nature. Mimicking photosynthesis with synthetic inorganic materials instead is an up-and-coming approach to harvesting solar energy. Dr. Dasog's work has earned her several honours, including the Canadian Council of University Chemistry Chairs Doctoral Award for the best chemistry PhD work in Canada, a "Top 25" Global Young Scientists in Sustainable Research Award from the German government, and one of the top 150 women in STEM for her outreach efforts with youth and young women.
Charged Engineering Inc. (Innovation finalist)
Created by Dr. Lukas Swan, an associate professor in the Faculty of Engineering, Charged Engineering develops technologies for lead-acid battery manufacturers. The company is commercializing new methods for measuring and reporting on battery state during production. The innovations enable manufacturers to save money and increase efficiency while making higher quality batteries.
Emma Finlayson-Trick (Science Champion finalist)
Emma Finlayson-Trick, an MSc candidate in the Department of Microbiology & Immunology was the organizer of Soapbox Science Halifax, which took place on June 18, 2018 and saw 12 of Canada's leading female scientists engage with the public on a variety of subjects related to science, technology, engineering and mathematics (STEM). In 2017, she launched a blog called Think of the Plosibilities, where she and other Dalhousie undergraduate and graduate students post summaries of articles from open access journals, such as the Public Library of Science (PLOS) database. The blog's goal is to simplify scientific publications by reducing jargon and make the material more accessible to audiences without a scientific background.
Dalhousie's Faculties of Science and Medicine also sponsored the Youth Award, which was presented to Eli Wood. At the time of his nomination, Eli was a student at Yarmouth Consolidated Memorial High School. He is now at Mount Allison University.

Read all about the Discovery Award winners and finalists at the Discovery Centre's website.