Editor's note: The date of this event has changed to Friday, Dec. 7. The details have been updated in the story below.
How do you mark the end of a year of celebration? With another celebration, of course.
This one's a particularly special celebration, though — a chance to bring together the faculty, staff, students and others who've put so much of their time and energy into making Dal 200's year of events possible, and pay tribute to their collective efforts.
"It's a well-earned celebration," says President Richard Florizone. "Together, we've shone a bright light on our academic community and forged deeper connections between our university and our communities. What an amazing start to Dal's third century."
The Dal 200 Wrap-Up Celebration will take place on Friday, December 7 at 12 noon in the LeMarchant Place atrium.
"Think of this event as that moment after a big party, when the dishes are done and you think: wasn't that great?" says Catherine Bagnell Styles, assistance vice-president of Communications and Marketing and Dal 200 chair. "This is our moment to do that."
There will be soup, grilled cheese sandwiches, cookies available for food at the event — but those aren't the only treats in store.
For one, the event will feature Halifax's choir group The Big Sing, with its Dal alumni hosts helping lead a short singalong of Fleetwood Mac's future-focused anthem "Don't Stop" (which was also performed at the Dal Ignite dinner in September).
It will also be a chance to get a first look at the vision for the Bicentennial Common — a proposed redesign of the lower end of the Studley Quad to create an exciting public space, leaving a Dal 200 legacy.
A time capsule to capture the moment

Then there's another tactile legacy of Dal 200 that will be left behind: a physical time capsule, one that will eventually be stored in the Bicentennial Common.
Designed and built by Dal's Facilities Management team, and organized by Dal Archives, the capsule is an opportunity for the Dal community to contribute small items of import — ones that speak to Dal 200 and this particular moment in the Dalhousie story.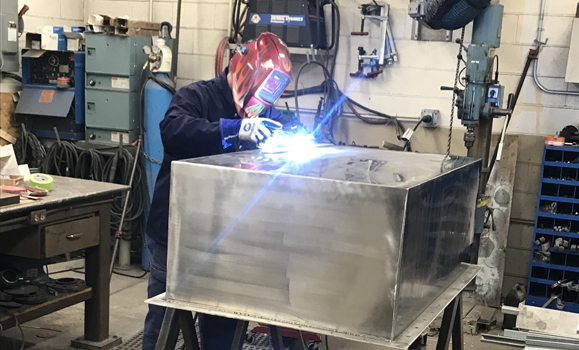 Dave Studley from Facilities Management works on constructing the time capsule. (Facilities Management photo)

"It's a way to preserve memory of the event itself, but also the history of the university," says Michael Moosberger, university archivist. "It provides future generations a glimpse into what was important to the university community when the anniversary took place."
Individuals are invited to bring items to contribute to the time capsule, following the instructions below. For questions about these instructions or time capsule submissions in general, contact Michael Moosberger, University Archivist, at michael.moosberger@dal.ca
Time capsule instructions
Complete a submission form with your object, with full contact information. Download the form here.

Items should be small: 40 cm long, 30 cm wide and 10 cm deep at the largest. Items larger than this may be considered on a case-by-case basis, based on the details in the submission form.
Electronic or audio-visual submissions (ie. USB sticks, hard drives, DVDs, etc.) should have extensive metadata about the device, how it was recorded and the description/format of the content included on the submission form.
Non-paper objects should be wrapped in buffered acid-free paper or washed cotton to prevent rusting, tarnishing or acid release.
Paper items should be on archival permanent paper and may also be encapsulated in mylar to reduce the possibility of these items chemically reacting with other items in the time capsule.
Each item will be included in a detailed inventory, one copy of which will be included in the time capsule with the other stored in the University Archives alongside other Dal 200 materials.
If you haven't identified an item as your contribution for the time capsule, don't worry — you will still have time to contribute something to the time capsule after the 29th by contacting University Archives and Special Collections.