In her public talk at Dalhousie this past Friday, world-renowned vocalist and conductor Barbara Hannigan reflected on what it means to pursue music as a career.

"Sometimes we forget that we were playing as children," she said — playing as an expression of joy. Due to the various roadblocks to becoming a great artist, it's easy to lose some hope and inspiration along the way.

A Nova Scotian, Barbara Hannigan divides her time between singing on the world's major operatic stages and conducting leading orchestras. She collaborates frequently with composers including Boulez, Stockhausen, Ligeti and more. Last month, she premiered the title role in Michael Jarrell's opera Bérénice at the Opera national de Paris. She was appointed as a member of the Order of Canada in 2016, and her most recent album — which features her as both singer and conductor — won Grammy and Juno awards in 2017.

We asked music students Paige Meunier and Sarah Nearing to reflect on the inspiration they found from hearing Hannigan speak and then teach a voice masterclass to Dalhousie students Emmanuel Solomon, Ruusu-Maaria Brousseau, Julia MacVicar and recent graduate Lucas Nascimento.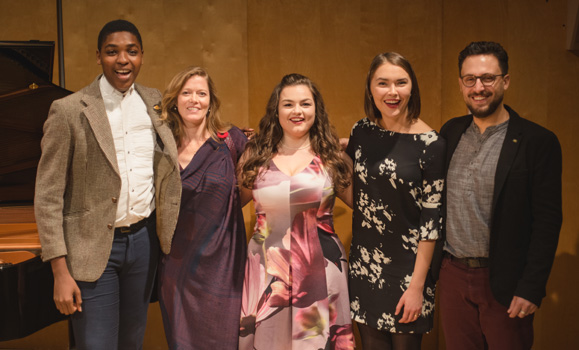 Left to right: Emmanuel Solomon, Barbara Hannigan, Julia MacVicar, Russu-Maaria Brousseau and Lucas Nascimento.

SARAH: All of us who choose to pursue a career in the arts recognize that we have chosen a long, difficult path — and we know that the success we dream of may not be at the end of that road. Barbara has found more success than most of us can conceive. Among her numerous and prestigious accolades are two honorary doctorates, a JUNO, a Grammy, the Rolf Schock Prize, and an appointment to the Order of Canada. Barbara told us how she once felt intimidated by music that had been sung thousands of times by myriad vocalists; this is why she has embraced new music through her career. She has sung more than 85 world premieres, by composers like Boulez and Stockhausen as well as her own contemporaries! "The new music gave me the courage to sing the old music," she said. Her admission that being an artist is hard at every stage of your career was both validating and inspirational.

PAIGE: It was interesting to see how Barbara constructed a different road map to helping these four singers create a more focused performance. After all, she had her own unique path to playing the notoriously difficult operatic character Lulu on several different world stages! Although sopranos are "a dime a dozen" (in her words), she shared advice based on things that catch her eye – and ear! -- when she is listening to young singers.

SARAH: I didn't grow up listening to classical music; that's not where my love of music and singing came from. It wasn't that I disliked classical music, it just didn't resonate with me in the same way that contemporary pieces did. Hearing Barbara emphasize how contemporary music was a doorway to classical music for her struck a chord in me, because I learned to love classical music for the trait it shares with modern music: its ability to tell stories and move people.

PAIGE: Barbara spoke about how daunting it is to perform a song that has been performed by hundreds of other sopranos which I have had similar fears about. In her early singing career, she was often told "The tradition is to do this" by a director or conductor. The tactic she recommends is to honour the notes on the score, which she leaned on heavily when premiering John Zorn's Jumallateret this summer. She explained that if you look at what the composer wants, it won't seem as frightening.

SARAH: Hearing Barbara talk about her experience singing contemporary music was concrete evidence, for me, that being a good singer is foremost about loving your music. In her mind, it's invaluable, and it's what she looked for when she auditioned young musicians for Equilibrium, her latest initiative which seeks to provide career opportunities for young musicians at the beginning of their careers. It not only makes you a better person, it makes you a compelling performer who has a story to tell. It makes the rocky road you've chosen worthwhile, because no matter what you'll find happiness and fulfilment in your work.

PAIGE: In the text of the piece, you can find all the information you need about whatever emotion you happen to be singing about. When this was coached with the singers who performed for her, a barrier was broken and the emotions became vivid to me. Barbara advised us all to be wary of the common, clichéd gestures classical singers overuse, like a robotic arm movement, or a forced facial expression. She rounded off the class by saying "What will get you noticed in an audition is being authentic to your artistic self."

There is nothing more authentic than playing. When we as artists forget to follow our playful instincts, we do a disservice to ourselves, and to the music. Our paths may never be linear in this field, but they will always lead us where we need to go if we stay true to our childlike creativity and curiosity. Barbara Hannigan taught us all to be true to ourselves, to keep taking risks, and to be lifelong learners and lovers of art.