Everyone's pretty excited about Dalhousie's 200th anniversary, and showing your Dal colours has never been more stylish.

The recent introduction of a new premium apparel line designed by Nova Scotia artist Holly Carr means you can take your Dal duds up a notch from sweats and hats to beautiful scarves and neckties. More fashion items featuring the exclusive new gryphon design are also in development.

"We wanted to develop some specially designed items, available through our bookstore, that honoured our 200th," says Catherine Bagnell Styles, assistant vice-president, Communications & Marketing. "Holly Carr is an extremely talented local artist and her work has always inspired me. I thought she'd be the perfect artist to bring our vision to life and what a magnificent job she has done."
Holly Carr items: Dal Bookstore website

Holly Carr is nationally recognized for her unique style of silk painting. She has exhibited in group and solo shows, and designed for theatre productions and large scale public installations. Carr is well known as a performance artist for creating silk paintings on stage to live music, and has performed with Symphony Nova Scotia, the Winnipeg Symphony Orchestra and Stuart McLean and the Vinyl Café, to name just a few. Carr has also illustrated children's books, and has her own clothing line. She graduated from the Nova Scotia College of Art and Design with a BFA and BAEd and today lives at the base of the North Mountain in the Annapolis Valley.
A Dalhousie design

Carr based the scarf's original gryphon design on the Ramsay coat of arms. "The Right Honourable George Ramsay, Lieutenant Governor of Nova Scotia, founded Dal in 1818," she explains, "And the gryphon pops up for Dal because of that. I designed my own gryphon and used the black and gold colours and some white just to play. The stars are an enduring symbol of excellence but they also mean reaching one's ultimate destiny, which is what Dalhousie wants students to achieve."

The 36" by 36" scarf is made up of four squares. "Each of those squares is actually a 2.5' by 2.5' hand painted silk painting," says Carr. "I painted a gryphon on black and on white. I photographed those and put them on a computer to design the scarf. My work always starts with hand painted imagery."

Dalhousie Bookstore Director Tina Shannon is thrilled to add this beautiful new piece to the 200th anniversary collection, which includes mugs, water bottles, clothing, journals, pens and a jigsaw puzzle.

"The scarves are special because they've been designed by a celebrated local artist, so it's exciting for us to be able to highlight her work. She offers a really unique interpretation of the gryphon. We've already sold four and they're not even in stock!"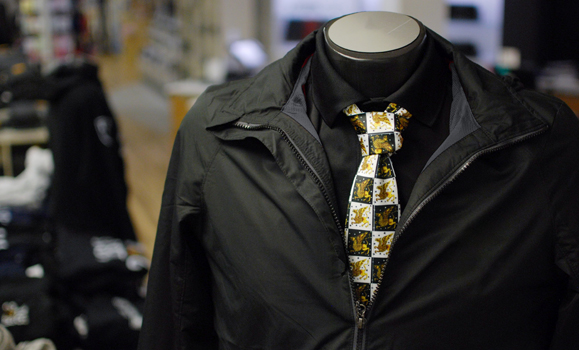 Shannon adds that neckties designed by Carr are also now available for pre-sale, and more products are in development. Both the scarf and tie will be available in store soon.

For Carr, the opportunity to create a beautiful and elegant keepsake for Dal employees, students, and alumni was both a fun challenge and a great fit with her values.

"Everything in the collection is made in Canada, which is really special: it's all manufactured and printed here," she says. "Each piece is made one at a time, not mass produced. It's a designer item!"

To learn more about Holly Carr visit: hollycarr.weebly.com

To order your scarf, visit the Dalhousie Bookstore website.